PC makers may not be satisfied with Windows 8 hardware sales, but at least they needn't worry about Microsoft's Surface tablets swallowing the industry whole.
According to AdDuplex, Microsoft's Surface RT only accounts for 6.8 percent of Windows 8/RT devices, at least among those that accessed the firm's cross-promotion ad network. That's still good for the top slot, however, with the HP Pavilion G6 proving to be the second most-popular device with a 4.2 percent share. The Intel Core i5-packing Surface Pro was barely a blip, ranking as the 52nd-most common Windows 8 device.
Keep in mind that AdDuplex's stats aren't an accurate breakdown of Windows device sales. The firm runs a cross-promotion network for Windows and Windows Phone apps, so the stats are just a measure of how many devices have run apps that accessed the network. In other words, if a user doesn't run any Windows Store apps with AdDuplex advertising—or doesn't access the Store at all—that user doesn't get counted.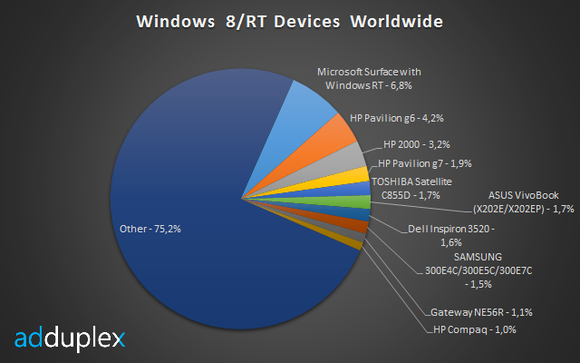 Still, we can see some interesting trends over time. This month, for instance, Surface RT share fell to 6.8 percent in AdDuplex's stats, down from 7.6 percent last month. In the United States, its share is down from 13 percent to 10 percent. AdDuplex's numbers are joined by reports from both IDC and IHS iSuppli, two research firms that recently estimated that Surface RT sales have totaled less than 1 million units thus far .
Microsofts Surface Pro doesn't seem to be picking up the slack, either; AdDuplex says the ratio of Surface RT to Surface Pro devices is 24:1. Supply issues may be partly to blame, as Microsoft struggles to fulfill orders for the Surface Pro.
None of this may be a surprise to Microsoft CEO Steve Ballmer, who in a recent interview with MIT Technology Review downplayed the need for Surface to dominate sales.
"I'm super-glad we did Surface," Ballmer said. "I think it is important—and not just for Microsoft but for the entire Windows ecosystem—to see integrated hardware and software."
Ballmer later explained that Microsoft is trying to lead the way for other hardware makers with devices like Surface. The Surface Pro's use of a stylus is one example. "I think it's fair to say we've been talking about pen computing for years, but it was hard to do that with OEMs who were not equally incentivized," Ballmer said. "Now we're trying to lead a little bit with Surface Pro."
I like the idea that Microsoft can show OEMs how to make interesting hardware. The first crop of Windows 8 hybrids only proved that more innovation was necessary.
The question is whether traditional PC makers have enough incentive to follow along. Looking at AdDuplex's stats, you'll see that no other Windows hybrids or convertible laptops are on top of the list, while cheaper, more typical laptops are getting significant share. PC makers could end up experimenting less, focusing more on traditional laptops and desktops, and letting Microsoft carve out most of the Windows tablet market on its own. You have to wonder how Ballmer would feel about that.