Google is invading the traditional desktop with a new feature for Chrome that lets you launch Web apps and Chrome standalone apps directly from the Windows taskbar without starting your browser. The new app launcher is ported from Google's browser-in-a-box operating system, Chrome OS, and puts all your Chrome apps under one icon on your taskbar. The feature makes it even easier for Windows users to fire up Chrome apps instead of full-fledged desktop applications for everything from editing documents to chatting over IRC to reading e-books.
Chrome's app launcher is not quite ready for prime time; the feature is only available on the developer version of Chrome for Windows. The official release should show up in the stable version of Chrome in the coming months. Google also has plans to add the app launcher to Chrome for Mac and Linux in the coming weeks.
How the Chrome App Launcher works
To get started, you need to download the Chrome for Windows developer version from Google's dev channel. If you're already running Chrome, this will replace your current version with the developer release. Keep in mind, the developer version can sometimes break features or introduce browser crashes, so you may not want to work with it if you rely on Chrome day to day. The good news is you can easily switch back to the public release of Chrome by downloading and installing the current stable version.
Packaged apps
Once you've got the developer version up and running, you need to install a Chrome packaged app before you will see the Chrome OS app launcher on your taskbar. If you already use a packaged app, delete then reinstall it to see the launcher. Packaged apps, introduced to Chrome last June, are desktop-like apps that open in their own window and work offline, but are based on Chrome and built with Web technologies such as HTML5, JavaScript and CSS.
You install packaged apps from the Web store like any other Chrome app, but currently there is no simple way to find or search for packaged apps. Google suggests users can ease the process by installing either the CIRC IRC client or a text editor called Text Drive to try out Chrome's new app launcher functionality.
For our purposes, let's say you decide to install Text Drive.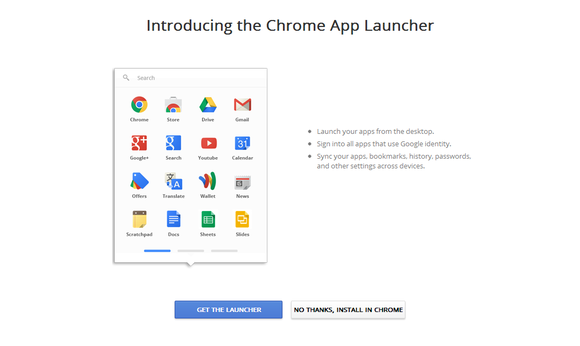 Once you click the "Add to Chrome" button you should see a pop-up window like the one above asking whether you want to enable the Chrome App Launcher. Click "Get the launcher" to install it, and a 9-square grid should appear in your taskbar. Like any good Windows app, installing App Launcher will also add a launch icon to your desktop.
After the launcher is installed, you will be asked to continue installing Text Drive for Chrome as you normally would by clicking "Add" and downloading the CRX file.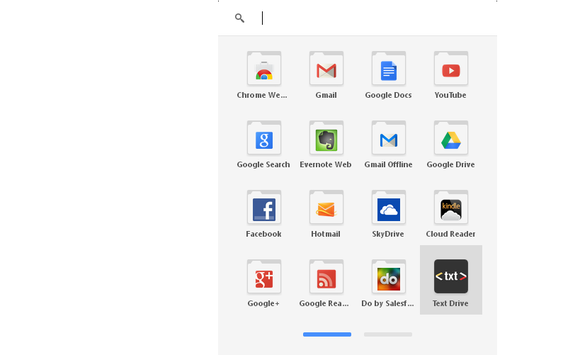 Once you've got the app launcher, all your Chrome apps will be available from your taskbar and will no longer appear in the browser when you open an empty tab. Click the Chrome App Launcher and a pop-up window will show all your Chrome apps. The app launcher can display 16 apps at once, and you will be able to scroll to a second page similar to the way you would using an empty tab in Chrome. Any Web apps you open show up as a new tab in your current Chrome session while packaged apps appear in their own window.
Adding the Chrome App Launcher to traditional desktop PCs should be a helpful addition for hardcore Chrome users who need easy access to their Web apps. Chrome's launcher also adds a little bit of that Chrome OS feel to other operating systems, which may be Google's real goal. I can't help wondering whether Google plans on other Chrome OS features to its Windows and Mac browsers in the hopes of convincing more desktop-bound users to give Google's cloud-based notebooks a try.