As promised, Microsoft has delivered the final pieces of its new Office lineup, rolling out several new global editions for businesses today.
The company now offers a whopping ten different Office 365 subscription options, and with the Wednesday launch of Office 365 Small Business Premium, Office 365 Midsize Business, and Office 365 ProPlus, organizations have multiple alternatives for obtaining Office 2013 desktop apps, for PCs and Macs. The three latest offerings also bundle business-specific extras, including website support, unified communications, collaboration, and security.
New subscriptions, myriad options
Microsoft has succeeded in further muddying the waters for would-be customers with these last-minute additions to its Office 365 business packages. And to figure out where the Office 365 subscription options stand in the greater Microsoft ecosystem, we need to compare them with the Office 2013 desktop productivity applications.
As has been widely reported, the Office 2013 products follow a traditional software sales model: You pay a one-time fee, and receive licenses for one-time-only, single-computer installations. This structure makes some of the Office 365 subscription pricing more appealing, as you get not only multiple desktop installations and extra apps and features, but also full Office functionality on any Windows 7 or 8 PCs you might use in the wild via the new Office on Demand feature.
Nonetheless, the number of different subscription plans is daunting. Microsoft continues to offer the previously available Office 365 Small Business plan, which provides access to Web apps but doesn't grant access to desktop-class Office apps. But now the existing offerings are joined by three new subscription plans that deliver full-blown Office 2013 applications as well.
The new Office 365 Small Business Premium and Office 365 MidSize Business packages each bundle up to five desktop installations of Office 2013, along with support for email, public and internal websites, and collaboration and unified communication services. The suites are designed to be administered without an IT pro. Office 365 Small Business Premium is built for businesses with up to ten workers and costs $12.50 per user per month (or $150 per year). Office 365 MidSize Business, meanwhile, targets firms with up to 300 users, and costs $15 per month or $180 per user per year. Among other things, you can configure these services to use an existing domain for email and a website, much the way Google Apps works.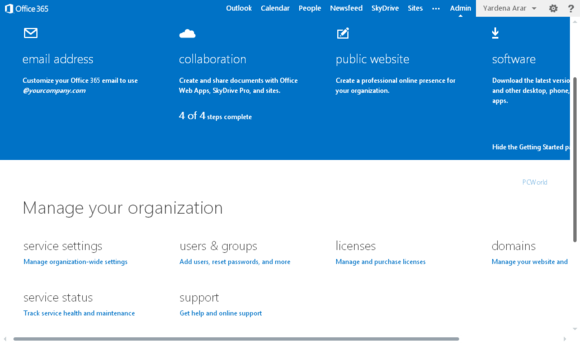 A third new offering, Office 365 ProPlus, deploys Office 2013 via the cloud, and without the business-specific Web services. Microsoft says this arrangement allows it to run alongside older versions of Office, as opposed to the conventional desktop installations, which typically overwrite older versions. Microsoft also says that streaming Office 2013 apps allows organizations to deploy custom settings across all of a user's devices.
But, wait, the dizzying options don't end there.
In addition, Microsoft is keeping all of the old Office 365 offerings, which include four midsize and enterprise versions of the suite. Existing Small Business or Small Business Premium customers can upgrade to the MidSize plan at some point later this year.
It's worth noting that individuals and very small organizations that don't care about the collaboration features, email, and website support offered in the business services may find the consumer-focused Office 365 Home Premium sufficient (but don't tell Microsoft we sent you). It's the least-expensive way to get Office 2013: A $100-a-year subscription pays for five installations on whatever mix of PCs and Macs you may have, and includes all Office 2013 Professional applications (Word, Excel, PowerPoint, OneNote, Outlook, Publisher, and Access).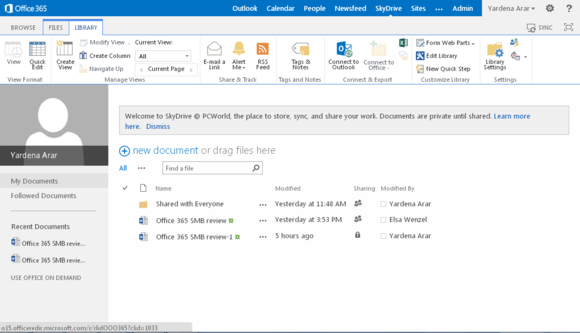 As for the desktop, nonsubscription editions of Office, Microsoft last month began selling three stand-alone versions: Office 2013 Home & Student ($140), which includes Word, Excel, PowerPoint, and OneNote; Office 2013 Home & Business ($220), which adds Outlook; and Office 2013 Professional ($400), which adds Publisher and Microsoft's Access database application.
Not only can you not install Office 2013 on more than one PC or Mac, but you can never move it to another PC or Mac even if you uninstall it from a computer you're no longer using. The license is tied to the computer—a new restriction.
You can get a few bucks off the retail prices by purchasing a product key card to use with installation software that you've either downloaded or obtained on media, but for staffers who may upgrade computers or use multiple systems (say, a desktop and a laptop, or a home machine and a business machine), the costs can mount quickly.
Next page: Hands-on…
Hands-on: A mix of intuitive and puzzling
We've already reviewed the Office 2013 desktop apps, and we are generally pleased with the changes. But our first impressions of the new Web services (using evaluation accounts set up by Microsoft) are less favorable. While some things worked well, other features were slow or downright confusing.
What worked well: If you're a small-business manager, setting up Office 365 Small Business Premium for your team of up to ten people is a cinch. The dashboard for adding people and managing their permissions is straightforward, whether you're getting started or making tweaks later.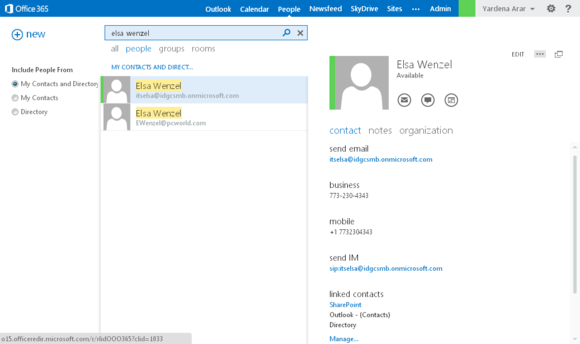 I had no trouble importing my Gmail contacts to my Outlook account following instructions in Microsoft's help screens. The presence feature, which showed me whether a colleague was online, also worked, although sometimes it took a few seconds to reflect a status change.
Microsoft provides a couple of dozen templates for creating public and private-facing websites. Users also get a Newsfeed page, where they can track contacts on social media. It's a nice alternative to trying to cram this information into a corner of Outlook, which is what the desktop app does.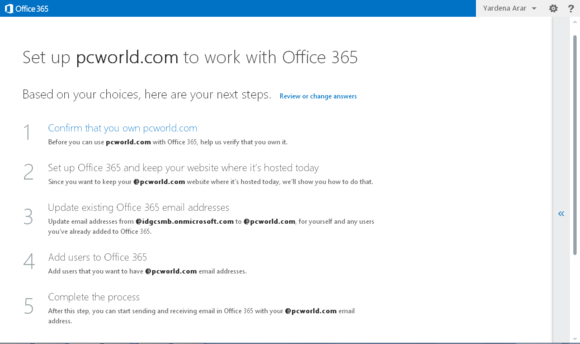 The Office Web Apps offer pared-down online editions of Word, Excel, and PowerPoint. Opening and editing documents there is elegant enough. But collaboration was less effortless than, say, with Google's productivity apps, which instantly show you a coauthor's changes as you both type. Microsoft transmits changes only after you press Enter—and two people can't work on the same paragraph at the same time. In addition, in my tests the services often felt poky, even in Internet Explorer.
I also ran into trouble trying to share a document without working on it at the same time as a coauthor. I created a document and stored it on my account's SkyDrive after granting my editor, Elsa Wenzel, permission to edit the document. She made changes, but when I subsequently opened the document, I saw only notes saying that changes were available—and, in the backstage view, two contradictory options were highlighted, one authorizing changes and one preventing them. I'm not sure why that happened—or why Elsa no longer could see the document on SkyDrive. We later learned that to see the document, Elsa would have had to click the link I'd sent her originally, but the experience was not intuitive, and left us confused.
Bottom line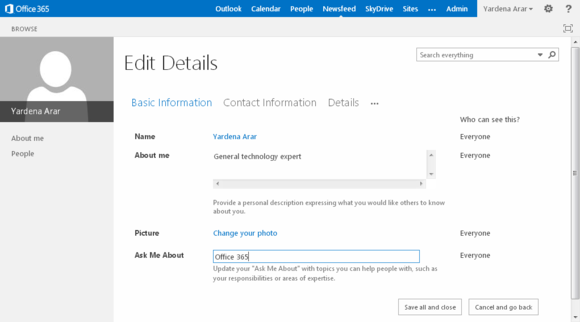 The bottom line on Microsoft's new small-business offerings: They promise a lot of features, but some of the functions might be less intuitive to use than the marketing materials suggest. Moreover, some features may either duplicate infrastructure you already have, or offer something you don't really want or need; many businesses, for example, already have a hosted website, or favor other conferencing services.
Office 2013's productivity apps are still the best reasons to consider Office 365. The full-featured desktop programs offer the best feature set and performance—plus, they are available even when the Internet isn't, so they're preferable to plans that rely on Web apps alone. If you keep in mind that the full suite costs several hundred dollars, Microsoft's subscription fees are reasonable.
But if your productivity needs don't require the power and sophistication of Office desktop apps, and if the infrastructure services don't interest you, competitors such as Google Docs beat Microsoft on price (Google Docs runs $5 to $10 per user per month) and ease of use for collaboration. That's a calculation every business manager will have to make.