Noah Kravitz built up quite a following at PhoneDog, a mobile-phone news and reviews website. By late 2010 his @PhoneDog_Noah Twitter account had amassed more than 17,000 followers. That was all well and good—until Kravitz resigned and went to work for a competitor.
Kravitz took his followers with him, changing the name on his account to @noahkravitz. And that's when PhoneDog, which was unwilling to let 17,000 fans go that easily, filed a lawsuit against him.
The question of who owns an employee's social networking account when it's used for work-related posts is a legal grey area, as more companies are discovering when they wind up in court trying to keep readers, business contacts and other social connections within the fold.
"Social media law is a developing area," said Cary Kletter, a partner with Kletter Law Firm who represented Kravitz in the PhoneDog case. And because the legal basis for claiming ownership of social media accounts is not clear, litigation is a common course of action when disputes arise.
PhoneDog's lawsuit alleged misappropriation of trade secrets, arguing that the password for the Twitter account constituted confidential information that allowed Kravitz's new employer to unfairly compete against PhoneDog. The case played out between 2011 and 2012 in a California federal court and was eventually settled under undisclosed terms. But Kravitz got to keep the account, which now has more than 23,000 followers.
Two other cases gained attention last year for pitting employers against employees over social media ownership. In one, Jill Maremont sued her then-employer, Chicago-based Susan Fredman Design Group, after it posted messages to her Twitter account while she was in a hospital recovering from a car accident.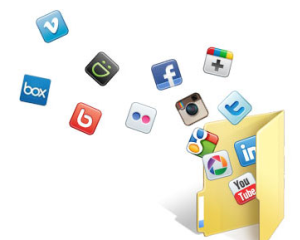 Maremont had used the account to promote company business, and her employer knew her password. Her lawsuit accuses the company of impersonating her for commercial purposes without her permission. That case is ongoing at the District Court in Northern Illinois.
In the other case, Linda Eagle, co-founder of a banking education services firm in Pennsylvania, was fired after the company was acquired in 2010, court records show. Eagle had created a LinkedIn account while she was president of the company, and after her termination she found the account had been taken over and put in the name of the company's new CEO, Sandi Morgan.
People searching for Eagle on LinkedIn were now routed to a page with Morgan's name and photograph—but which still showed Eagle's honors, awards, recommendations and connections, according to the lawsuit she subsequently filed. That case is also pending.
The Maremont and Eagle cases, and others like them, are difficult to decide because there's little legal guidance today about who owns an employee's Twitter, Facebook or LinkedIn account, and their associated contacts, when the account is used for work.
"Many employers today don't give much thought to post-employment ownership of, say, Twitter followers," said attorney Jennifer Archie, a privacy and data security specialist with Latham & Watkins, who has counseled dozens of employers about workplace policies and employee agreements related to social media.
An example of how far the issue is from many employers' minds played out last year when Jim Roberts, a prominent editor at The New York Times, left the paper, taking some 75,000 Twitter followers with him. The paper reportedly had no policy in place to address the issue, and the 26-year-old Times staffer simply changed his handle from @nytjim to @nycjim. The Times apparently opted not to sue. His current follower count: about 82,000.
Some, like Kletter, argue that because Twitter followers are typically real people, who can be seen by anyone clicking on a person's followers link, and who follow and un-follow accounts as they please, the legal basis for claiming ownership of them is questionable.
In cases where a social media account was created as a personal one before the employee joined the company, and then used for both personal and work purposes, it's likely even harder for an employer to claim ownership, Kletter said.
Determining what makes an account personal versus professional is tricky in an age of near-constant social networking, said Archie of Latham & Watkins.
"People's professional work often bleeds over into their personal time thanks to the interconnectedness of mobile devices, and that's only one way ownership disputes can arise," Archie said.
Facebook and LinkedIn each said via email that their official stance is that users own their accounts. Twitter's terms of service say its users own all the content they post to its site.
Because the dividing line between personal and professional is so blurry and varies with the job, the best way for employers to avoid legal disputes is to craft clear policies about how employees should use social media, and what happens to an account when an employee leaves the company.
The policy should at the very least make clear whether the company or the employee will own job-related social media accounts, said John Delaney, a partner with the law firm Morrison & Foerster.
"In journalism, for instance, sometimes the journalist might have a larger following than the newspaper or magazine itself, so spelling out a policy up front could even be a topic of negotiation," said Delaney, who heads Morrison & Foerster's social media practice group.
If a company wants to claim ownership of a social media account, ideally it will keep the employee's name out of the account name, and instead reference the company's name or its brands, he said. And if a company owns an account, it should be used exclusively for business, and not for employees' personal use as well.
"If a company is going to encourage its employees to use their own personal social media accounts for work-related posts and tweets, the company should not expect to obtain ownership over such accounts as a result," Delaney said.
Even when the account is personally owned, there are still legal gray areas when it is used, even if only in part, for that person's work or business.
"Even though the existing practice of the overwhelming majority of employers recognizes employee privacy rights with respect to private, password-protected social media accounts, we recommend that employers undertake a careful review of their social media policies and practices," said Latham & Watkins attorneys Linda Inscoe and Joseph Farrell.
Consider a case in which an employee starts a personal blog related to work, develops a long list of email subscribers and later leaves the company, said Latham & Watkins' Archie.
"Is that list intellectual property? If so, who gets it?" Archie said. After all, going back to the New York Times example, "seventy-five thousand followers on Twitter starts to be worth a little bit of money."