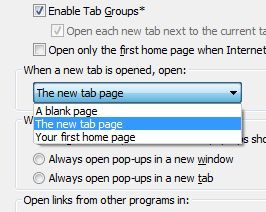 PC World reader Joel is an Internet Explorer 9 user who encountered a problem:
"When I used to [open] a new tab in [Internet Explorer], I used to see a new page with a grid of icons/boxes representing the Web sites I had recently visited, so I could select one and return to that site. No more. I don't know what changed, but now when I select a new tab, what appears is my homepage."
By default, clicking the New Tab icon (or pressing Ctrl-T) in Internet Explorer opens exactly what Joel described: a page with thumbnails for "Your most popular sites," meaning those you've visited frequently.
Somehow, however, this setting got changed, and now Joel's new tabs produce his default homepage instead. Thankfully, there's an easy fix:
1. Open Internet Explorer, click the Tools icon (or press Ctrl-X), and then click Internet Options.
2. In the General tab, find the Tabs section, then click the Settings button within that section.
3. Midway down that Settings dialog, there's an option called "When a new tab is opened, open:"—and a pull-down menu below it.
4. Click that pull-down, then choose The new tab page. (Joel's somehow got set to another option: "Your first homepage.")
5. Click OK, then OK again.
Now IE should open new tabs with those "favorites" thumbnails. As you may have noticed, there was a third option in that menu: "A blank page." Use that if you'd rather have new tabs open with nothing at all in them.
Contributing Editor Rick Broida writes about business and consumer technology. Ask for help with your PC hassles at hasslefree@pcworld.com, or try the treasure trove of helpful folks in the PCWorld Forums. Sign up to have the Hassle-Free PC newsletter emailed to you each week.