On Monday, Kaspersky released version 3.0 of PURE Total Security—the company's most-feature-packed PC antivirus and security product—priced at $90 for a 3-user, 1-year license. There are no major visual changes, but this new version has some new and improved features in addition to the existing file encryption, file backup, password manager, parental controls, and remote access features, among others.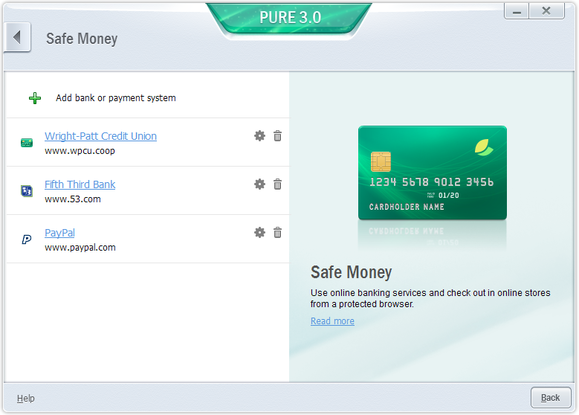 The new Safe Money feature helps you better secure your online banking and shopping. Before you log onto a banking or payment site, it automatically verifies the site's security certificate and reputation. If the site is found genuine, Safe Monet opens it in a secure browser with secure keyboard input to prevent your login or payment information from being captured by any keyloggers or malware you might have on your PC.
Kaspersky also made improvements to the suite's existing backup utility, which now allows you to backup your important files online with the integrated Dropbox storage in addition to local drives. And if lose your files or your PC crashes, you can restore them via the program or access them from the Dropbox website.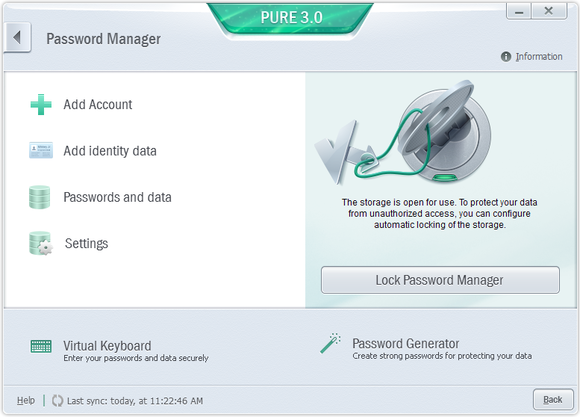 The existing Online Password Manager that can store your passwords in a protected vault now offers a synchronization feature. Login details, notes, and identity information you save can automatically be encrypted, stored online, and synced with your other PURE-protected machines.
Kaspersky has also made several other minor improvements in version 3.0, including better protection against exploits and phishing sites, and improvements to the content filtering for the Paternal Controls.
Want to give Kaspersky a try? Though the company doesn't provide a full free edition, it does offer a free scan-only download and 30-day free trials for all its products.