At a Glance
Expert's Rating
Pros
Clever docking design mimics a laptop
Very good runtime with internal battery turns sensational with added dock battery
Cons
16:9 aspect display isn't optimal for reading
Needs a longer-stroke keyboard and more responsive touchpad
Our Verdict
Dell's clever Windows 8 RT convertible tablet delivers sensational run time from its dual batteries, but performance feels sluggish.
Best Prices Today: XPS 10 Tablet (32GB, keyboard bundle)
It's a tough time to be a Windows 8 RT tablet. Sales seem to be slow, or even negative, for products using this 'lite' version of Windows 8. If Samsung's recent withdrawal of Windows RT products from the European market is any indication, these products are competing with Boeing's 787 Dreamliner for rockiest maiden flight.
What, if anything, can the Dell XPS 10 tablet do to sell itself when its category could be dying? Its saving grace could be its innovative design, which features batteries in both the tablet and dock. When the two halves are married, the XPS 10 delivers a stellar 16 hours of run time–a major selling point if you're commuting internationally. The unit is also handsome in a conservative way, and tactilely appealing thanks to Dell's soft touch paint on the exterior.
On the down side, the performance is just average compared to other RT tablets. The display's 16:9 aspect ratio is less than optimal for reading, and the keyboard and touchpad could be a lot better than they are.
From great battery life to sensational battery life
Our $629 ($399 without dock) configuration of the XPS 10 had 2GB of system memory, a 1.5GHz Qualcomm Snapdragon S4 CPU, and 32MB of eMMC NAND storage. In conjunction with the dual 27 watt-hour batteries the components delivered superb battery life–8 hours and 20 minutes for the tablet solo, and 15 hours and 50 minutes when docked. Yowser. 64GB models are available for $679/$499.
Judged subjectively as a tablet, the XPS 10's performance isn't bad, and it posted average scores in our Web-based performance tests However, as a laptop, which is arguably the unit's most useful state, it feels just a tad sluggish. Most of the lag occurs when you open programs, switch pages, etc. These are usually symptoms of a slow hard drive, and the eMMC's relatively low 80MBps read and 20MBps write speeds would seem to bear that out.
On the other hand, 1080p video played smoothly on the 10.1-inch, 1366-by-768-pixel, ten-point touch display, and the sound was darn good for a tablet. There's even a hint of bass, the lack of which is an almost universal portable-device problem. The cameras–a display-side 2-megapixel (MP), and rear-facing 5MP–are about par for the course, meaning good photos and slightly jerky video under good lighting conditions.
Most of the XPS 10's ports are found on the dock. There's no USB 3.0, however, there are solo USB 2.0 ports on both the left and right sides. The left side is also home to a mini-HDMI port (1920 by 1080) while the right houses the AC port.
The tablet portion has micro-USB (cable included) and docking ports on the bottom, and covered micro-SD and micro-SIM on the top along with the power button. The left side has a volume rocker button and the headset jack. 802.11 a/b/g/n Wi-Fi, and Bluetooth 4.0 take care of the untethered connectivity. All the above references assume the tablet portion to be oriented in landscape mode.
Nice design, but heavy
The XPS 10 is styled largely in dark gray, with silver edging and a black, approximately one-inch bezel surrounding the display; It's nice looking. However, the keyboard and touchpad were a bit disappointing, especially after my recent excellent experience with the Dell Latitude 6430u. The keyboard with its short-travel keys didn't provide enough tactile feedback for my tastes, and the touchpad seemed under-responsive. They're doable, but not great.
The XPS 10 is indeed a tablet with a dock, however, the design is so nicely realized when that when they are joined, it's hard not to think of the unit as a laptop (Hence the performance gripes). The tablet portion slides into a slot that rotates out from the base and locks into place, with a release catch to facilitate easy removal. When docked and closed, the unit lays flat, but when the tablet/display is opened, the unit acquires a forward rake that helps when you're typing.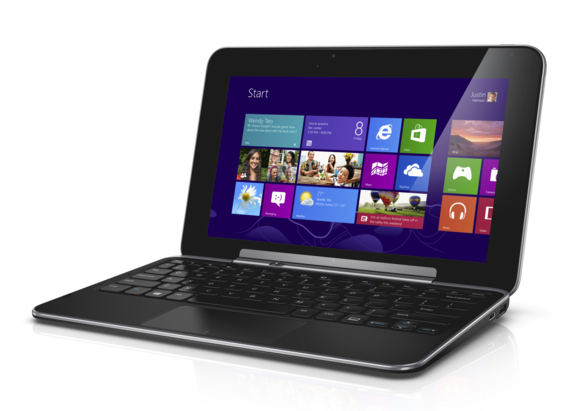 As you might expect, with two batteries on board, the docked XPS 10 is heavy for being only approximately 1 inch thick, 11 inches wide, and 7 inches deep. The 0.36-inch thick tablet portion weighs a reasonable 1.49 pounds, and the base 2.87 pounds. Add the approximately half-pound AC adapter, and you're talking nearly five pounds of luggage. Note that you can charge the XPS 10 using the AC port on the dock (this charges both batteries), or using the identical docking port on the tablet portion.
Display works better as tablet than as laptop
There's a yin and yang to the 16:9 aspect ratio display that the Dell XPS 10 and Windows 8 vendors in general seem to have fallen in love with. It's great for widescreen video, but for surfing and reading, you're faced with either a super-wide and squat, or a super-thin and tall page. This is more of an issue when you un-dock the XPS 10 (and others) to use it as a tablet. I found myself having to move my head or the unit to keep my eyes comfortably focused when reading in portrait mode.
The 10.1-inch size of the display could also a bit of an issue. It's fine for a tablet, which you can situate as necessary. But in laptop configuration, it's a bit small for serious work.
Windows 8 RT has its limitations
I thought I might be able to avoid discussing Windows 8 RT, but it proved impossible. For starters, the PCWorld lab could run only their Web-based tests as WorldBench is based on standard Windows desktop apps–which can't be installed. Also, I was frustrated in my hands-on playing video because I could find no support for OGG and MKV.
Dell includes the Microsoft Office Home and School 2013 RT (Word, Excel, Powerpoint, and OneNote), so everyday productivity isn't an issue. There are also the integrated music, video, and social apps, so you can do quite a lot right off the bat. That said, the odds are extremely poor that you'll find your favorite desktop app ported to Windows 8 RT. At this point it's anyone's guess as to how that situation will pan out.
A basic tablet for the long haul
The XPS 10 is a decent implementation of a Windows 8 RT hybrid tablet, though that isn't necessarily saying much. The run time with the dock is simply spectacular, however, and the versatility of the two-part design could make up for other shortcomings. Other than that, it's down to whether the form factor is right for you and whether the apps and software you want are available for RT.
Best Prices Today: XPS 10 Tablet (32GB, keyboard bundle)