Millions around the world began their online day by checking out Facebook's News Feed. But what they see there is about to change: On Thursday, Facebook announced a major overhaul to the News Feed feature at a much-hyped press event at the social networking giant's Menlo Park, Calif., headquarters.
Instead of offering users just one feed full of many types of content—photos, links, location check-ins, text updates, music listens, videos, and so on—Facebook now will feature multiple customizable feeds that present specialized posts.
"What we're trying to do is give everybody on the world their very own personalized daily newspaper," Facebook CEO Mark Zuckerberg said at Thursday's event.
And Facebook's new feeds will do that by parsing content on the social-networking service by type, source, and posting time.
Content by type and source
One of the new feeds includes only posts that include photos. Another feed features only content about music—links to songs and videos, tour dates, band recommendations from friends, and so forth. Another feed concerns itself with information about games solely from your gaming buddies.
In addition to the type of content, you can also customize feeds by source. Some of the new feeds are designed to let you see content from only a certain class of Facebook friend. An "all friends" feed presents all feeds from friends, in chronological order. A "close friends" feed gives you only content and recommendations from your inner circle.
A "following" feed will show you only posts from the pages that you follow as a fan. This feed might show news articles about an actor you like or stats from you favorite sports team.
Chronological feeds
If you're more concerned about late breaking news from your friends, you can use a "most recent" feed to give you only the latest feeds, in chronological order.
The regular News Feed that we're all used to will still be available, and likely the first thing users will look at—the front page of the newspaper, if you will. "The front page will probably be the one people look at most, but then they can dig into all these other news feeds," Zuckerberg said.
That main News Feed will continue to use the same complex algorithms used by Facebook to decide what content is featured prominently in the feed and which content shows up further down.
Of course, the name of the game here is time. Facebook wants to improve upon the average 22 minutes that people spend on its site each day. This could have a huge impact on how much advertising content Facebook can put in front of users, which would mean big dollars and big smiles for nervous Facebook investors.
The look of feeds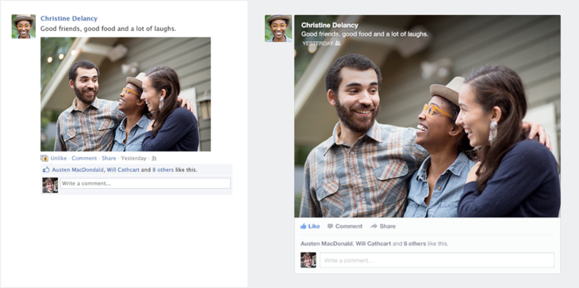 Zuckerberg said the new feed designs will be optimized for the mobile experience, and highly visual. "Almost 50 percent of the content in the average newsfeed is photos and other visual content," he added.
For instance, links to articles will include a larger thumbnail image, a longer summary, and the logo of the news source featured prominently. Location check-ins will include a map and more information about that particular place.
Facebook stresses that it wants the experience of using its site to be consistent, whether you're there on a phone, tablet, or PC. The same design and navigation tricks are being used for all versions of the site—mobile or not. Even little cosmetic things like colors and fonts will be the same across all user device types, Facebook says.
Facebook has tried offering specialized feed options at the top of its home page before, eventually abandoning those efforts for the most part. So why return to the theme now? Facebook says the reason is that more rich media content like photos have become a part of its social networking site, increasing the need to sort and organize all of that content.
The new designs start rolling out Thursday; they'll show up on all devices within the next few weeks.
Updated at 11:25 a.m. PT with more information throughout the story.