If you hate change in your favorite desktop apps, stop reading this right now and whatever you do, don't update the Dropbox client on your PC.
For everyone else, Dropbox has upped its game on the desktop with new features for Windows and Mac that show your latest Dropbox activity at a glance. With Dropbox 2.0, released Tuesday, clicking on the Dropbox icon on your desktop will show you shared-folder and file notifications from other users, as well as your recently changed files and folders.
Previous versions of Dropbox on the desktop put recently changed files under a secondary menu.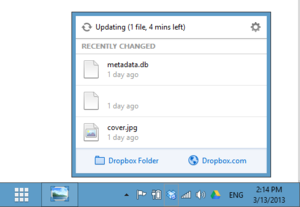 Dropbox's new desktop client also features share buttons for your recently changed files that opens the sharing dialogue on the Dropbox Website.
This is similar to the "share link" menu item you see when you right-click a file in your Dropbox folder on the desktop.
As with previous versions, the new Dropbox desktop interface also has quick links to open your Dropbox folder or the service's Web interface.
[Download the latest version of Dropbox.]
Hey, where'd my storage meter go?
Dropbox fans were quick to voice their fury on the company's blog Tuesday over the company's decision to change the desktop interface. The biggest complaint, after the lack of a Linux version, was that the new version buries some favorite features under a secondary menu.
Features such as your storage usage, pause syncing, and preferences are now all under the settings gear icon in the top-right corner of the new interface in Windows. Mac users will see the new gear icon on the bottom right of the dropdown menu.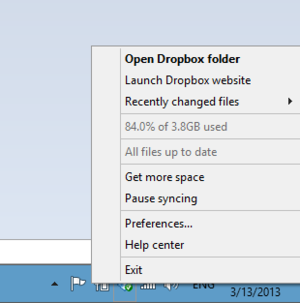 If your favorite feature was seeing the time estimate on new file uploads, have no fear. That feature appears at the top of the window in the new interface when you're sending new data to the cloud.
It's not clear if users were clamoring to put share notifications and recently used files front-and-center on the desktop or if Dropbox just thought the features would make its PC clients more useful.
"With all the stuff you've got goin' on, we figured it'd be handy for you to keep track of all your exploits in one place," Dropbox said in its blog post announcing the changes.
The new interface makes Dropbox feel more like an independent app, whereas previous versions felt more like a built-in desktop utility. It also differentiates Dropbox on the desktop from the other file storage and sync clients you might have installed including Google Drive and Microsoft's SkyDrive. Both Google and Microsoft have generic one-click menu items similar to the older version of Dropbox.
It's a good bet both services will now try and jazz up their desktop clients in the coming months following Dropbox's changes.
Beyond the desktop, Dropbox also added folder-sharing notifications to its mobile apps for Android and iOS.