Since the rise of Google AdWords, pay-per-click advertising has been the de facto way to promote just about anything online, whether you're selling bottle openers or want to sue over asbestos-related illnesses.
But pay-per-click (PPC) prices are on the rise. Some keywords that used to cost a quarter per click now run a dollar or more. Some keywords, like "mesothelioma settlement," command over $100 for the top spot on Google's ad placements. PPC ads are still effective, but they've become less profitable for many.
The most promising alternative advertising outlet is in the realm of social media. After all, the average user spends hours every month on Facebook. Why not reach them where they're already engaged?
Nearly every major social media site offers advertising options, each with its own spin. (Read more in "Do social media ads really work?") But managing these ads takes extra work, not to mention the expenses you incur for running ads on each outlet. Luckily, social media ads don't have to consume your work week. Read on to learn how to start advertising with the most popular and effective social networks.
Facebook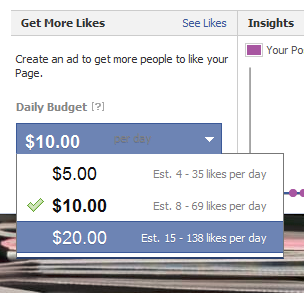 To advertise on Facebook, visit your business's Facebook Page, check out the Admin Panel, and click the blue Ads Manager button. You can set a budget here and create your ad. Set your funding source and step through the options. If you have a locally-oriented business, you can go as narrow as only users who live in your town. Go wider with a statewide focus or choose the whole United States. Once you clear this screen, you're done. In fact, your ad will immediately be launched. This ad is extremely simple, and it's designed just to get your Page more Likes.
However, if you want a more complex ad, dig into the advanced ad creator on your Admin Panel by clicking Build Audience, then Create an Ad. To save yourself a lot of trouble, use the Chrome browser to work on your ad.
Here you can choose whether you want to promote your company's Facebook Page, promote a specific post on the page, or do more in the Advanced Options. You can choose either to direct people who click on your ad to your Facebook Page or send them off of Facebook and to your website instead. (Pro tip: You, bizarrely, can't create ads while using Facebook as a business or Page; you have to be using the site through your personal account.)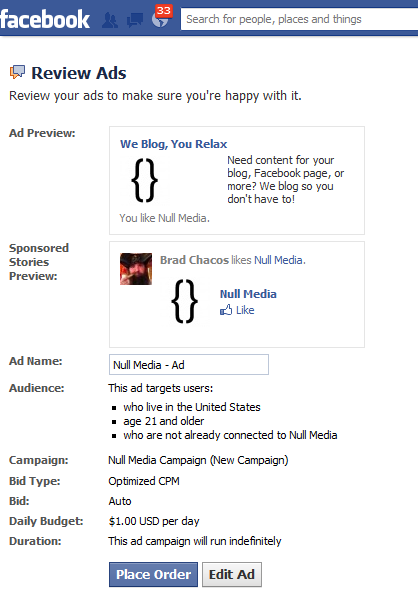 Ads on Facebook are short: a 25 character headline and 90 characters of text, but you do get to add a photo. By default this will be the thumbnail for your business on its Page, but you can change it to anything you like. (It's said that pictures of people do better than logos.)
Finally, you can set more detailed audience requirements for your ad, including age range, gender, location, and interests (which is based on other Pages they have liked).
At the very bottom of the page, set your budget. Facebook ad campaigns default to a per-day budget on a CPM (cost per thousand impressions) basis. Your bid is dynamic and is "optimized to get more likes on your Page," and you are charged per view, not per click. CPC pricing is available too, but Facebook offers little guidance on how to choose from CPM vs. CPC. It's a good idea to begin with a low-budget CPC ad before venturing into CPM. You can also add additional ads to the campaign to experiment with rotating through different copy or images.
Some final caveats with Facebook ads: Facebook approves each one before it goes live. A special quirk is that if you activate the "Show social activity… next to my ad" option for an ad that leads to an external Web page, you'll see your personal name beneath the account, not your business name (for example: "You and Bob Jones like Christopher Null.") If you don't want this, turn off the "Show social activity" option.
Twitter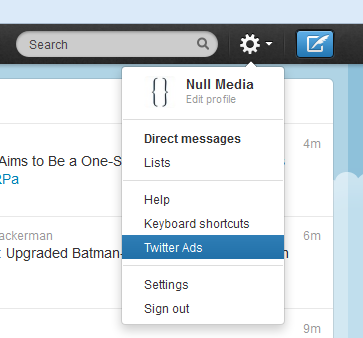 Want to get your Tweets in front of more people, or find more people to follow you? Here's how to do either, or both.
You'll find Twitter's ad system under the settings dropdown in the top right corner of the screen. Select Twitter Ads to get started. Stepping through Twitter's basic setup questions is simple and self-explanatory.
Set the location where you want to reach users, then set a budget for your promotional tweets. Twitter recommends a minimum bid of $1.50 per click, and as with other ad services, the fee for "Promoted Tweets" floats and is based on what the competition is doing. The higher you bid, the more likely your tweets will be promoted, but payment is collected only for tweets that are clicked upon.
You'll probably want to select which of your tweets to promote manually. If you're frequently tweeting about your industry and linking to other content across the Web, you won't want to promote those Tweets. Instead, make sure you pick tweets that link back to your blog or website directly.

On the next screen you'll get another advertising option, designed to help you gain followers for your Twitter account. This is a completely separate ad system that places your company in the "Who to follow" box on the Twitter home page, promoting you to users who are likely to be interested in your company. You only pay per new follower on a bid basis as noted above; Twitter recommends a bid of $2.50 per follower for this service.
Finally, you'll be asked to provide payment information and you're all set. Ads should begin running almost immediately.
Next page: Understand LinkedIn and StumbleUpon…
LinkedIn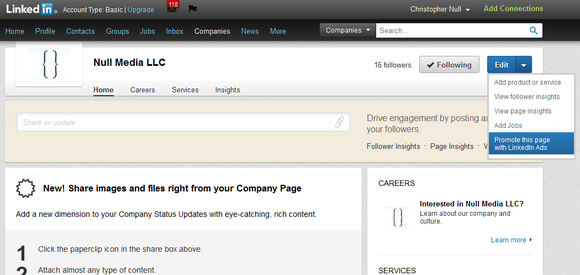 It's easy to get started advertising with LinkedIn. If you've set up a new company page recently, LinkedIn has probably even emailed you a promotion for free ad credits. Either follow the links in that email, or from your company page on LinkedIn, click the blue Edit dropdown and select "Promote this page with LinkedIn Ads."
Ads here work very similarly to Facebook's, and you can promote either your LinkedIn page or your website URL. Most ads on the site currently link to outside websites. As with Facebook, you can create multiple ad variations for use on a single campaign. The system tracks which one performs the best as your campaign runs. Ads have a small thumbnail image, again much like Facebook; headlines can be 25 characters and description text is limited to a mere 75 characters.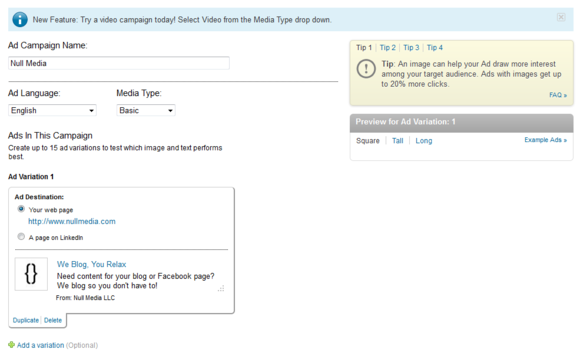 The next page offers copious targeting options. You start with the world, then narrow down based on criteria for those you want to see your ad. Choose their location, job title, age, gender, and even very fine data, such as the company they work for and the school they went to. Want to target only Stanford graduates working at Google? It's easy.
Finally, set your bids. You can choose to pay per click or per impression, and it isn't cheap. LinkedIn charges $2 minimum per click for CPC ads or $2 minimum per 1000 impressions for CPM ads. The minimum daily budget is $10. (New users must also pay a one-time $5 activation fee.)
For companies offering professional services, LinkedIn offers additional value in the form of its Lead Collection system. With this turned on at no extra charge, LinkedIn places a bar at the top of the page while your ad or website loads. Users who have clicked your ad see a message, such as, "Would you like XYZ Corp. to follow up with you on LinkedIn?" With a single click they can choose for you to contact them later. In turn, you receive an email with their LinkedIn profile information included.
Finally, billing information is collected before your ad is launched on the site.
StumbleUpon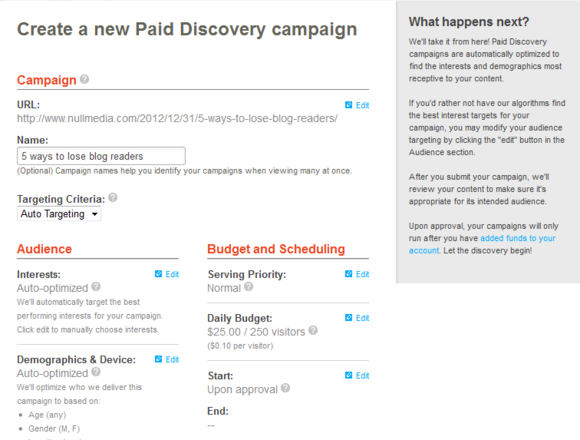 StumbleUpon is a different animal from the above social networks, but it remains a popular site for sharing fun Web content, and for getting your advertising message viewed.
StumbleUpon's Paid Discovery (PD) system is easiest to reach via this page. Just click the Get Started button. You will need a unique account on the PD system because your regular StumbleUpon account, if you have one, won't work here. Activate your account via email and begin to build your campaign.

StumbleUpon ads work differently than other social network ads. You don't write any ad copy. Rather, you provide your URL and the number of visitors you would like to see that URL. Each unique visitor costs 10 cents by default. Your page is then inserted into StumbleUpon users' Stumble flow automatically; up to 5 percent of "Stumbles" on the system are diverted to paid links. It is also unique in that advertising is prepaid. Your credit card is charged in advance for the amount you indicate, then that account is drawn down until it is emptied.
On the final page you can set advanced options, including demographics, start and end date, and user interests (which can be specified in users' StumbleUpon accounts). There are also options here to pay more or less per unique visitor that sees your ad, based on how "engaged" they are. StumbleUpon doesn't offer much guidance on what this really means, though.
One caveat: Remember that StumbleUpon users are looking for content during their Stumble session, not for business home pages or blatant ads. It's a good idea to use a blog post or video as your destination URL for a StumbleUpon ad in order to keep visitors from clicking away as soon as it loads. Also note that ads (or rather, your landing page) must be approved by the company before they are scheduled to run.