If your staffers simply need a note-taking application, Evernote is an obvious choice—it's the 800-pound gorilla, having grown in five years to 50 million users. But the program also offers an eclectic assortment of productivity features, and this is where its utility in business environments is much less obvious.
Yes, Evernote runs on nearly every platform, and it can capture whatever information you collect in the wild, including notes, images, videos, links, voice recordings, and even handwritten scribbles. The app is packed with possibility, yet Evernote's CEO admits that its usefulness isn't immediately self-evident. But try it for at least a few weeks, Phil Libin says, and you'll appreciate how Evernote provides direct access to everything you might mentally and physically bookmark during a day's worth of work.
You might even consider it your "second brain," surfacing data you didn't know you could live without.
Why Evernote?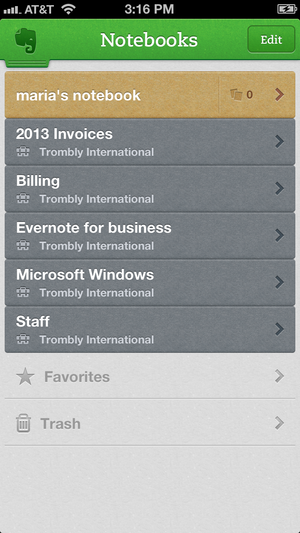 Evernote can archive organizational wisdom. Think of the notes you scribbled on a business card two years ago. Or your manager's instructions that you (thankfully) recorded last week. Or the obscure article you clipped about a key competitor. Now, what if the rest of your colleagues could access that kind of Evernote data from any device, and what if you could access their data too? With Evernote, that archive of data doesn't collect dust. Instead, it grows and adapts along with your business.
The basic version of Evernote is free on the desktop, in the browser, and on all major mobile OSs. Maybe your employees are already using it. This article will help you step up to the paid Evernote Business, which launched last December. The business service lets your company centrally manage employees' Evernote accounts for $10 per user per month or $120 per year. Previously, you could choose only between personal versions of Evernote and Evernote Premium ($45 per year), which offers more storage, offline notebooks, and the option to let other people edit your notebooks.
Evernote's chief competitor, Microsoft OneNote, is included with the latest versions of Office, but a stand-alone desktop license costs $70, and no Mac version is available. Microsoft's free iPhone and iPad versions of OneNote are limited to 500 notes each, in contrast to 100,000 on Evernote.
A recent security breach caused Evernote to step up its security measures with two-factor authentication, good news for safeguarding your data.
Set up your users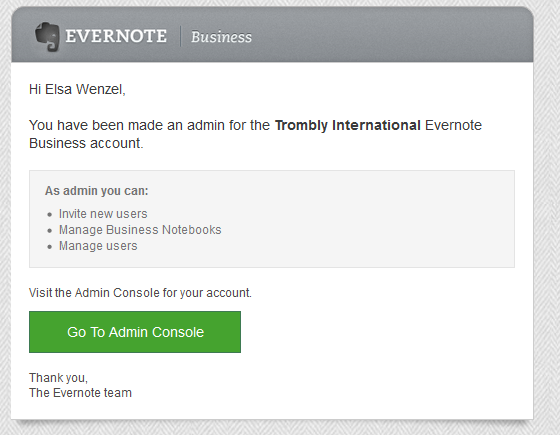 Visit the Evernote Business page and enter your work email address into the Get Started box to create a new company administration account. You can use your existing Evernote account if you're already a user, or create a new one. Once you enter some basic information, choose your payment plan.
For a very small business, adding users is as simple as typing in email addresses and clicking Invite Users. The option is available from either the business Admin Console homepage or the Add Users subsection. If you want everyone in your company to sign up for Evernote, but don't want to enter all those email addresses one by one, then allow anyone whose email address shares your domain name to create an account for himself or herself. If your staffers already have Evernote accounts under those email addresses, they'll be upgraded to Evernote Business.
If you're at a large company and want to avoid adding thousands of employees manually and having to remember to delete their accounts when they leave the company later, you'll want integration with your Active Directory, LDAP, or other corporate sign-on system. Evernote doesn't offer this feature, but you can turn to third-party options such as OneLogin.
Once you've entered users into the system, the Manage Users panel lets you delete anyone who leaves the company. The Admin Console allows you to see your billing details and history, as well as to manage notebooks and tags. All these screens are ridiculously simple to use. For example, you can easily look into your users' accounts and pull any of their work-related notebooks into the companywide Business Library. (More in a bit on how Evernote organizes your information.) If your users have marked their notebooks as personal, you can't see them. You can also export or delete notebooks from this central account.
Set up business data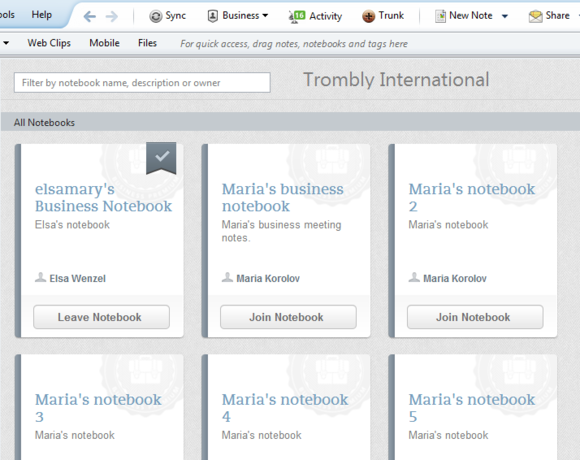 Evernote organizes information into notes—individual snippets of data saved from the Web or the world at large—one piece at a time. Because Evernote stores rich media, a "note" can be a smartphone photo of a parking ticket, the text of a memo, a shopping list, an audio recording, or a webpage. The list goes on.
You can add notes to notebooks, which you can then add to stacks of notebooks. Underlying all of this are tags—keywords that you attach to notes to help users search for them later. Everything appears in your Business Library, a communal repository for the company.
Your Evernote workspace shows three kinds of notebooks: your personal notebooks, your business notebooks, and notebooks in the company's Business Library. Your personal notebooks are private, but you can share them, if you like, with anyone inside or outside the company.
Your business notebooks are accessible to your company's Evernote administrator but not to other employees, unless you share them with those individuals or add them to the Business Library. Notebooks in the Business Library are accessible to anyone in the company.
To share a notebook in a Web browser, click the down arrow to the right of the notebook's name. In the desktop version, right-click the notebook's name.
You can't move a notebook from the personal section to the business section, but you can move individual notes in the desktop version of Evernote: Simply right-click the note's name, click Move Note, and select the name of the destination notebook.
To move entire notebooks into the business category, first create new blank notebooks in the business section, and then move or copy the individual notes. You can group notes into notebooks, and collect notebooks into stacks—just drag one notebook on top of another in the browser or the desktop client to create a stack.
If you need even more levels of organization, turn to tags, which you can nest indefinitely. The stacks and tag hierarchies you set up, even in your business notebooks, are yours alone. Remember that stacks are for visual organization only, not nested like a file system.
If you can't be bothered to do all this manual filing of your notes, just take advantage of Evernote's powerful search features to find the information you need in your own workspace or in the company library. The search function even extends to character recognition on handwritten notes.
Empower your business
You've set up your business account, and you've shared some documents with colleagues. Now what?
To play with Evernote Business and learn how powerful it can be, use it at your next meeting. In the Business Notebooks section of your account, create a new notebook for the meeting and share it with colleagues. Then access it via your laptop, tablet, or smartphone at the meeting itself.
Evernote saves notes automatically when you use a browser or the mobile client, so your colleagues can immediately see what you've added. On the PC and Mac clients, Evernote saves notes according to a schedule you specify, such as every 15 minutes or once a day. You can also sync notes manually at any time.
Anyone can contribute notes to the shared notebook, and they can continue to collaborate after the meeting is over. But don't stop at sharing typed notes—share document attachments or webpages, too. If your colleagues brought their own tablets or laptops to the meeting, there's no need to print out documents for each participant.
During the meeting, you can snap photos of business cards and add them as notes to the shared notebook for an easy record of who attended. The business cards are fully searchable, since Evernote has built-in optical character recognition.
If your device has audio input, record some of the meeting. Built-in voice recognition is available on both iOS and Android devices, if you want the recording automatically transcribed.
If your group uses a whiteboard for brainstorming during the meeting, take a picture to save it for later. Since Evernote can read handwriting, you'll be able to search the whiteboard notes as well.
And speaking of handwriting, if you prefer to write rather than type, take handwritten notes directly on your mobile device or with your Livescribe pen, or write on a paper pad and then snap photos of the pages.
Does the event you're attending have a Twitter feed? Save all associated tweets into an Evernote note by setting up an IFTTT process. IFTTT (If This, Then That) is a free, third-party tool that allows you to create simple automated processes. In addition to monitoring Twitter feeds, IFTTT can pull in Google News and Google search alerts, as well as RSS feeds from any blog or online publication. Your notes will be easy to find later in Evernote, organized with the other notes from the meeting, and, just like the whiteboard notes, they'll be fully searchable. When you and your colleagues get back to the office, everyone will be able to access the same records of the event and continue to collaborate.
This is just the beginning of the creative ways your company can collaborate and work more efficiently with Evernote.