Linux is widely referred to as a free and open source operating system, but most Linux distributions, or flavors, aren't actually entirely free.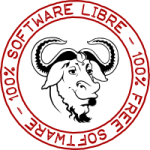 Yes, they're certainly free in price (unless, of course, you choose to purchase commercial support or other services), but when it comes to the other sense of "free"—namely, your freedom to share, study, and modify it—most don't quite make it thanks to the presence of occasional proprietary firmware, drivers, and applications.
There are a few exceptions, however, and they're essentially the only ones of which the Free Software Foundation fully approves. One of the better-known examples is called Trisquel, and it just rolled out a major new update.
Long Term Support
"Trisquel 6.0 LTS 'Toutatis' has arrived," read the official announcement last weekend, marking the first big update to the software since last April.
A number of new additions to the operating system make this latest version a particularly compelling one, including the fact that it's a Long Term Support (LTS) release, offering bug fixes and security updates until 2017.

In fact, "we have decided to change our release schedule from this point on: we will no longer publish short term support versions every six months, but focus on giving the best possible support to the LTS release, providing backported improvements to core packages like the kernel, the browser, and the X.org Server, among others," the project team explained.
So, point releases will come out every six months that include all improvements done to the system in that time.
A classic desktop experience
Also especially nice about Trisquel 6.0, which is based on Ubuntu 12.04 "Precise Pangolin" and GNOME 3.4, is that it offers a classic desktop experience by default, delivering a welcome alternative to those weary of the many mobile-inspired interfaces currently on the market.
The Linux-Libre 3.2 kernel provides the core of the OS, which also features LibreOffice 3.5 and version 19 of Abrowser, a Firefox derivative that does not recommend non-free software but offers full HTML5 video support and can display PDF files without a plug-in.
Ready to give Trisquel a try? It's now available as a free, 700MB download on the project site in 32-bit and 64-bit versions. Also available is "Trisquel Mini," featuring the lightweight LXDE desktop in a 500MB CD .iso image.