The party will soon be over for anyone enjoying the free Office 365/Office 2013 Preview, and Microsoft is getting serious about convincing people to buy or subscribe to the new productivity suite before the trial ends.
For the past few weeks, Microsoft has notified preview users about the close of the free Office test period by using an alert bar below Office's menu ribbon. Now, however, Office Preview users are seeing pop-up windows alerting them that their product has expired.
You can still close these pop-ups and continue using the Office 2013 preview, but the days of working on Microsoft's dime are numbered.
Microsoft released Office 2013 and Office 365 for home users on January 29. At the time, the company said preview versions would continue to work for about 60 days after the new Office release. That puts the end of the preview period around March 30, 12 days from now. When the preview period does end, Office Preview apps will enter a read-only mode.
With the end of the Office trial period in sight, it's time to decide whether or not you are going to fork over the money to keep using the new version of Office. Pricing starts at $100 per year for Office 365 Home Premium, which entitles you to use the Office 2013 versions of Word, Excel, PowerPoint, OneNote, Outlook, Access, and Publisher on up to 5 PCs. You also get an extra 20GB of SkyDrive storage space and 60 free Skype world calling minutes per month.
If a yearly subscription doesn't sound tempting, you can also buy the usual desktop versions for a one-time fee of $140. Desktop-bound customers, however, only get Word, Excel, PowerPoint, and OneNote. Outlook, Access, and Publisher are not included, and you also miss out on the monthly Skype minutes, and you only get an extra 7GB of SkyDrive space.
Freebies
Just one decade ago, there was almost no question that you needed to buy Office to have a functional PC. But even three years ago, when Microsoft launched Office 2010, the question of whether or not to buy Office was a dicey proposition.
Instead of forking over the money for an Office install, you can opt to use Google Drive as your free, permanent replacement. Drive offers online Google Docs applications for word processing, spreadsheets, and presentations, which can meet the needs of most users.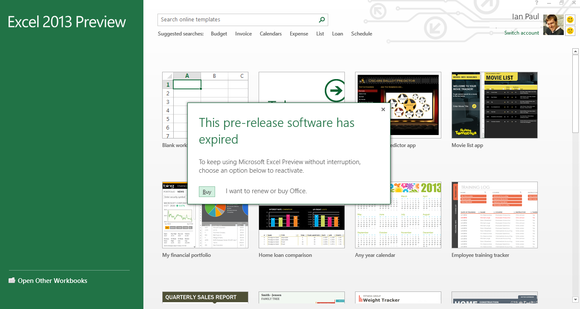 You're still better off using Office if you need features such as Word's mail merge and guided spell check, or Excel's advanced data analysis features; plain old Outlook addicts will also want to stick with Office.
The biggest downside of using a cloud-based service is that your free software could one day suddenly disappear from the Web, as Google Reader fans recently discovered. But given Google's intense interest in keeping Drive and Google Docs alive to compete with Office, this service will likely be around for a long time.
If you like the idea of free alternatives, but can't stomach the thought of using an online service, you can give free desktop apps such as OpenOffice or LibreOffice a try. LibreOffice is a solid desktop alternative that is installed by default in many Linux desktop flavors, including the always popular Ubuntu distribution. Don't be fooled by its free moniker, however, LibreOffice is a very powerful set of productivity apps that will, once again, meet the needs of most people.
Why bother to buy?
So why buy an Office 365 subscription at all? If you add up the free SkyDrive storage and Skype minutes, you're getting about an extra $20 in goodies per year. That brings the practical cost of Office 365 down to an-even-cheaper $80 per year, but only if you need all that extra SkyDrive space and can use up those monthly Skype minutes. If you need Office on multiple PCs, then Office 365 might make sense, but you could also just install LibreOffice or another free alternative on 5 or more PCs.
There's also the advantage of a new service called Office on Demand that lets Office 365 subscribers quickly download a virtualized instance of Office 2013 on a Windows 7 or 8 PC you don't own. But then again, shouldn't Web apps suffice for moments like these when you need to quickly edit a document on a public PC?
If you're an Office fan or need to have Office for your job or for school, then Office 365 makes sense, but it's getting harder to make a reasonable case to spend $100 on a productivity suite that most people don't need.
One of the few situations where Office 365 really makes sense is if you are a heavy OneNote user, which doesn't really have an equivalent online. Services such as Evernote come close, but aren't quite the same.
As mentioned previously, anyone living in Outlook for mail and calendar services is going to want Office 2013. Another compelling reason to buy Office would be if Microsoft came out with some killer apps for Android, iOS, and Windows Phone devices. Rumors have been circulating for some time about Office mobile apps that would be available as part of your Office 365 subscription. So far, however, only OneNote has gone mobile, and that app is free to anyone.
Microsoft Office 2013 offers a really great set of apps, and the Office 365 subscription model is an interesting idea. But with a number of free alternatives available for the average user, it's hard to find a compelling reason to put that $100 in Microsoft's pocket every year.