Google shook things up last week when it dusted off its old Notebook service and relaunched it as Keep. Google's new software muscles in on the space currently dominated by Microsoft OneNote and Evernote, two note-taking apps that save your text, Web links, photos, audio recordings, and more, helping to keep your life organized.
Think of these tools as sticky notes on steroids. They're great for managing day-to-day errands and stashing rich media content, but also exceptional for organizing tasks at work.
Whether you're about to start using a note-taking app or are considering defecting from your current choice, you must first think about the features you need most. One app may excel at OCR support and another might be best for anywhere access, while a third may be ideal for content sharing within a team. To help you make an informed decision, here's a closer look at how Google Keep, Microsoft OneNote, and Evernote stack up in a variety of categories.
Pricing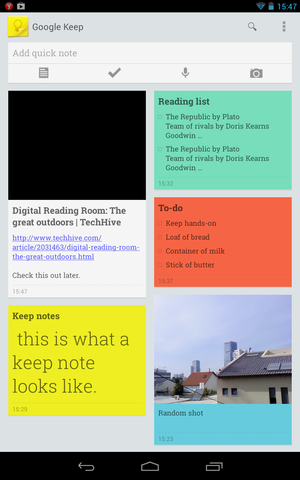 Google Keep is available online and via an Android app. Both iterations are free. OneNote and Evernote have Web and app elements that you can use for free, plus paid premium editions.
OneNote is available as part of a Microsoft Office 365 subscription, starting at $100 per year per home user. It also comes bundled within Office desktop suites starting at $140. As a stand-alone product, OneNote 2013 costs $70. You can use OneNote for free as a Web app through Microsoft SkyDrive, and on Windows Phone, Android, or iOS. The Office version provides additional features, such as the ability to clip screenshots or "print" documents directly to OneNote.
Evernote is free for up to 60MB per month of data. The data cap of the Premium upgrade ($5 per month or $45 per year) jumps to 1GB of bandwidth each month. You also get faster performance, better security, and deeper search capabilities. Evernote for Business gives IT admins oversight and control, with additional collaboration options, for $120 per user per year.
Winner: All three note-taking platforms have free options, so we can't ding any of the contenders for being overpriced. That said, Evernote's paid versions offer greater functionality through apps and add-ons.
Platforms and ecosystems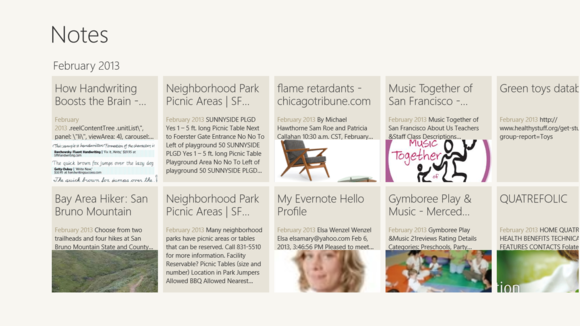 With a note-taking tool, you want to capture text, voice notes, pictures, and webpages on the go, no matter which device is in your hand. As the newest platform to join the party, Google Keep also has the most limited reach, extending only to the Web and Android.
We've heard no official confirmation, but it's reasonable to expect Google to develop iOS and Windows Phone versions of the Keep app eventually. For now, Keep is best for Google-centric users of Google Drive online storage and productivity tools.
OneNote offers Web access plus apps for Windows Phone, Android, and iOS. It's available for Windows within Microsoft Office and as the OneNote MX app for Windows 8. With the exception of OneNote 2013, which is part of Office 365 or Office 2013, all the other OneNote options are free. If you favor Microsoft services and devices, OneNote is your natural choice.
Evernote matches Google Keep and OneNote with Web access, and also provides native apps for Android, iOS, Windows Phone, and BlackBerry, in addition to dedicated client software for Windows and Mac OS X. Evernote has developed an extensive community and provides a variety of its own apps as well as third-party apps on its Trunk website.
Winner: Evernote is available on more platforms, and it isn't tethered to any particular brand.
Organization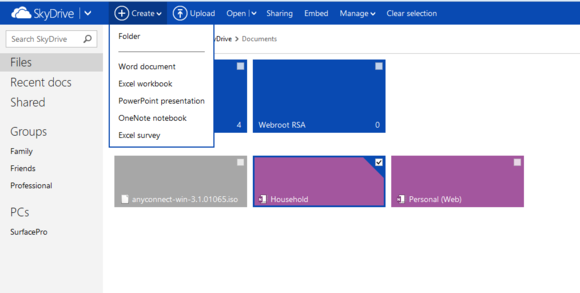 Within a browser, Google Keep lets you view notes as either a list or a grid resembling tidy sticky notes. You can assign colors to notes, but you can't order or group notes.
OneNote and Evernote, on the other hand, each use a notebook-and-notes metaphor. You can create a notebook for a dedicated topic—such as Website Project, Summer Vacation, or Income Taxes—and then create multiple related notes within it.
OneNote and Evernote also let you tag notes with keywords. You can create separate notebooks in OneNote. Each notebook can contain multiple sections, and each section can have multiple pages and color coding. The desktop version of OneNote also allows you to create a Section Group, the equivalent of embedding a notebook in a notebook. Evernote has a feature similar to the OneNote Section Group, which permits you to group notebooks into Stacks. Evernote Business users can stack professional content within a Business Library.
Keep's system is good only for managing a few notes. If you truly rely on your note-taking tool, you'll need the added controls of OneNote or Evernote.
Winner: Evernote provides more controls for organizing your information.
Rich Media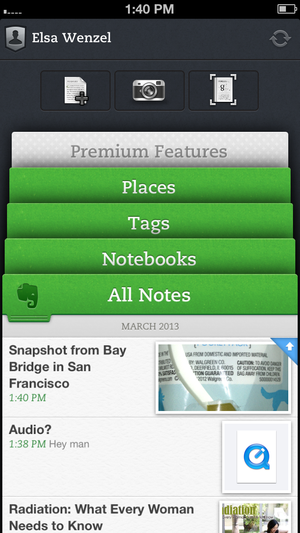 Note-taking apps are most powerful when you use them for more than text. Google Keep on the Web lets you add only an image from your PC, while its Android app allows you to capture a picture or an audio clip. Keep transcribes the audio to text, embedding both inside your note.
The free versions of OneNote let you insert Web links, text, and images. The paid OneNote within Microsoft Office also permits you to add audio clips to notes. With OneNote's Windows-only desktop software, you can scan an image into a note, or add screen clips, Excel spreadsheets, or other files.
Evernote's Web version is fairly limited, but its mobile apps collect photos, audio clips, and other files. The real difference comes from Evernote's ecosystem of apps, which let you do things such as scan receipts directly to Evernote or convert handwriting to text. For instance, Evernote's Penultimate for iPad offers handwriting recognition, Skitch lets you mark up images, Web Clipper and EverClip save webpages, and Hello for iPhone manages contacts. Evernote even saves handwritten notes and audio from Livescribe Sky digital pens.
Features vary according to the hardware and software you have on hand. For example, you can annotate OneNote notes using a digital stylus in either the OneNote desktop version or the OneNote MX app for Windows 8, but only if you have a touchscreen device and a digital stylus to work with.
Winner: Evernote's ecosystem of apps expands its rich-media possibilities.
Text editing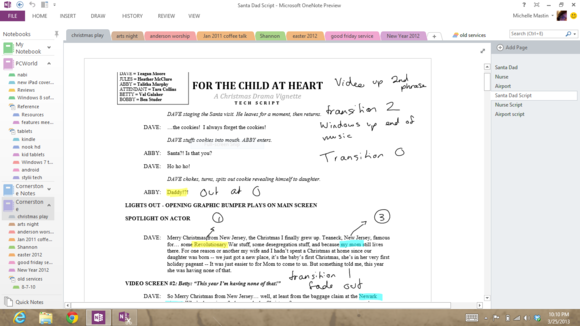 Although a note-taking tool isn't meant to replace your word processor, it should make your text look better than a jumble of misaligned characters. After all, you're trying to get organized.
OneNote for Android allows you to add text, create a numbered or bulleted list, create a list with checkboxes, or insert a photo into a note. You can't format text.
OneNote on iOS is similar but lacks numbered lists, although the OneNote app for Windows Phone enables numbered lists and text formatting. The Web and Office versions of OneNote both provide more-comprehensive text editing, while the OneNote MX app for Windows 8 uses an innovative radial menu for formatting.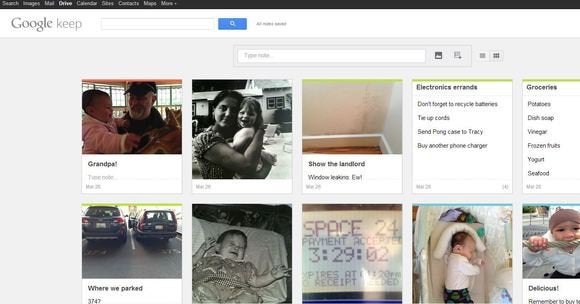 If you insert a checkbox on Evernote's Android or iOS app, Evernote automatically adds a checkbox on each line when you tap Enter. On the Web version, in contrast, you have to add the checkbox manually at the beginning of each line; if you try to do it en masse, prepare for heartbreak.
Winner: It makes sense that OneNote, brought to you by the makers of Word software, provides the richest text formatting.
Business features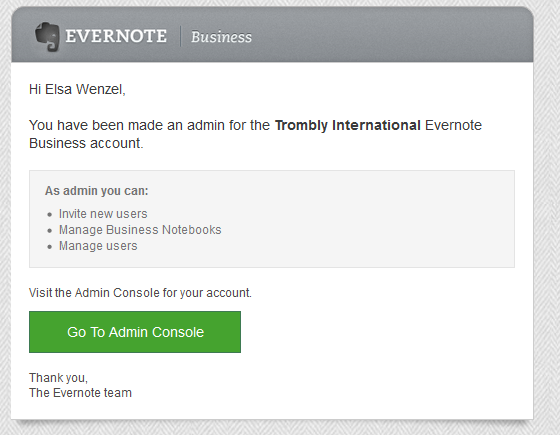 Google Keep does not have any business features or IT administrator tools, at least not yet.
OneNote, on the other hand, supports management features through SharePoint or SkyDrive Pro. The IT admin can manage business data stored there, as well as control user access through Active Directory and Group Policy. You can share notebooks with the whole company, or with designated individuals or teams. Individuals can access their personal OneNote notebooks on SkyDrive, as well as the company notebooks for which they have permission on SharePoint or SkyDrive Pro.
Like OneNote, Evernote Business lets companies manage notes and data related to the business, while allowing individual users to create and maintain personal notes and notebooks outside the grasp of the IT admin.
Winner: Evernote is easier to manage than the SharePoint or SkyDrive Pro back end for OneNote.
Data management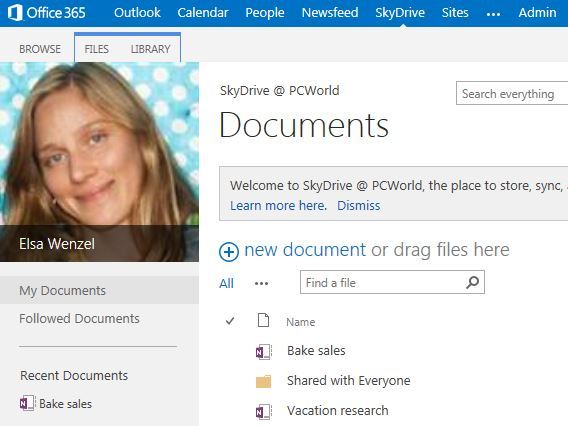 When you use a note-taking tool religiously, it quickly becomes an indispensable repository of data. You need to trust that the service will survive, and that you can keep your data if it does not.
Be aware that Google can be fickle, as it has axed more than 70 features or services since it began "spring cleaning" in 2011 (RIP, Google Reader).
With either Evernote Business or OneNote used with SharePoint or SkyDrive Pro, business data belongs to the employer and stays under the control of the IT admin. If a user leaves a company, he or she no longer has access to the company notebooks and data, but retains access to their personal notes.
If an Office 365 subscription lapses, the locally installed OneNote software reverts to read-only mode. However, the data still exists through SkyDrive, and you can still use OneNote by way of its Web or mobile apps.
All three services clearly state that you own your data. This offers little consolation, though, if the company goes out of business or shuts the service down.
Winner: A tie. All three services provide roughly the same assurances of data ownership, but no means of exporting or archiving your data outside of proprietary formats.
The champion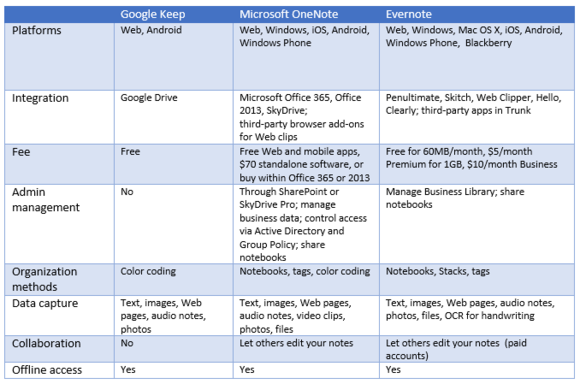 Google Keep, Microsoft OneNote, and Evernote each offer distinctive benefits. Unless you're Google-focused or Microsoft-centric, however, Evernote is the most diverse and capable service.
Google Keep is nice and simple, but its capabilities are extremely limited.
OneNote is an exceptional product, and comes in a close second to Evernote. Although OneNote is available for a variety of platforms and devices, it's still a Microsoft tool, so it lacks the platform-agnostic approach and strong third-party support that strengthen Evernote.
Winner: Evernote provides users with a powerful note-taking platform for free, along with customization and expanded capabilities through apps and add-ons. Plus, Evernote's version for businesses is straightforward and affordable.