Microsoft has had a busy week, judging from the breadth of the buzz about the company's next ventures. Windows 8 is shipping on all its myriad platforms, so now what?
Plenty, say a mix of official and clandestine sources. Microsoft has more in store for Windows 8, including technology to help make next-generation ultrabooks blazing fast and super connected. The first Windows 8 updates are approaching, as well as some new apps and development efforts. Oh, and company executives are doggedly insisting that the company is sticking with the RT operating system, like it or not.
Here's what you should know about what's new in Redmond.
Intel's Haswell chip and Windows Blue are a team
Next-gen convertibles—computers that work like a laptop, but can be hinged so they can also operate like a tablet—will likely ship with longer-lasting Haswell chips from Intel that are optimized for Windows Blue, reports CNet.
Intel has already said that it will be able to double the battery life of upcoming ultrabooks with the Haswell microarchitecture, the successor to its Ivy Bridge processors that's due in June.
As for Blue, it's the codename for the first of a number of annual operating system updates to Windows 8 that are expected to hit late this summer. Supposedly Blue will span many Microsoft products including Windows Phone, Windows Server, Windows RT, and various Windows-centric services such as SkyDrive and Outlook.com.
Now, according to "a source close to Microsoft," Blue is optimized for power efficiency and will be able to conform to mobile computers with various performance capabilities so that the upgraded operating system on the Intel chips will perform more like a smartphone or tablet. For example, when sleeping an ultrabook would remain connected to Internet-based apps such as email and social networks, so it remains constantly up to date.
Better core Windows apps are imminent
It's no secret that the first-party apps on Windows 8 and Windows RT could be better, so for users unimpressed with the underperforming Mail and Music apps (for example), good news is on the horizon.
A batch of updates for Windows 8 and Windows RT are imminent, with another set of improvements to Microsoft's core apps expected with the Blue update later this year, reports ZDNet and Paul Thurrot's Supersite for Windows. The pending updates include several Bing and Zune apps, Mail, Calendar, People, Messaging, and others.
Microsoft says RT is here to stay
Speaking of Windows RT, in spite of lackluster adoption of the ARM-based version of Windows 8, PCWorld reports that Microsoft is sticking with the tablet-friendly OS for the long haul.
In fact, Michael Angiulo, Microsoft's corporate vice president of Windows planning, said last week that Windows RT is an industry "disruption" that will get stronger over time. "If you look forward a year or two and you look at the performance output of ARM chips, those are some really capable chips," Angiulo said. "I think it has a very bright future."
His optimism smacks against the confusion experienced by consumers who learned that Windows RT tablets won't run legacy Windows software, but only apps written specifically for the platform and downloaded through the Windows Store.
Hardware manufacturers also have been vocal about their disappointment with Windows RT. This week Nvidia CEO Jen Hsun Huang told analysts "We expected to have sold more than we did… I think everybody expected to have sold more than we did."
Microsoft again looks to lure developers
And there's always the paltry selection of Windows 8 and Windows Phone apps to complain about. In fact, in recent months Windows app development has come to a near-complete halt—a worrisome fact considering that people love that Apple and Google offer millions of apps to load up on their devices.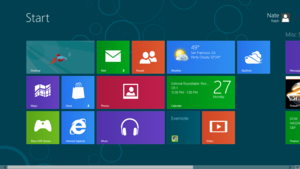 But you can't say Microsoft doesn't put its money where its mouth is—again the company is bribing app developers to build new apps for its platforms. To stoke app development, Microsoft will pay U.S. developers $100 per app published in the Windows Store and Windows Phone Store, with a limit of ten published apps per store. The company is pitching it as a temporary promotion, running the offer through June 30, or for the first 10,000 published apps, whichever comes first.
However, the promotion has been widely panned because it encourages quantity over quality and won't do anything to attract big-name apps like Pandora and Facebook. A better carrot for major companies will be when people start buying Windows Phones and tablets en masse.
For its part, Microsoft says paid incentives aren't a core strategy and the best apps will come from its partners who are invested in the platform.
Got a Website? Don't ignore Windows 8
And while conventional wisdom remains that Windows 8's adoption is slow, in fact millions of people are already using it.
PCWorld's Eric Geier this week pointed out that website owners would be wise to take advantage of little-known features buried in the operating system that can give their businesses a competitive advantage. If that's you, you want people to pin your site on their Start Screens, share it with the Charms Bar, and use shortcuts to access your content, right? Here's how to do it by easily adding custom code to your site.