Microsoft is nothing if not tenacious, and that's a good thing when it comes to Windows 8's baked-in apps.
Those modern-style apps might be eye-catching, but they've been disappointments in terms of pure usability. In fact, Windows co-chief Tami Reller has admitted that Windows 8's default apps need some hardcore tinkering before they can truly compete with top-tier alternatives. But rather than sitting still and waiting for the big release of Windows Blue later this year, Microsoft's engineers rolled up their sleeves and created a series of updates for Windows 8's core communication apps—Mail, People, and Calendar—which will begin rolling into the Windows Store late Monday or early Tuesday.
None of the updates reinvent the proverbial wheel, but each app is receiving numerous tweaks designed to improve basic usability. Windows tablet owners will be especially happy with the new-look apps.
"If you used the apps before on Windows RT systems like Surface, you'll notice a pretty significant improvement in responsiveness and overall performance (in the updated apps)," Gabriel Aul, Microsoft's director of program management, told PCWorld during a demonstration. Common functions such as creating new messages and moving or deleting information benefit greatly from the speed boost, he says, and this greatly enhances the general feel of the apps.
That's terrific, but what changes will we see in the individual programs? Glad you asked.
Mail
Windows 8's Mail app received the biggest overhaul. You still won't find POP support in Microsoft's mail client, but the alterations that are there, though subtle, will enhance your workflow—even though most of the new improvements probably should've been baked into the app when it launched.
Most notably, a drop-down box containing your most-contacted colleagues now appears underneath the "To" box when you're composing a message, a change designed to make mailing your pals easier on touchscreen tablets. Tapping a contact automatically adds that person as a recipient. Nice and easy.
You don't have to worry about mixing work and play if you manage several email accounts, either. Each different account you maintain in the Mail app maintains its own list of frequent contact suggestions, so you won't have to worry about your frat bros popping up when you're trying to shoot off an IT support request.
That's not the only new composition trick the Mail app has up its sleeve. An attachment button has been added to the upper-right corner of messages, plopped between the Send and Delete email options, negating the need to dive into deeper menus just to send amusing kitten GIFs.
Mail now packs the ability to add hyperlinks to in-body text, as well as better all-around handling of content pasted from other apps. If you're using a Microsoft Exchange server, you'll also find new permission rights management options if you're sending a message to another Exchange user.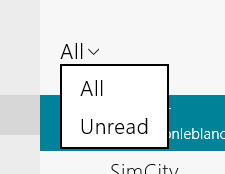 The improvements carry over to your main inbox, where you'll find new folder management options in the options bar, along with dedicated Junk and Print buttons. (No more mucking with the Charms bar to print, yay!) Fresh filtering options allow you to peruse all your messages or just unread missives, and the Mail app update also adds the ability to search for mail on connected servers—not just your local machine.
All in all, the changes found in the update are very welcome indeed, and should make using Windows 8's Mail app a much more viable day-to-day option moving forward.
Calendar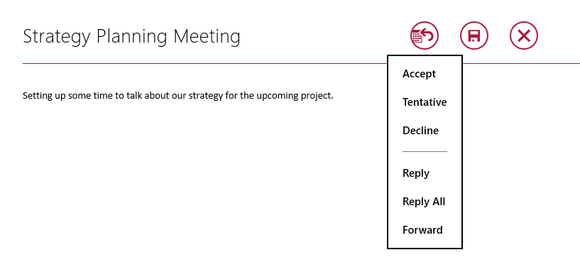 Compared to the cornucopia of changes in the Mail app, the Windows 8 Calendar update seems downright modest. One of the more appreciated changes is purely aesthetic: Aul and his team are ditching the Calendar app's drab grey and green design in exchange for a snappier red-on-white presentation. The alteration seems minor, but it's a lot easier on the eyes—a blessing if you spend all day hopping into your calendar, as many professionals do.

Speaking of professionals, the Calendar update also adds a new "work week" view that shows your Monday through Friday schedule. And when you're in a weekly or daily view, Calendar now shows the current time, as well. Exchange users get another little gift in Calendar, too, where you'll be able to check the availability of meeting attendees and potential meeting attendees using a new Scheduling Assistant.
On the more nuts-and-bolts side of things, you'll find new recurring event options—including the ability to add an end date—as well as new tools that allow you to forward meeting invitations or email all the attendees in a meeting.
People
Last, and somewhat least, comes the Windows 8 People app.
The biggest of the incremental changes introduced in the People update once again involves Exchange users, who will now see more detailed contact information—such as the office room number—of their coworkers.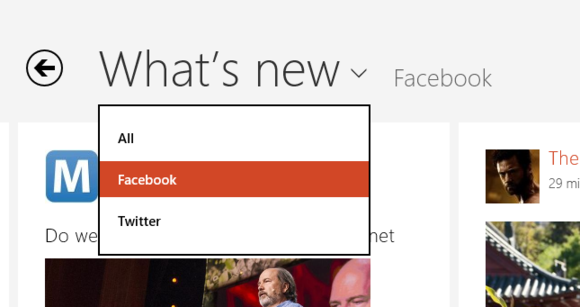 Other than that, the "What's New" social media feed now includes an option to filter by network at the top of the screen. (Network filtering options existed previously, but were buried in the options bar.) The update also allows you to post directly on the walls of your Facebook friends—a small tweak, but a notable one given the lack of an official Facebook app in the Windows Store.
A small step, a giant leap
These updates—especially the Mail update—show that Microsoft is taking its commitment to improving and streamlining Windows 8's core apps very seriously. Mail, Calendar, and People still aren't quite perfect, but if the rumored swath of Windows Blue updates achieve only half as much success as the new Mail update, the future's looking much brighter for Windows users. Slow and steady can win this race. Now about that POP mail support…