The past two years have already seen significant jumps in corporate Linux usage, but now it looks like that trend is continuing into a third year.
To wit: While overall server revenue grew at just 3.1 percent and Windows server revenue increased just 3.2 percent in the fourth quarter of 2012 year-over-year, Linux experienced 12.7 percent year-over-year growth for the same period. Unix, meanwhile, was down 24.1 percent.
That's according to the Linux Foundation, which on Wednesday released its 2013 Enterprise End User Report, focusing on Linux adoption. Conducted in partnership with Yeoman Technology Group, the annual study surveys members of the Linux Foundation's End User Council as well as other companies and organizations with sales of more than $500 million or at least 500 employees.
Dominance in the cloud
"We see the growing success of Linux adoption in the enterprise, especially as it's used for the most important areas of business, leading to the rise of Linux and collaborative development across many industries," said Amanda McPherson, vice president of marketing and developer services with the Linux Foundation.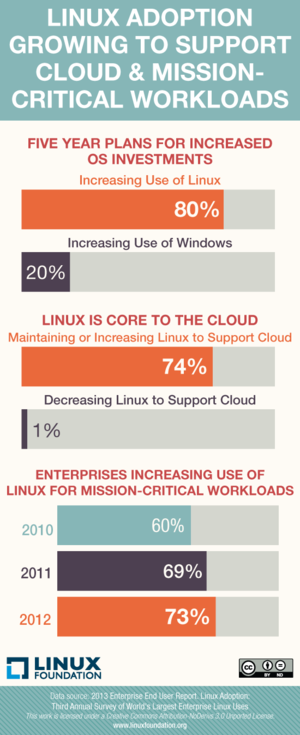 A few key trends were particularly interesting.
For instance, enterprise users apparently consider Linux the dominant platform for cloud computing, with nearly 76 percent using Linux servers for cloud and 74 percent planning to maintain or increase Linux use for future cloud initiatives.
The 80-20 rule
When it comes to new applications, services and greenfield deployments, meanwhile, more than 75 percent of responding organizations said they deployed Linux in the last two years.
At the same time, thanks at least in part to its growing prominence in the cloud and big data, the use of Linux for mission-critical workloads has grown dramatically over the past few years, reaching a full 73 percent in 2013, the Linux Foundation said.
The future, however, is where Linux's prospects look especially rosy. Whereas an all-time low of 20 percent of enterprises are planning to purchase Windows servers over the next five years, a whopping 80 percent are planning to increase their use of Linux servers.
Quest for Linux talent
What's driving this ever-increasing investment in Linux? Management's perception is part of the picture, and that remains increasingly positive, with 95 percent viewing Linux as equally or more strategic to the organization than in prior years.
Concerns about Linux, meanwhile, have plummeted, the Linux Foundation reports—with one exception. Namely, "rapid growth is contributing to growing concerns about finding trained Linux talent," the foundation reports.
Perhaps not coincidentally, the Linux Foundation has seen enrollment in Linux training programs increase dramatically over the last few years—not to mention the number of enterprise users contributing to the Linux community.
The full Linux Foundation report is available as a free download from the group's site.