Yahoo CEO Marissa Mayer's recent ban on telecommuting sent shockwaves across the business world. Pundits were quick to take sides, with supporters of the work-at-home option insisting that such arrangements "can make you more productive," and naysayers denouncing telecommuting as "the worst of everything."
They're both right. If you telecommute the right way, you'll save countless hours that you'd otherwise waste in commuting, You'll also enjoy a more stable life, and do a better job. But you do it wrong, working from home can wreck you. I know because I've spent the last seven years working from home—four of them, ironically, at Yahoo.
To make telecommuting work for you and your employer, follow this advice. (If you're the boss, these tips can help you manage remote workers better.)
Ensure connectivity is up to snuff
You may not think twice about the Internet connection at your office—but when you're outfitting your home, bandwidth is a crucial consideration. Check with your Internet service provider about upgrades, particularly faster data service. Comcast, for example, offers 50 mbps and even 100 mbps business-level service plans, both of them considerably faster than the sub-10-mbps speeds that most consumers receive with their plans. Otherwise, investigate different ISPs.
The same goes for your cell phone. If a scratchy connection annoys everyone on the conference call, seek an alternative: Add a landline to your house, switch carriers, or use a VoIP service such Skype (as long as your network is speedy). You can also tweak your router's Quality of Service (QoS) settings to dedicate more bandwidth to certain applications, such as VoIP calls.
If file transfers between computers are running slow, your internal Wi-Fi network may require upgrading to an 802.11n or 802.11ac system. If you're working off the corporate network and away from its backup services, make sure that you're backing your data up regularly, ideally in real time. Adding a NAS device to your home network can be invaluable for this purpose because it gives you a centralized storage location for files and, often, a built-in drive-mirroring system or other backup system.
If you can't squeeze more juice out of your connection or upgrade, make sure that freeloading neighbors or chatty devices aren't hopping onto your router and slowing things down. Most wireless routers will show you a list of devices connected to them. Deny access to devices that look fishy, and turn off devices that might be hogging bandwidth during work hours.
Make security key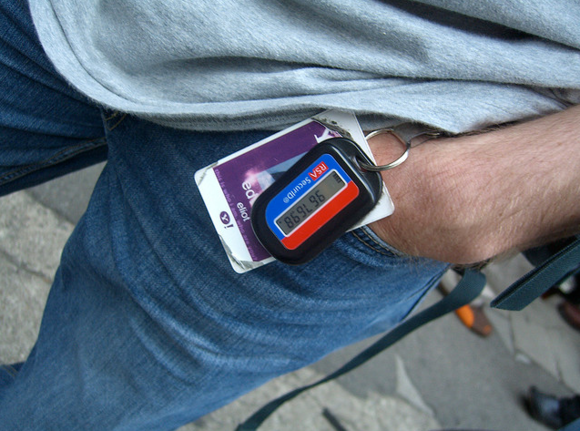 One major complaint about home workers is that employers lose control over the data they access. Do you leave the next quarter's cash-flow statement open on your laptop at Starbucks while you grab a latte? One solution is to leave data on the servers at the office, and access it remotely. Of course, security challenges take a different direction here: How do you maintain a secure connection between home and office?
One of the most effective approaches is to use a virtual private network. Complex and difficult to set up in bygone days, VPNs now provide a secure Web tunnel for even the smallest business. VPNs exist in hardware and software versions for both PCs and smartphones. You'll need to work with your employer to configure a VPN, but setup is generally a matter of selecting options via a simple Web-based interface.
If work takes you away from home—and your company doesn't already use something like Google Drive or Microsoft SkyDrive—consider using Dropbox, Box, or Evernote to store files within arm's reach of any PC. Snagging a document from these services is faster than jumping on VPN to access your office hard drive. Just make sure in advance that storing corporate data on such cloud-based services doesn't violate your company's security policies.
Make your presence known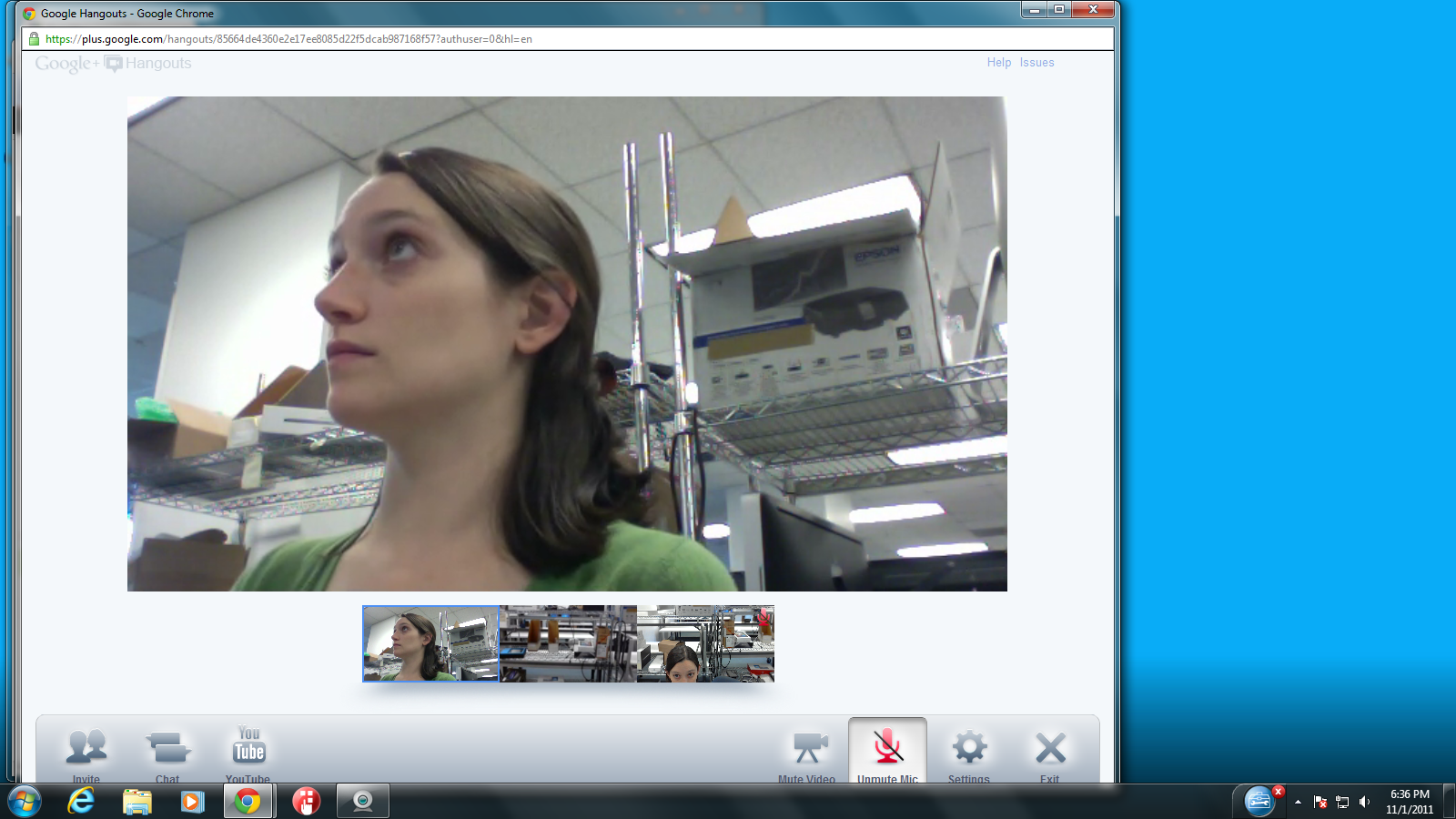 A colleague's suspicion that you're goofing off while working from home grows with every minute that passes before you return a phone call or email message. So keep a close eye on your inbox, and don't let calls spill into voicemail unless you're on another call already. You'll waste time retrieving messages, and aggravate staffers who would otherwise have simply yelled a question over the cubicle wall.
Instant Messaging ensures that coworkers can always reach you. Google Talk is popular for real-time communications, and it integrates with the Google Apps for Business suite. Microsoft's Office 365 packages for business offer chatting with the Lync client. If you work with colleagues or clients on various services, a multiprotocol system like Digsby or Trillian can save you from having to install and manage multiple applications. Just make sure that you set your out-of-office status appropriately and reply to incoming IMs promptly.
Skype is increasingly popular at workplaces with multiple offices and telecommuters. With Skype's Group Chat for paying users, or with a free service such as Imo.im, your team can converse in a virtual space. Videoconferencing tools such as WebEx and Adobe Connect offer the additional human element of face-to-face check-ins that plain text lacks; they also enable screen sharing, so you can show off exactly what's on your desktop.
Reserve the time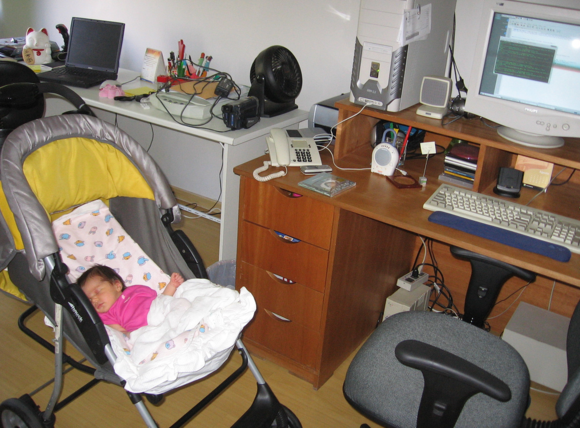 Most stories about telecommuting advise you to stick to specific "working hours," lest your home life and work life blur together. Unfortunately this advice is nearly impossible to obey. Working at home may make it easier for some people to slip into the rut of working inordinately long hours—but on the other hand, when you must work long hours, telecommuting pays off. Toiling after dinner or getting up for a 6 a.m. conference call is still a chore, but it's far more convenient without the commute.
Regardless, the common suspicion or expectation is that telecommuters are constantly slacking—doing laundry, running errands, napping, playing with the dog—and to overcome that prejudice, you'll need to put in more time and do a better job than you would have done at the office.
Find separate space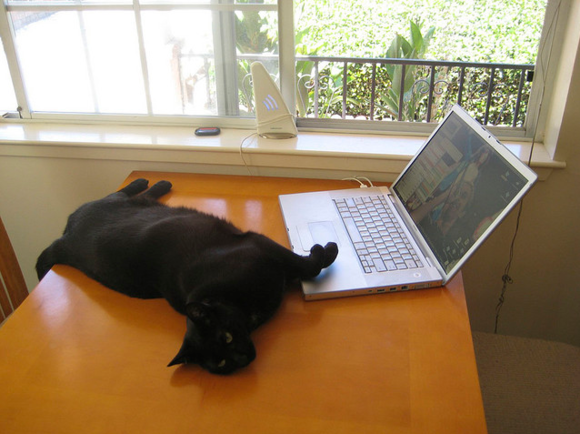 It's easy to get sucked onto the couch with a laptop on your legs. Ditto the kitchen table. These spacious environments are unlikely to be busy with interlopers during the day.
Nonetheless, avoid trying to do serious work in these areas. Instead, get a dedicated space. This doesn't have to mean clearing out a room to produce a parlor-size office (though doing so certainly wouldn't hurt), but it does mean setting aside a well-defined area. The area might be a corner of the bedroom or living room, or an alcove in a hallway that can accommodate a small desk. If you must work at the kitchen table, turn it into a faux office each morning by removing the tablecloth, the newspaper, and the salt and pepper shakers. The transformation ritual will establish the beginning of your workday and provide a psychological transition to your productive hours.
Mimic your office environment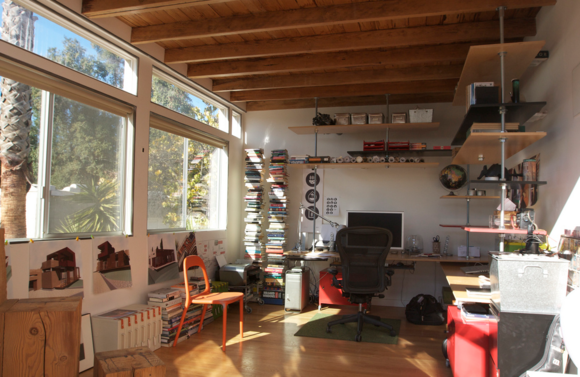 You wouldn't come to the office in sweats or without brushing your teeth, right? (Unless you're a journalist, I mean.) Then why would you show up in your home office in such disreputable condition? Besides pulling yourself together before you start working, outfit your office space with the trappings of a traditional desk: a cup full of pens, Post-It Notes, a real keyboard and mouse, and a high-quality desk chair.
Many home-based workers tend not only to work wherever they happen to be sitting, but to ignore the ergonomics of their work setup. Use real office furniture, and get your computer setup into ergonomic shape. If you're a laptop user (as most telecommuters tend to be), rely on a docking station or stand to keep your monitor at the appropriate height, with the top of screen at eye level. Splurge on two monitors if you can. Use a comfortable keyboard and mouse, too.
Go out for lunch
Telecommuting can turn your home into a prison. You wake up, get dressed, work, eat, shower, and sleep—sometimes without ever opening the front door. You may be extremely productive for a while, but cabin fever will eventually catch up with you.
The cure is simple: Take your lunch break and go outside. Stretch your legs (telecommuters notoriously neglect exercise), and cover some quick errands. You'll return to your desk refreshed, and probably won't have missed anything important. But bring your smartphone with you, just in case.
Get off of Facebook
Seriously.