At a Glance
Expert's Rating
Pros
Two-way articulated stand
Good performance
TPM and remote management
Cons
Integrated GPU delivers weak performance with games
Wireless network adapter is an extra-cost option
No HDMI input
Our Verdict
The articulated stand and VESA mount point render Dell's Optiplex 9010 AiO one of the versatile all-in-ones we've tested.
Best Prices Today: Dell Optiplex 9010 AIO
The launch of the touch-centric Windows 8 spawned a host of new all-in-one (AiO) designs, most of which leave something to be desired. But with a little patience and forethought, Dell has delivered a considerably more usable touchscreen AiO: the OptiPlex 9010. And all they had to do was to put the touchscreen within easy reach.
Dell worked this minor miracle by engineering a double-jointed stand that allows you to move the display up and down and slightly forward, along with the tilt adjustment most AiO's provide. Even better, the 9010 has a standard VESA mount point, so you can also use a fully articulated wall- or desk-mounted arm for truly versatile placement. Add a minor landslide of options, top-notch security features, excellent service and warranty options, and you have an AiO that corporate America can embrace.
Design and ergonomics
Dell also remembered something that many vendors seem to forget: It's not just about looking sexy; reducing cable clutter and wasted space are equally important. In a market filled with AiOs that block the usable surface area behind them, the 9010's minimal footprint leaves all the surrounding area accessible. This allows you to either fill it up with other stuff, or to enjoy the serenity delivered by an uncluttered vista.
To keep cables to a minimum, Dell ships the 9010 with a wireless mouse and keyboard. This keyboard is one of the first Chiclet-style units we've seen on a desktop. Its action is just a hair soft, but thanks to the support of the surrounding plastic, the keys don't have the sloppy feel that you get with some Dell units. The mouse tracks well and has a nice heft, thanks to the battery inside.
Connectivity, performance, and features
Any doubts that the 9010 AiO is aimed at the corporate world are dispelled by the presence of PS/2 mouse and keyboard ports found on the back of the unit. The back is also home to VGA and HDMI video outputs, gigabit ethernet, an audio output, two USB 3.0 ports, and four USB 2.0 ports to meet more modern peripherals needs.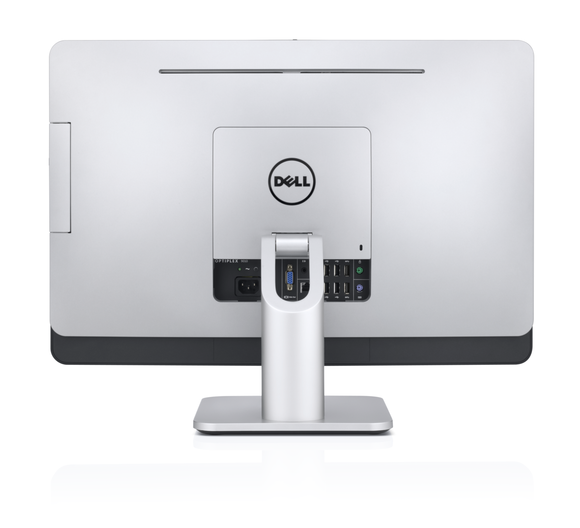 On the left side are two more USB 3.0 ports, headset and microphone jacks, and a 8-in-1 card reader. On the lower right hand side of the display, you'll find the eject button for the optical drive, on-screen display, and power buttons. The absence of an HDMI input renders this system less attractive to consumers, because you can't use it as a display for a gaming console or a set-top box.
Our test 9010 AiO came configured with most of the top-of-the-line component options including an Intel Core i7-3770S, 8GB of DDR3/1600 memory, and a Samsung PM830, 128GB SSD. Needless to say, the machine was fast, scoring 113 on our WorldBench 8 test suite. Gaming was nothing to brag about, but the integrated Intel HD 4000 graphics did manage playable frame rates at about 1024-by-768 and lower resolutions. We didn't receive a Blu-ray player, but got a DVD-RW burner in the bay.
The 9010 AiO's display is a 23.6-inch, 1920-by-1080 widescreen that provides a very sharp picture, and even behind the thick digitizer, plenty of usable brightness. The speakers deliver adequate volume, a tiny amount of bass, and a generally sonorous experience. The unit also has a 1.3-megapixel webcam, plus dual-array mics designed to reject background noise.
Business features, price, and options
The 9010 is fully secured via Intel's Trusted Platform Module (TPM), and Intel Standard Manageability provides out-of-band management capabilities (Intel vPro Technology is available as a $10 option). Out-of-band management enables a remote admin to take control of the system whether or not it's powered. A three-warranty with onsite service after remote diagnosis is standard. Four- and five-year warranties are also available.
The 9010 AiO is available in a ton of configurations: Drives range from 3.5-inch 250GB mechanical models to the 128GB SSD that our test model used. CPUs run the gamut, from Pentium Dual-Core to Core i3's or the Core i7-3770S that we tested. At the time of this writing, you could get a non-touchscreen 9010 AiO for about $850 and be at slightly less than $2000 after adding all the available options (touchscreen models start at around $1200.)
Bottom line
Dell got touch right with the OptiPlex 9010. The design of its stand makes using the computer via touch a lot easier than most other AiOs we've seen, and the inclusion of a VESA mounting point renders it suitable for almost any work environment. From a purely practical point of view, it's one of the best AiOs on the market.
Best Prices Today: Dell Optiplex 9010 AIO