Windows users pining for a mail client similar to Sparrow for OS X have had their wishes granted courtesy of Mailbird, a new email client for the Windows desktop.
Mailbird is a speedy, no-nonsense client that offers basic email functionality without all the clutter that power-user programs such as Outlook or Thunderbird can offer. In fact, Mailbird's so no-nonsense that the version available now only supports a single user account at a time, and that account has to be a Gmail or Google apps account. Support for additional services and multiple accounts are planned for further down the road, however.
The app entered its public beta phase on Monday and is currently available as a free download. It's not clear how long Mailbird will be available as a beta product, but the company behind the app—also called Mailbird—is already offering preorders for Pro version subscriptions. Right now, you can purchase a year of Mailbird Pro for $9, with the regular price set to jump to $12 after the beta phase.
Mailbird will also be available as a free, ad-supported version following the beta period. A Mailbird representative was unavailable for comment at this writing, so it's not clear whether there will be any functional difference between the paid and free versions, other than the removal of ads. Free (and beta) users will also have a "sent from Mailbird" signature automatically attached to all their messages that cannot be removed.
Getting started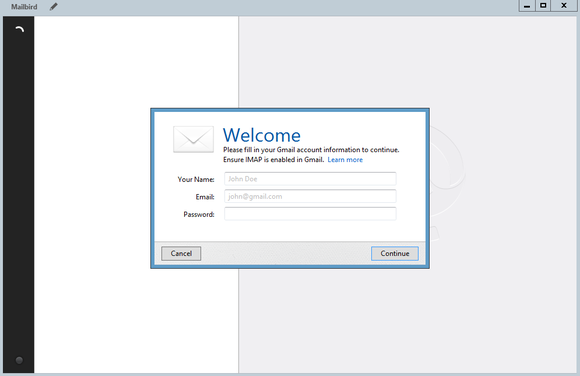 Signing in to Mailbird is as simple as setting up Gmail access on a mobile device. You just enter your name, e-mail address, and password, then Mailbird starts working—no need to mess around with server settings, ports, or any other typical desktop mail client technicalities. Mailbird doesn't support Google's two-factor authentication method, so anyone using Google's added security feature will have to use an app-specific password instead of their regular credentials.
Mailbird will also ask you to connect the app with your Facebook account. In my tests, doing this just displayed the Facebook profile pictures of all your correspondents. Outlook 2013, by comparison, also lets you see Facebook status updates and recent activity from your friends.
Getting around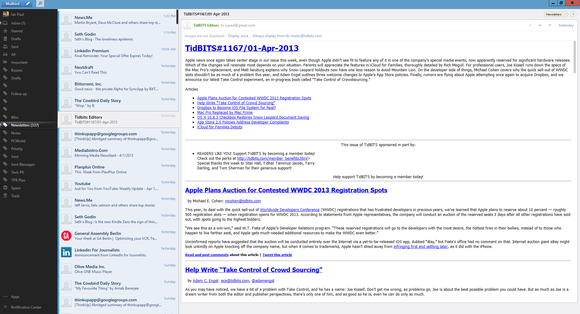 Taking its design cues from Sparrow, which was acquired by Googlelast July, Mailbird presents a stripped down, basic interface. In the top left corner is a pencil icon for composing new mail, and to the right of that is a search icon. Clicking on the "Mailbird" title in the upper-left corner reveals a basic menu where you can set the app's options, find a keyboard shortcut cheat sheet, open the help menu, or send feedback.
Mailbird's main window is divided into three columns. The far left pane is for navigation with options to view your inbox, starred items, drafts, sent items, the important label, as well as your customized labels. Towards the bottom of the navigation pane you can access Mailbird's Apps menu, which we'll talk about later.

The middle panel includes a list of your messages with the sender's Facebook profile photo (if available), the sender's name in bold, and the message's subject line. Hovering over someone's profile photo or icon reveals a quick action menu with options to archive, reply, forward, label as important, star, mark as unread, mark as spam, and delete. Double-clicking on a contact's icon will initiate a search for all messages from that person, a very nice touch.
You can also use a number of Gmail keyboard shortcuts in Mailbird, including using the j and k keys for moving backward and forward through your message list, or Ctrl + n to start a new message. Gmail's keyboard shortcuts aren't universally supported, though; for example, you can't press g then i to head to your inbox. To view all of Mailbird's keyboard shortcuts, tap the question mark key or click on the main menu.
The larger window to the right of the list pane displays your messages, which Mailbird shows in a Gmail-like collapsed conversation view by default. Unlike Gmail, however, the newest message in Mailbird is shown at the top with previous messages condensed in separate sections below that.
When you have a new message open, the top right corner of the message includes links to reply to the email or view message details such as sender, recipients and so on. There's also a button in the top right that lets you add message labels with just a few clicks.
Composing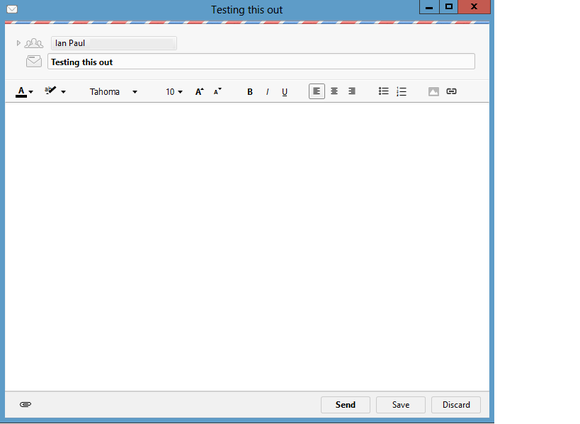 Mailbird's compose window maintains the ethos of simplicity seen in the rest of the app, save for the slightly cheesy airmail strip at the top of the window. You can add attachments with a simple drag-and-drop, or by clicking the attachment icon in the bottom left corner. The app also supports basic features you'd expect in a rich text email editor such as adding links, changing font and background colors, and adjusting font size. Mailbird currently supports five fonts: Arial, Calibri, Helvetica, Tahoma, and Verdana.
Apps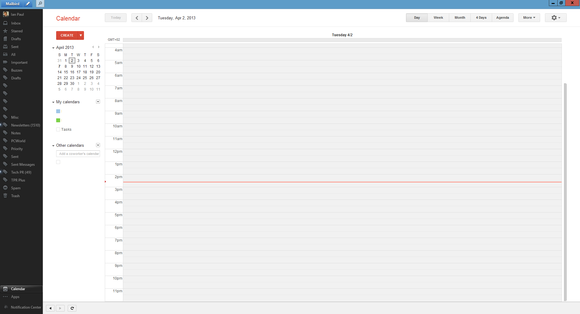 If you want to take Mailbird's functionality beyond a basic email client, you can add "apps" to increase functionality. Some of these so-called apps include calendars, contacts, and access to Google Drive. The apps section may one day feature third-party apps from developers, but for the beta period the app selection is pretty thin, offering twelve different apps at this writing.
Mailbird's apps are, to be blunt, pretty lame. They're nothing more than basic Web views for the most part. Calendar, for example, opens the Web-based version of Google Calendar and the Facebook app shows—you guessed it—the Facebook.com website.
Incidentally, Mailbird appears to be incorporate Google Chrome in some way. When I tried out the Google Drive app in Mailbird, the Drive website notified me that I was using an outdated version of Chrome and offered to upgrade my browser. Facebook's security login alerts also notified me I was using Chrome when I logged into Mailbird's Facebook app.
Conclusion
Mailbird performed fairly well in my tests and was very fast at retrieving messages. I only ran into trouble when using the app add-ons. Several times, I had to restart Mailbird when an app froze and once Mailbird crashed on its own when I switched between add-ons in quick succession.
Nevertheless, it's hard to recommend Mailbird in its current beta state. While the software appears to have a bright future ahead of it, the bare-bones service and account support limit Mailbird to Gmail users with a single email address—a major, major drawback.
Even now, however, Mailbird offers a fast, solid no-frills email experience. Power users might be slightly disappointed by the lack of features, but I'm excited to see how the final version shakes out.