LinkedIn is the most popular business network on the planet, boasting more than 200 million users. You're probably one of them. Also highly probable: You're not taking full advantage of this business and career networking service.
Here's the good news: LinkedIn can be an excellent resource without becoming a time sink. Don't neglect your profile or the service in general just because you're not actively looking for a job at this very moment. Hiring managers, clients, colleagues, and potential customers and business partners are constantly browsing LinkedIn. A killer profile and savvy search skills will give you a competitive edge. It might also remind your current boss—who is probably doing the same thing—just why you're so valuable (and potentially poachable).
Our five-step guide will make you a LinkedIn power user, so you can land your next job opportunity, promotion, or business deal.
Step 1: Polish your profile
Your professional profile is the most important—and often the most neglected—element of LinkedIn. This is where you display your work experience, skills, and education. More important, it's the best place to inject some personality into what can otherwise be a dull laundry list of a résumé.
Wayne Breitbarth, author of The Power Formula for LinkedIn Success, points out that the LinkedIn profile is designed to be much more than a simple CV. "Hiring reps love LinkedIn," Breitbarth says, "because it has defined spaces and it offers a lot more information than a traditional two-page résumé, such as recommendations and links to projects or published works."
The more information you provide in your profile, the more likely your name will appear in searches. LinkedIn has a number of widgets that you can add to your profile to highlight honors and awards you've received, coursework you've completed, patents you've been awarded, languages you speak, certifications you've earned, and even causes you've volunteered for. To add widgets, go to Profile > Edit Profile, and choose widgets from the right side of the screen.
Be sure to include a well-lit, professional-looking photo on your profile too. "The biggest mistake people make is not having a photo," says Breitbarth. "That's an automatic disqualifier for many job seekers and hiring managers alike."
LinkedIn will automatically fill many of the fields in your profile, but there's no reason to accept what it comes up with. For instance, typically it populates the profile headline (the words displayed beneath your name) with your current job title. But you can edit the headline to say anything: Just click Profile > Edit Profile, and then click the pencil symbol next to that headline. If you're an independent contractor, for instance, you might prefer to write something that encapsulates your philosophy or describes your unique take on your craft.
You might also want to edit your peer-endorsed Skills & Expertise section. While you're in Edit Profile mode, scroll down to that section, click the pencil icon, and add or remove areas of expertise and manage your endorsements. If you're on the market for a new job, this is a great place to add skills that hiring managers will be seeking.
Your profile is a living résumé, so keeping it up-to-date is critical. Add a reminder to your online calendar prompting you to review your profile every month. You should also update your profile every time you undergo a major work shift, whether it's earning a promotion, moving to a new job, or changing careers. Tout your new work experience, revise your summary (which is one of the first things people see), and don't forget to update your contact information. In fact, if you're logged in to your account, click that button now—it's in the right corner of the first profile box, beneath your number of connections—just to make sure the information displayed there is current. To edit your contact information, go to Profile > Edit Profile > Edit Contact Info.
A job move or a promotion is one of the best times to tap current and former bosses, clients, coworkers, and other people you know—and who know your track record—for endorsements and recommendations, according to Jessica Bedford, a recruiter and account manager at Artisan Creative. "Make sure you really know the person, and be specific about what you want them to share," she advises.
Step 2: Get connected—and stay connected
LinkedIn's most valuable feature is its ability to connect you with other professionals. Whether they're people you work with now or worked with years ago, met at a trade show, collaborated with, or did business with, your relationships can be highly and mutually beneficial—but only if you stay in touch with each other.
LinkedIn has a service that will scour your email contacts to find potential connections. To use it, go to Contacts > Add Connections. Select your email provider and enter your email address in the designated field. Once the service finds all of your contacts who have LinkedIn accounts, it will ask which ones you want to connect to. This can be a lot of people, especially if your email service is like Gmail and adds every person to whom you've ever sent an email to your contact database. Don't just hit Select All—you probably don't need to add your tech-savvy grandmother or the guy who bought the couch you advertised on Craigslist. Spend a little quality time choosing the people who will form your network.
Aside from that first "contact dump" of LinkedIn invitations, you should add a personalized message each time you invite someone to connect. The only exception to this rule is if you've known the person forever, and you're positive they'll recognize you. If you've just met the person, you should always include a note reminding them of who you are and how you know each other. If you've never met the person, a friendly and inviting approach is all the more important.
A small, well-maintained network is more valuable than a large network of people you're never in contact with. Make an effort to stay in touch with people in your network, whether it's within or outside of LinkedIn. The easiest way to do this is to send brief messages to people in your network every so often. Your best opportunities arise when they earn a promotion or change jobs, but you can also comment on their status updates, which appear on the main page in your LinkedIn feed. You can also offer endorsements and recommendations, which can prompt them to get back in touch with you—possibly to return the favor.
Speaking of endorsements, this is a recent feature that LinkedIn added to the Skills & Expertise section of user profiles. The tool lets users quickly vouch for other people's skills. LinkedIn is clearly trying to drum up user involvement: Whenever you visit a connection's profile, a large blue box will pop up, encouraging you to endorse that person's skills.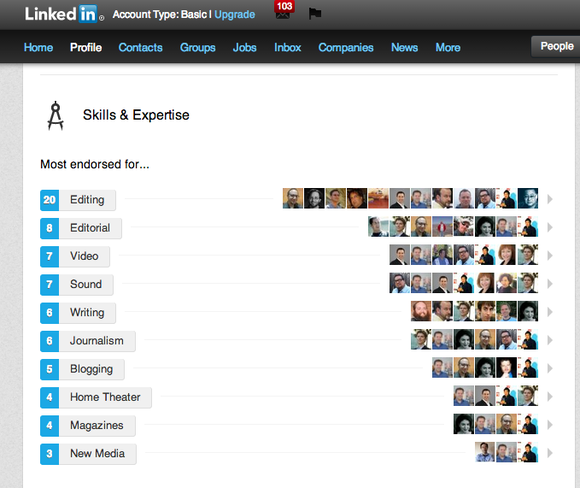 Here's what you need to know: You don't need to endorse all (or any) of those skills. If you'd rather not endorse that person, simply click Skip. If you feel comfortable endorsing only some of the listed skills, delete the ones you don't want to endorse by clicking the X next to them. If you want to endorse the person for a skill that isn't listed, type one in next to the preselected skills.
Don't endorse people for skills you don't think they possess—doing this will reduce the tool's results to useless noise. A good rule of thumb is to treat endorsements as quicker, easier recommendations: If you wouldn't write a two-sentence recommendation about that person's skills, don't endorse them.
Step 3: Be search-savvy
LinkedIn is an excellent tool for both job seekers and hiring managers because it's a huge, searchable database of professionals. But if you're simply opening the job-search tool and typing "software engineer" (or whatever sort of job you're looking for), you're doing it wrong.
"Before you apply for a job," says Breitbarth, "go to the Advanced People Search feature and search within that company. Look up the hiring manager, as well as people in the department you want to work in. See if you're connected to any of these people through your connections, and if you are, ask for an introduction!"
Introductions provide a means of getting in touch with LinkedIn members who are outside your own network, but who are inside one or more of your contacts' networks. You might think of this as a friend-of-a-friend connection. Search for the person you'd like to connect with. If you see a '2nd' or '3rd' icon in their profile, you can request an introduction. Look in the right-hand column for a block labeled 'How You're Connected'.
Click the Get Introduced button, and a window will pop up with a list of all the connections you share with that person. Click one of these and write a message to your connection requesting an introduction. It's good etiquette to explain to your connection why you want an introduction, and to provide your connection with an easy way to decline your request in case they don't feel comfortable with it for whatever reason.
The Advanced People Search screen appears when the search field is set to its default value of People and you click the Advanced button to the right of the field. You can search for people using name, location, country, postal code, title, company, school, industries, relationship (whether you're connected to them through other people or through a group), and language. If you're a LinkedIn Premium member (more on that later), you can also filter for company size and seniority level.
The Save Search feature is a power tool, whether you're on the market looking for a new job or you're a hiring manager hunting for qualified candidates. You can save both people searches and job searches: Just search for a person (or type of person) or a job, and click Search. Click the Save Search button in the upper-right corner; you'll see a prompt to name the search. You can also choose to receive daily, weekly, or monthly email updates when new results pop up (or no email updates at all, if you prefer).
Although free users are limited to three weekly saved searches, this feature is a great tool for job seekers because it can deliver brand-new job postings to your inbox every week.
Step 4: Join groups
LinkedIn's Groups feature offers a terrific way to connect with professionals in your industry, stay on top of what's happening in your field, and discover new job opportunities—or candidates, if you're a hiring manager. "Groups not only add credibility to your experience," says Bedford, "but they also let you interact with people who are talking about what you want to talk about, even if you don't actually know them." Groups are good for expanding your network, and they can help you become more influential within your industry.
You can start discussions and polls inside groups, promote articles and websites, search for and post job discussions, and more. They're particularly useful for independent contractors, such as designers, freelance writers, and Web developers, because they can help you connect with clients in need of your services.
To find relevant groups, click the Groups link near the top of the page and choose Groups You May Like. LinkedIn will present a list of groups based on the information in your profile. If you want something more specific, use the search tool (you'll see that the default search changed to Groups when you entered this area of LinkedIn).
Step 5: Consider an account upgrade (carefully)
If you've explored LinkedIn to any degree, you've probably noticed that not all of its services are available to free subscribers. Some tools are available only to users with paid accounts, and those accounts aren't cheap: They range from $25 to $100 per month (with discounts available for annual billings). Fortunately, most users—even power users—are well served by free accounts. With a free account, you can fill out your entire profile, establish as many connections as you'd like, send as many messages and updates to those contacts you need, join groups, tweak your privacy settings, and search for any person or any job. You can read a LinkedIn FAQ regarding Premium accounts without needing to sign up for a LinkedIn account.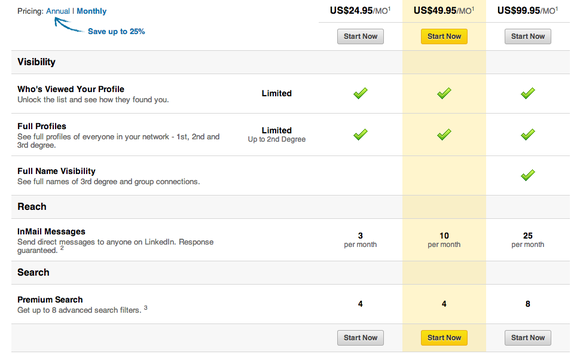 Premium account members tend to be "outbound professionals," according to Christian Sutherland-Wong, LinkedIn's head of product development for premium subscription products. Outbound professionals are people whose jobs depend on their connecting with people outside of their immediate networks. That includes hiring managers and recruiters, salespeople, business developers, researchers, and—to a lesser extent—job seekers.
Sutherland-Wong assures free users that while the premium account levels tout a feature that lets subscribers see full profiles of people who are not in their networks, individual user privacy is always respected. "If someone's account is private, nobody—free or paying—will be able to see their account. Any member can be completely anonymous if they want to be. It's just that if your account is public, then someone who's not part of your network might be able to see what you've already made public."
So access to profiles of people outside your network is one perk of being a paid subscriber. What else do the paid services have to offer? Here are a few other benefits.
InMail: LinkedIn won't allow you to send messages directly to people who aren't already in your network. If you want to send a LinkedIn message directly to Apple's Tim Cook, for example, he'll first have to accept your invitation to connect (good luck with that). If you're a LinkedIn Premium member, however, you can send him an InMail message.
Free LinkedIn account holders can purchase up 10 InMail messages per month, but they're expensive at $10 each. Premium account holders can send between 10 and 50 InMail messages per month as part of their subscription; they can also buy up to 10 additional messages per month. InMail messages are useful in that they present opportunities to connect directly with top influencers. They're also somewhat risk-free, because LinkedIn will give you an InMail credit for any message that doesn't receive a response within seven days. The upside of InMail messages' high price is that people use them judiciously.
Visibility regarding who's looking at your profile: With a free account, you can see some information about who's checking out your profile. Go to your LinkedIn homepage and look for the box on the right side labeled 'Who's Viewed Your Profile?' Click it, and you can see a few of the people who viewed your profile within the past several days.
As a premium subscriber, you can see everyone who has viewed your profile—or at least everyone who lets themselves be seen. Besides satiating your burning curiosity about who has been stalking you online, knowing who is interested in your profile could open your eyes to new job opportunities. If you're a recruiter, you might discover a prospect that didn't surface in your other searches.
If you'd prefer not to tip your hand this way, you can change your settings to remain anonymous. Hover your mouse pointer over your username and choose Settings from the drop-down menu. Provide your account password. You'll find your privacy settings in the middle of the lower half of the screen. Click Select what others see when you've viewed their profile, and you can then choose to show your name and headline (your title and employer, by default); show anonymous profile characteristics, such as industry and title; or stay anonymous if you don't want to leave any evidence at all.
Advanced search: Premium account members are entitled to better search functions, including the ability to search by company size and seniority level. This is a great feature for recruiters looking to fill jobs at certain levels, or for researchers seeking experts in particular fields. Lifetime Television senior producer Carri Levy found experts for her TV series Behind the Mystery: Rare & Genetic Diseases by using LinkedIn's seniority and function search features.
Do you need a premium account?
Most LinkedIn users—even the newly minted power users who just finished this article—will be fine with a free account. If you're engaged in a job hunt, you might find it worthwhile to subscribe for a month or two to take advantage of the extra tools available to Premium subscribers. That's much less expensive than signing up for a full year of service that you might not need.
Do you have any LinkedIn tips you'd like to share? Hit the comments section below and help us all out!