At a Glance
Expert's Rating
Pros
Simple interface
No download necessary
Our Verdict
If you need a quick way to create simple diagrams, Gliffy is it.
Even if your job has nothing to do with graphic design, chances are you still have to produce the occasional diagram. Whether you're called upon to create a network schema, a flowchart, an interface mockup, or an org chart, Gliffy is one online tool that tries to make the process as simple as possible. It doesn't specialize at any one type of diagram, but its rich library of glyphs and wide selection of starter templates make it easy to create almost any two-dimensional diagram.
Gliffy lets you get down to business without opening an account. Create your diagram first, worry about saving it later. The first thing you'll see when you start working in the Flash interface is a large dialog inviting you to pick a template. These are subdivided into nine categories, spanning the gamut from web design and Venn diagrams to flowcharts and UML (Universal Modeling Language, used in programming).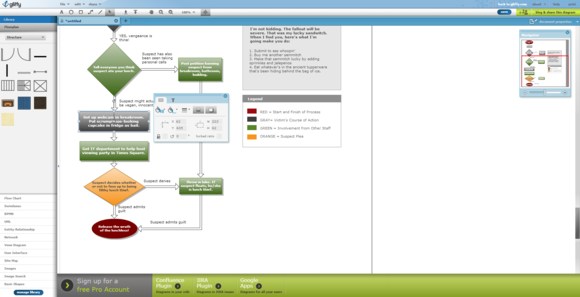 Each category includes between one and six templates, some of which are quite amusing. Notable examples include an org chart template titled Aptly Named Organization with principals such as Director of Sales Phil Sprockets, and an eight-step flow chart called Who Stole My Lunch. Not all of the examples are quite so tongue-in-cheek, but they all offer a good sense of what can be done with Gliffy.
Once you start working, the interface works like typical diagramming software: There's a vertical toolbar running along the left side of the window housing the library of glyphs, subdivided into categories. You drag out glyphs from the bar and drop them onto the canvas, which takes up most of the screen. There you can drag the element around, resize it, and rotate it. When you select an element, a small button hovers over its top-right corner. Click it, and a floating editing toolbar pops open. The toolbar lets you make other adjustments, such as fill and outline color, gradients, and font formatting.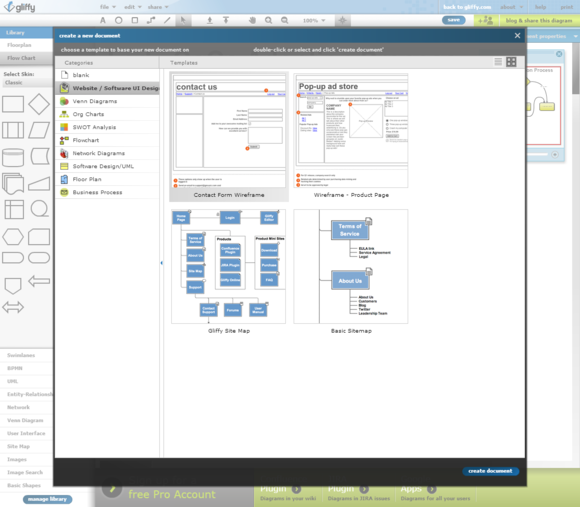 When the time comes to save your diagram, you'll get a 30-day trial of Pro account, which will then revert to a free account if you don't begin paying (you won't have to enter any payment details for the trial). Free users have a scant 2MB of storage space (vs. 200MB in the $5 Standard and unlimited space in the $10 Pro paid tier). They also may not collaborate with others, but most important, they can't mark any diagrams as private. If you use a free Gliffy account, anyone would be able to see your diagrams if they stumble on the correct link (although the link is a random string of digits that someone is not likely to guess.)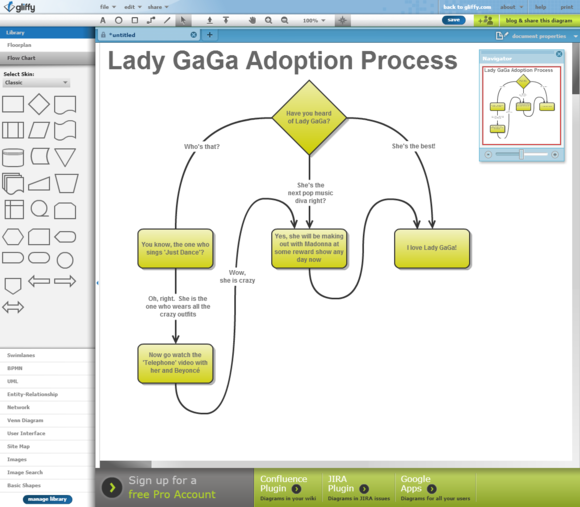 Even if you don't have to create a diagram right this minute, Gliffy is worth bookmarking for when you do need to create a quick org chart or use case diagram. Its sensible, no-frills interface and Web-based nature make it easy to get started without having to spend time installing or learning anything. That makes it a nice, simple tool for business users or students who only need to use a diagramming tool occasionally, but need to get it done quickly and easily when they do.
Note: The Download button on the Product Information page takes you to the vendor's site, where you can use the latest version of this Web-based software.