Even as the job market has remained generally dismal for much of the working world over the past few years, there have been a few notable exceptions.
Not only have those in IT generally faced better prospects, but the outlook for those with Linux skills has been even brighter. Year after year, surveys conducted by the Linux Foundation and others have found increasing demand for Linux know-how, as talent-hungry companies have struggled to fill such positions.
Earlier this year, IT careers site Dice reported that salaries for Linux professionals underwent a huge leap in 2012. Not long afterwards, the latest Linux Foundation report uncovered a increasingly pressing need for Linux talent.
To investigate this trend a little further from the hiring end, I spoke recently with Michael Miller, vice president of global alliances, marketing, and product management at Linux vendor SUSE. Miller works closely with SUSE's engineering team, so he has plenty of insight into the Linux jobs market.
PCWorld: How would you describe your current demand for Linux talent, and how has that changed in the past few years?
Miller: Demand is high right now. There's no question that it's a good time to be a developer with Linux skills. We're seeing the same thing that the Linux Foundation is seeing: this year is better than last year, which was better than the previous year.
At SUSE specifically, we're growing in a similar fashion. We've added nearly three thousand customers in the last year and a half, and with growth comes an opportunity to bring additional resources on to develop new products, market and sell them, and better support and serve both our enterprise and open source communities. We're hiring, and we want the best and brightest admins and developers the community has to offer.
PCWorld: How many Linux positions do you currently have open in your area, and what kinds of positions do you have the hardest time filling?
Miller: We currently have 40 positions open at the company right now, and that number's grown, even as positions get filled. With a number of new products and offerings, we could really use developers that have a high degree of kernel skills. When you're looking to the kernel for the latest product innovation, we need developers that can tap the kernel to make our offerings both the most innovative and the highest quality.
PCWorld: Have you had to change anything to better attract the talent you need, such as increasing salaries, adding bonuses, allowing telecommuting, etc.?
Miller: At SUSE, we believe in independence and flexibility. We have developers and employees located all around the world. We don't make them come into an office. We see talent and we adapt to their location.
PCWorld: What are the top things you look for in a candidate for one of these positions?We believe that in order to get talent, you have to not only be competitive with salary, benefits, etc., you also have to give them the information and independence to do their jobs effectively. We don't believe in micromanaging talent. We believe that talent manifests itself best when open communication and the opportunity to innovate intersect. If you're the type of person that likes to work in that kind of environment, we'd love to have you at SUSE.
Miller: For developers, on the skills side, kernel skills again are always in high demand. We also want employees that are invested and passionate about community contribution. Open source is the foundation of everything we do, so we want our employees to be invested in the spirit behind our core technology.
We also want people that have natural direction, drive, and love to have fun. We're all about results, but we let employees work their own way to be successful.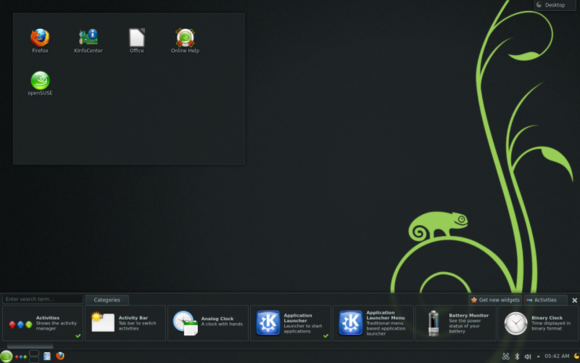 PCWorld: What skills would you say are most important for getting the best jobs and salaries in the Linux field?
Miller: Passion, first and foremost. For developers, kernel skills and upstream experience are another key factor. We also value transparency, sharing information, and participating in critical business decisions regardless of rank or function, from development, to marketing, to sales and support. We believe in empowering employees to make the right decisions, so self-motivation is another important trait to have as well.
SUSE's jobs page can be found online. If you need to brush up on your skills, there are plenty of online courses.