Outlook.com's Calendar is the latest Microsoft service to get modern-style makeover designed to match the visual style of Windows 8. It's a much-needed makeover, and it even includes some features you won't find in the all-too-basic Calendar app that's actually baked into Microsoft operating system.
Calendar on Outlook.com has the same flat design and sharp edges found on the Web apps for SkyDrive and Outlook mail. Events are color-coded according to the calendar they're on, and you can easy switch between month, week, day, and agenda views.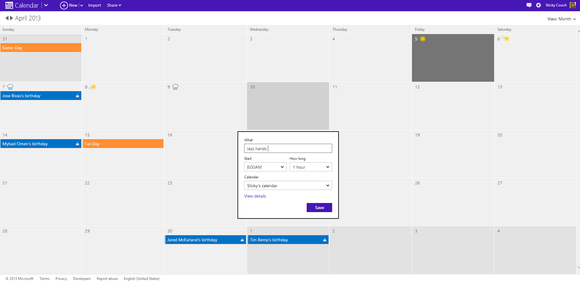 The Website also includes a decent number of bells and whistles beyond the basics. A calendar for national holidays is built-in, and each of the next five days includes a weather icon, which pops up a forecast when you tap on it. There's also a built-in task list that you can edit by clicking the View button near the top-right of the screen and selecting Task.
The Calendar includes some handy Facebook and LinkedIn integration for Microsoft accounts that are connected to the social network. You'll automatically see a calendar with friends' birthdays, and you can also start a Facebook chat in a sidebar view.
Social media integration is the main advantage Outlook.com has over Google Calendar—especially for keeping track of birthdays. Google does have the advantage of "Interesting calendars," a feature that lets you add things like Jewish Holidays, your favorite sports team's schedule and sunrise/sunset times. Also, Google Calendar has the option to let other people modify events and send out their own invitations.
Otherwise, the two calendars are similar in terms of basic features. Just like with Google Calendar, Outlook lets you create new calendars, import them from a file, subscribe to a calendar URL, and share calendars or events with contacts. Both services can remind you of upcoming events by e-mail, or through their respective desktop and mobile apps.
But compared to its twin, the modern-style Calendar app in Windows 8, Outlook.com's Calendar is superior in many ways. The Windows 8 app is still missing some basic functionality, like the ability to invite people to events or share calendars. You can't import calendar files or URLs into the Windows 8 app, nor can you see an agenda view of upcoming events. The only advantage Windows 8's Calendar app has over Outlook.com is the ability to add calendars from multiple Outlook and Hotmail accounts.
Fortunately, Outlook.com's Calendar works well on Windows 8 devices, though support for swiping through weeks or months would be nice. Check it out—the Outlook.com calendar is everything the lackluster Windows 8 Calendar app should be, but isn't.