At a Glance
Expert's Rating
Pros
Provides a web portal for media streaming
Elegantly simple design and functionality
DLNA compatible server
Cons
No Internet pass-through
Requires a reboot when switching from USB to Wi-Fi operation
Our Verdict
For wireless streaming of media and storage, Seagate's Wireless Plus is a polished, fast, and reliable external drive.
What could be better than a portable hard drive? A battery-powered portable hard drive that provides its own Wi-Fi hotspot, of course. Corsair's Voyager Air and Seagate's Wireless Plus command hefty price premiums compared to more ordinary drives, but they are also extremely convenient.
The usage models are as varied as your imagination: You can use them to wirelessly stream music and video around a small area, operate them as wireless NAS boxes, or provide business guests access to educational or entertainment materials on a grid that's completely isolated from your business network.
The two drives also vary in terms of performance, features, and price. Read on to find out which—if either—might suit your needs.
Corsair Voyager Air
In terms of connectivity options, the Voyager Air is as versatile as can be. It can create its own Wi-Fi hotspot, so you can transfer files over a wireless network, but it can also connect to a public hotspot and pass that Internet connection through to its own clients. Other wireless hard drives we've tested have required you to log out of their network in order to switch to an Internet hotspot. The Voyager Air is also outfitted with a USB 3.0 port, for direct connection to a PC, and a gigabit ethernet port, so you can use it as either a wired or wireless NAS. ((Internet pass-through does not work when a client is connected to the ethernet port.) I tested the $220 1TB model. Corsair also offers a 500GB model for $180.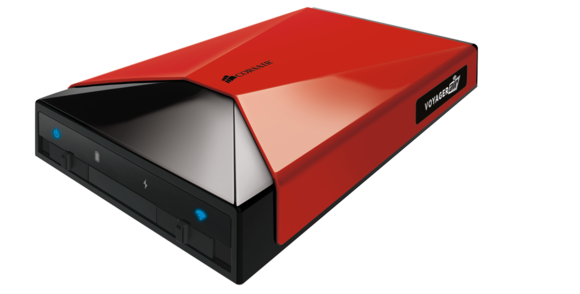 On the downside, the Voyager Air currently lacks a Web portal for viewing media, and since it's not DLNA compliant, it's not the best mate for smart TVs, Blu-ray players, and other media-streaming devices that might be in your home-entertainment system. It works just fine with PCs, however, and there are Android and iOS apps available for relevant smartphones and tablets. Corsair has promised a firmware upgrade that will add a Web portal and DLNA compatibility, but it hasn't offered a timeframe. For now, you simply open, view, and play files as you would from any other external storage device.
The Voyager Air delivered very good performance via USB 3.0 in our benchmark tests, writing our 10GB mix of files and folders at 101.5 MBps and reading them at 210.5 MBps. It was slightly faster when working with a single 10GB, writing at 109.2 MBps and reading at 245.6 MBps. File transfers via gigabit ethernet, however, were surprisingly slow: It wrote the mix of small files at just 14.6MBps and read them at only 28 MBps. Scores for the single large file were 18.6 MBps while writing and 51.8MBps reading. The device delivered a smooth wireless streaming experience, with no detected dropouts or pauses at bit rates as high as 2 MBps.
In my hands-on testing, the Voyager Air's battery lasted for just over five hours while streaming a high-bit rate movie. An LED indicator glows orange when the battery level drops below 50 percent and red when less than five percent is left. There's no harm in draining the battery dead while you're streaming or reading files, but you should pay attention to that red light if you're saving a file to the drive.
The Voyager Plus ships with a carrying bag, a standard USB 3.0 cable, a USB-to-power cable, a USB wall charger, and even a 12-volt auto adapter. You can power off the Wi-Fi function to preserve battery life, and plugging into a USB port will do so automatically (attaching the unit via ethernet will not).
The Voyager Air has great promise, and I know a number of IT types that will find the onboard ethernet very handy. When Corsair adds the Web portal and DLNA compliance, it'll be a pip.
Seagate Wireless Plus
Seagate's Wireless Plus is a more polished product than Corsair's Voyager Air, despite the absence of hardwired ethernet connectivity. It provides two features that are even more important: a Web portal and DLNA compliance.
Seagate's drive also features a more elegant industrial design with just a single Power button on its case. The Wi-Fi hotspot is always on unless the drive is connected to a computer's USB port. The presence of a DLNA-compliant media server means you can use your client's own application (e.g., Windows Media Player) to stream digital photos, video, and music from the drive. Seagate can also provide free apps for the iOS and Android smartphones and tablets as well as Amazon's Kindle Fire.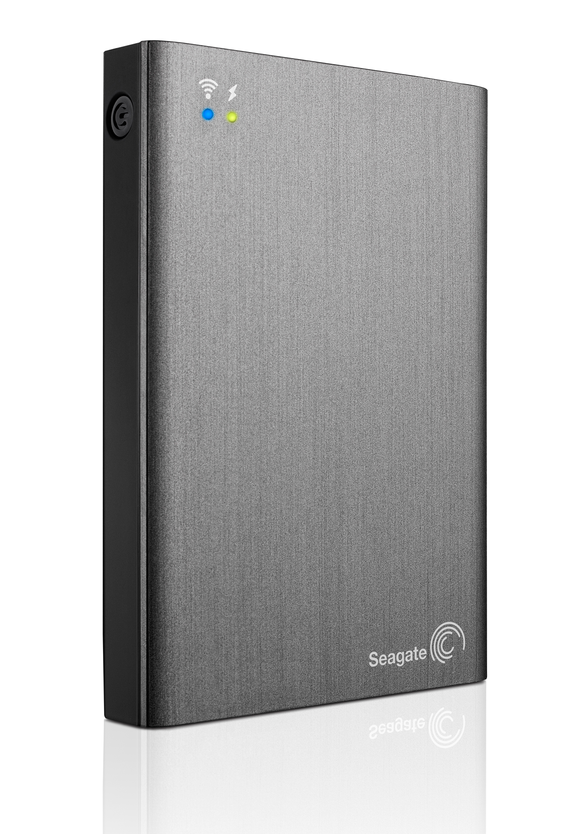 The Wireless Plus features Seagate's USM (Universal Storage Module) technology, which means the hard drive has a recessed SATA connector that can be mated to a variety of interface adapters. Seagate includes a USB 3.0 USM adapter, a USB 3.0 cable, a USB wall adapter, and a USB-to-DC power cable with the Wireless Plus.
Seagate's drive wasn't quite as fast as Corsair's: Connected via its USB 3.0 interface, the drive wrote our 10GB mix of files and folders at 93 MBps and read them at 208.3 MBps. With a single large 10GB file, write and read speeds jumped to 106.4MBps and 247.1MBps respectively. Streaming multimedia via Wi-Fi was smooth, right up until about 2 MBps. That's fast enough to stream just about any file outside an uncompressed Blu-ray rip.
Seagate claims up to 10 hours of battery life for the Wireless plus, but qualifies it heavily. The drive ran for a considerably shorter period of time—four hours—streaming a high-bit rate video. This is an admittedly extreme scenario, and you'll get better life with shorter movies and more typical usage. The status light on the top of the unit turns red when it's time to recharge, but Seagate does not specify how much charge remains after that. I got about 30 minutes, but you might not.
As with Corsair's Voyager, the Wireless Plus automatically turns off its wireless hotspot when you hardwire the drive to your PC's USB port. But unlike Corsair's drive, I had to reboot the Seagate drive in order to reestablish a wireless connection. The wireless hotspot was visible to my laptop, but it would not connect to it. Another oddity: The drive is hard-coded to use Wi-Fi channel 5. This could be a problem if there are other networks in the area using the same channel (although most people set up their 2.4GHz routers to use one of the three non-overlapping channels available in that spectrum: Channels 1, 6, or 11). Still, there's really no good reason to prevent the user from operating the hotspot on a channel other than 5.
Seagate's Wireless Plus is a quality product. It costs $20 less than the rival 1TB Voyager Air. The absence of an ethernet port means it's not as versatile, but the Voyager Air lacks a DLNA server and a web portal.