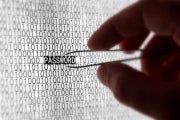 A hacker group calling itself the D33ds Company has posted more than 450,000 login credentials online, claiming that the pilfered e-mail addresses and passwords came from an unnamed Yahoo service. The hackers say they were able to obtain the credentials through an SQL injection, a common attack method that gave Sony so much trouble in 2011.
The original D33ds site that posted the login credentials (d33ds.co) was down as of early Thursday morning; however, the text file is available through torrents and sites such as Media Fire.
"We hope that the parties responsible for managing the security of this subdomain will take this as a wake-up call, and not as a threat," the D33ds group said in the text file containing the leaked credentials. The group said it did not reveal which Yahoo service the hacked credentials came from "to avoid further damage."
Update 1pm ET 7/12: Yahoo confirmed it was hacked and provided the following statement:
"An older file from Yahoo! Contributor Network (previously Associated Content) containing approximately 450,000 Yahoo! and other company users names and passwords was compromised yesterday, Of these, less than 5% of the Yahoo! accounts had valid passwords. We are taking immediate action by fixing the vulnerability that led to the disclosure of this data, changing the passwords of the affected Yahoo! users and notifying the companies whose users accounts may have been compromised. We apologize to all affected users. We encourage users to change their passwords on a regular basis and also familiarize themselves with our online safety tips at security.yahoo.com."
It's not clear which Yahoo service the hacked login credentials came from or if they came from Yahoo at all. Research by information security firm TrustedSec suggests the hacked service was Yahoo! Voices, a user-generated blogging platform that Yahoo obtained as part of its acquisition of Associated Content in 2010. A quick glance at a copy of the hacked login credentials obtained by PCWorld shows a wide variety of webmail addresses including AOL, Gmail, Hotmail, Yahoo, and others.
Security firm Eset also took a look at the hacked data and pulled out the 10 most common passwords used. It should come as no surprise that the most popular passwords were all insecure choices including:123456, password, welcome, ninja, abc123, 123456789, 12345678, sunshine, princess, and qwerty. If you are using any of those phrases to secure your online accounts, check out PCWorld's "How to Build Better Passwords Without Losing Your Mind" to learn about choosing secure passwords.
If you're a Yahoo Voices user, you may want to change your password soon, and if you use the same login credentials on more sensitive services such as e-mail or financial accounts, you should also change those as soon as possible.
Connect with Ian Paul (@ianpaul) on Twitter andGoogle+, and with Today@PCWorld on Twitter for the latest tech news and analysis.