It's no secret that Linux offers numerous compelling security advantages, including the infinitely useful ability to help fix Windows PCs when they get infected by malware.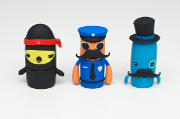 A new device recently launched on Kickstarter, however, aims to make it easier than ever to tap Linux's security goodness for the benefit of a troubled Windows PC.
Billed as "a fully automated solution for solving PC frustration," Jumpshot uses Linux and a Windows app to rescue infected, laggy, bloated, and otherwise beleaguered PCs and restore them to health once again.
A Custom Version of Linux
Anyone with an afflicted PC can simply plug the Jumpshot device into their USB drive–three character designs are available, but all serve the same purpose. Both 8GB and 32GB drives are available, though the Jumpshot software itself takes up less than 200MB.
Jumpshot then reboots the PC and launches a custom version of Linux instead, automatically loading the correct drivers.
Next, it automatically connects to the Internet or prompts the user for help if it can't. Once connected, it downloads the latest Jumpshot engine code, which automatically "mounts and attaches itself to every hard drive on the PC that contains an installation of Windows XP, Windows Vista, Windows 7, or Windows 8," the device's creators explain.
There it interfaces with such Windows instances forensically and wipes away malicious viruses, spyware, and bloatware while the Windows system itself is "sedated." And, because Jumpshot's intelligence is in the cloud, it's designed to get smarter every time someone uses it.
Once it's done, the newly cured PC reboots and presents users with the result of the analysis in conversational language. The video below explains the idea further.
Early Access
Jumpshot's $25,000 funding goal has already been surpassed, and it's due to ship in November. For now, you can pledge $35 and get an 8GB version reserved for you along with an assortment of other swag.
Backers also get early access to a version of Jumpshot's Windows app that can run directly on the hard drive or be loaded manually onto a CD or USB.
Personally I think these devices could be really handy for individual and business users alike. Are you tempted? Please share your thoughts in the comments.