At a Glance
Expert's Rating
Pros
Converts video to multiple formats
Cons
Requires Administrator rights
Doesn't let you pick video resolution from YouTube
Our Verdict
A simple utility for downloading and converting videos from YouTube and other sites, VDownloader doesn't always get the job done as well as other available offerings.
Ever been completely engrossed in a music video or a TED Talk on YouTube, when suddenly the video sputters to a halt? Downloading your videos in their entirety before watching them can make for a much better viewing experience. VDownloader is a $39 utility (free feature-limited demo) that tries to make it easier for you to download videos from multiple websites for later viewing. Unfortunately, it does not always succeed.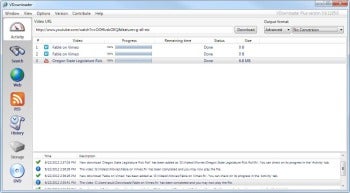 The first thing I noticed when I ran VDownloader is that it pops up a UAC prompt to request elevation to Administrator rights. There is no real reason why VDownloader should need Administrator access just for downloading files off the Internet: your Web browser does it all the time, and so do download managers such as the free JDownloader (which is excellent for downloading videos as well).
VDownloader ships with a browser extension that adds a large VDownloader button to the page whenever it detects a video that VDownloader could download. Every time you click that button, VDownloader will pop up a UAC prompt, even if it is already running. From talking to the vendor, it's unclear why this occurs.
Just because VDownloader thinks it detected a video does not mean it actually did: I clicked the VDownloader button within Chrome to download a video from Vimeo, and VDownloader grabbed a tiny FLV file which was not that video at all.
Even when VDownloader detects the video correctly, like on YouTube, it won't let you select the quality in which you wish to download the file. Unlike JDownloader, which detects all of the file qualities YouTube offers for a given video and lets you easily pick one or more, VDownloader just grabs a single FLV file. On the plus side, it lets you convert the downloaded video into numerous formats so you can easily watch it on a mobile device.
If you don't like using browser extensions, VDownloader also includes a built-in search feature that you can use to track down videos to download. It can also monitor your clipboard for URLs of videos and offer to save those.
The bottom line: VDownloader works, but it isn't the best tool available for downloading videos off the Internet.
–Erez Zukerman