Google has started shipping units of the highly anticipated Nexus 7 tablet, but multiple retailers said the tablet has sold out and that they are struggling to fill orders.
GameStop has pulled the Nexus 7 tablet order page from its website, while Adorama and Staples said the tablet had sold out and that they were waiting for additional inventory. Retailers were taking pre-orders on their websites for the tablet, which was announced in late June and has a 7-inch screen, a quad-core processor, and the Android 4.1 OS code-named Jellybean.
GameStop has already delivered some Nexus 7 stock to stores for buyers who opted to pick up the tablet in-store. A GameStop store in New York had one tablet waiting to be picked up, and a store representative wasn't sure when a second wave of Nexus 7 tablets would arrive, guessing it could take a few weeks.
In an e-mail, a GameStop spokeswoman said she was not sure why the Nexus 7 order webpage was pulled, but added that an additional set of orders were being taken for fulfillment by August 7.
Adorama, a retail store based out of New York, posted a message on Twitter on Friday afternoon saying that the Nexus 7 had sold out and that it was shipping all the stock based on orders received. In response to a query on Twitter, Adorama said no Nexus 7 tablets were available in-store. On the website, Adorama is taking orders for the tablet with a tentative ship date for around "mid-August."
Staples on its website said it ran out of Nexus 7 inventory and asked users to check in between July 14 to July 18 as "additional units may become available." Staples earlier said it would start delivery of Nexus 7 between July 12 and 17 for orders placed by July 11, and was promising a delivery day of between one to three days.
Alternative Sources
Buyers can also purchase the tablet directly from Google on the Google Play store. Google is taking orders for a $199 model with 8GB of storage and a $249 model with 16GB of storage, and promising one to two weeks for delivery. The retail stores are largely selling only the $249 model.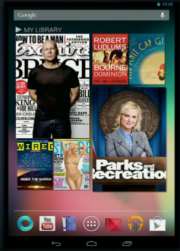 Other retailers selling the tablet include Office Depot, which has listed the 16GB Nexus 7 as being on pre-order, at the same time listing the product as being in-stock. Office Depot is offering a delivery date of one to two weeks.
Some other online retailers are also taking orders, but say the delivery for tablets will start in August. A 16GB Nexus 7 listed on B&H Photo and Video's website was scheduled to start shipment on Aug. 15 until earlier this week, but now has been delayed to September 1. B&H said the tablet was released in limited quantities.
Best Buy Canada is taking orders for the 16GB Nexus 7 for C$259 (US$254) on its website, and the product will reach its warehouse on Aug. 10. The same shipment date is being promised by Futureshop Canada.
Google did not respond to requests for comment on how many Nexus 7 tablets have been sold or shipped. However, there was a lot of enthusiasm around the tablet partly for its features, and also the low-price which also attracted buyers who want to check out Android.
The tablet, made in collaboration with Asus, weighs around 340 grams, and offers battery life of up to nine hours on video playback and 300 hours on standby. The display can show images at a 1280 by 800-pixel resolution. Other features include a 1.2-megapixel front-facing camera, 1GB of RAM, a micro-USB port, Wi-Fi, Bluetooth and NFC (near-field communication). (See also "Nexus 7 Tablet vs. Kindle Fire vs. the Rest: Spec Smackdown" (Chart)).
Agam Shah covers PCs, tablets, servers, chips and semiconductors for IDG News Service. Follow Agam on Twitter at @agamsh. Agam's e-mail address is agam_shah@idg.com