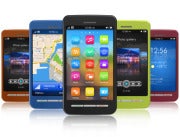 Google's Android and Apple's iOS account run 86 percent of the U.S. smartphones, leaving RIM's Blackberry and other mobile platforms — we're looking at you, Windows Phone — in the dust.
That's the latest word from research firm Nielsen, which reports that Android's lead in the U.S. smartphone market continues its steady rise. In fact, nearly 52 percent of U.S. smartphone owners use Android devices. Second-place iOS has a healthy 34.3 percent of the market.
Third-place RIM has just 8.1 percent, and other operating systems take the final 5.9 percent of the pie.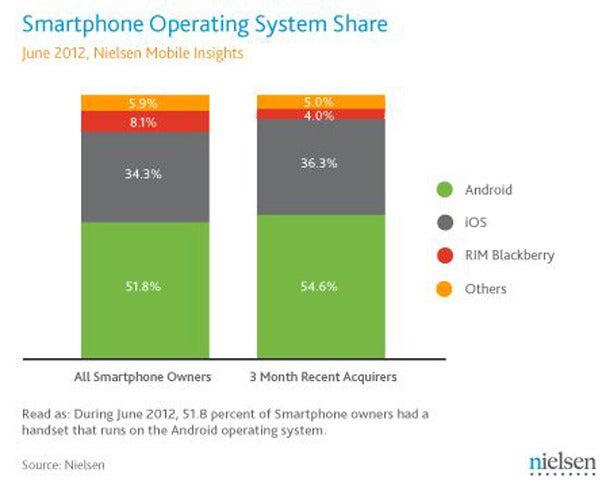 Obviously, the Nielsen numbers are very good news for Android and iOS. And the gulf between the two frontrunners and the rest of the mobile OS appears to be widening.
Among smartphone owners who purchased a handset in June 2012, 54.6 percent chose an Android device, and 36.2 percent bought an iPhone.
Meanwhile, Microsoft's Windows Phone platform continues to languish. That's despite positive reviews, a slick "live tile" interface, abundant advertising, and support from major phone manufacturers including Nokia, HTC, and Samsung.
Windows Phone 7 has a meager 1.3 percent of the U.S. smartphone manufacturer share, Nielsen says. That's less than half the 3 percent share of Windows Mobile Phone — the OS that Windows Phone replaced.
In terms of hardware sales, Apple has a commanding lead. More than a third (34.3 percent) of smartphone owners use an iPhone. Samsung is a distant second with 17 percent, followed by HTC (14 percent) and Motorola (11 percent).
As expected, consumers are steadily replacing their older cell phones with smartphones. In fact, two-thirds of new mobile buyers chose a smartphone, Nielsen reports.
Contact Jeff Bertolucci at Today@PCWorld, Twitter (@jbertolucci) or jbertolucci.blogspot.com, and follow Today@PCWorld on Twitter, too.