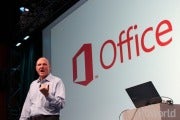 Microsoft launched its "customer preview" version of Office 2013 and a revamped Office 365 at a media event in San Francisco today. The company's next-generation office suite looks to be tightly focused on mobile devices, touchscreens, and the cloud.
Like Windows 8, both Office 2013 and its cloud-based cousin, Office 365, represent a significant departure from their predecessors. Microsoft has changed features and conventions big and small in the revamped suite, with the stated goal of streamlining productivity and embracing mobility.

The now-familiar ribbon interface is carried over from the previous generation of Office, but you can hide it from view to maximize the screen real estate available on smaller displays. Each component of the suite–Word, Excel, PowerPoint, Outlook, and the rest–has received new features.
As it has done in the past, Microsoft will offer consumers and businesses several disc versions of Office 2013 that can be installed locally on a computer. But Microsoft also plans to market its Office 365 subscription service to both consumers and businesses. Subscribers will be entitled to download and install Office 2013 on up to five devices, including PCs and tablets running Windows 7 and Windows 8. The final version of Office 365 will also include Office for Mac.
Microsoft intends to steer users of both versions toward its SkyDrive cloud-storage service by encouraging them to sign in with a Microsoft Live account. This will enable users to store their files in the cloud, where the files can sync with and be opened from virtually any platform that has Internet access.
The new offerings from Microsoft include Office 2013 and an updated version of Microsoft's Web-based Office 365. Microsoft has also indicated that Windows RT tablets will come loaded with Office 2013 versions of Word, Excel, PowerPoint, and OneNote.
Microsoft's decision to abandon its tradition of maintaining almost perpetual backward compatibility–which it also did in the case of Internet Explorer 9–continues: The new Office 2013 and Office 365 applications will work only with Windows 7 and Windows 8.
Microsoft outperformed Wall Street expectations in its third quarter, thanks in part to the performance of its Microsoft Business Division, which is responsible for the company's Office products. The division reported revenues of $4.57 billion for the quarter, a 9 percent increase over the same quarter last year. A recent USA Today article explained the importance of the Office franchise to Microsoft: The publication reports that Office revenues "accounted for $22.2 billion of Microsoft's nearly $70 billion in fiscal 2011 revenue and $14.1 billion of operating income, by far the most of any unit."
Microsoft faces increasing pressure from rival cloud-based productivity suites such as Google Docs and open-source suites such as LibreOffice. Office 2013 and Office 365 might raise the bar in some areas; but by excluding Windows XP and Windows Vista users, Microsoft also opens a door that might allow its competitors to gain market share.
PCWorld editors have been using this early release of Microsoft's new software for the past week. You can read our first-week impressions of the tablet, laptop, and desktop versions, and we'll follow that up soon with a comparison of these programs to some other cloud-based offerings. In the meantime, if you'd like to check out the software for yourself, you can download Office 2013 Customer Preview here.