Apple has come a long way from the days when Steve Jobs told environmental protesters outside a MacWorld Expo to "get out of the computer business [and] go save some whales," but its latest flub over green standards shows that the company, which is so pitch perfect in desiging consumer electronic products, still doesn't quite get this green stuff yet.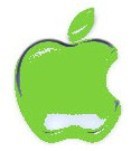 Apple withdrew a few weeks ago from a program, EPEAT, that sets environmental standards for computer products. Since Apple products exceed the EPEAT standards and some products, like smartphones and tablets, which represent a substantial part of the company's business, aren't even covered by the standards, the company argued that it had no need to participate in EPEAT.
Apple's withdrawal from EPEAT raised protestations from the environmental community and put the company's products on the fast track for exclusion from use by governments, from municipalities to the feds, as well as universities. With pressure mounting from all directions, Apple admitted it made a mistake.
"We've recently heard from many loyal Apple customers who were disappointed to learn that we had removed our products from the EPEAT rating system," Apple Senior Vice President Bob Mansfield writes in a letter posted to Apple's website. "I recognize that this was a mistake. Starting today, all eligible Apple products are back on EPEAT."
Green Skirmishes
While Apple's attitude toward environmental concerns has greatly improved over the years, green concerns have turned the company's face red over the years. For example, skirmishing with Greenpeace during the early years of the new millennium led to the environmentalist issuing a report on hazardous chemicals lurking inside the iPhone. Apple also lagged behind other high tech firms throughout the first decade of the new century in Greenpeace's Guide to Greener Electronics.

The environmentalists not only criticized Apple's products, but its data infrastructure, too. In April 2011, the group tagged Apple the "least green" tech company for its use of "dirty" data centers. Greenpeace reported that dependence on coal for Apple's data centers to be 54.5 percent, followed by Facebook at 53.2 percent, IBM at 51.6 percent, Hewlett-Packard at 49.4 percent, and Twitter at 42.5 percent.
Apple also received low marks for its data centers earlier this year, grades that it disputes.
Greenpeace hasn't been the only environmental group to chide Apple. Environmental groups is China have criticized the American company for allowing its suppliers based in that Asian nation to release pollution that has resulted in increased cancer rates in communities near the suppliers.
Apple has been working with those groups to address their concerns and in April, it was announced that Apple and the Institute of Public and Environmental Affairs, in Beijing, will conduct a joint audit of one of American company's Chinese suppliers.
Follow freelance technology writer John P. Mello Jr. and Today@PCWorld on Twitter.