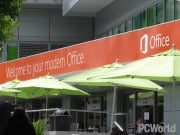 If news about Word, Excel, and PowerPoint makes you writhe with anticipation, watch this live stream of Microsoft's Office 2013 announcement. Microsoft hosts this broadcast from San Francisco.
Instead of talking tablets, the company is discussing the next edition of its Office suite, Office 2013.
(Here's a photo (left) that PCWorld Senior Editor Melissa J. Perenson shot earlier today at the event site in San Francisco.)
PCWorld is covering the event and providing liveblog commentary as well.
Anticipating Office
Although the company hasn't made any details of the event public, USA Today reported last week that the new Office will be the topic of conversation, citing "industry sources." Microsoft previously said that it would announce details on its productivity suite during the summer, so the timing is right.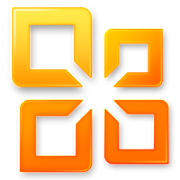 The news should be significant, as this new version of Office is the first iteration of the software that must straddle the line between the new Metro-style interface in Windows 8 and the traditional desktop.
From the leaked screenshots we've seen so far, the new Office will be a desktop app with some Metro design flourishes, and a "touch mode" that will make tablet use easier.
It's unclear whether Microsoft will offer a proper Metro-style app, or a version of Office for other tablets. (The latter is on my wishlist of new Office features.)
In any case, Microsoft will likely open a public beta for the new software soon, as the company has promised to offer one during the summer. A release date has yet to be announced; the final version may be dubbed Office 2012 or Office 2013, depending on when it's ready.
Follow Jared on Twitter, Facebook, or Google+ and follow Today@PCWorld on Twitter for even more tech news and commentary.