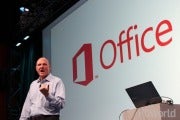 Microsoft launched the public beta of Office's next version on Monday, saying that from now on the suite's cloud-based edition, Office 365, will be its primary focus of development. Microsoft will market a new version called Office 2013 that will be installed locally on devices, but the future of the suite lies online with the cloud-based version released in preview mode Monday, said CEO Steve Ballmer during a press conference that was webcast. "This is the new generation of Office, where it is a service first," Ballmer said, adding that this new version of Office is the first one to be designed primarily as cloud-based software. The new version of Office has also been designed to work best with Microsoft's new Windows 8 OS, in particular with its Metro interface, which is optimized for touch interfaces such as those in tablets. "This is the most ambitious release of Office we've ever done," Ballmer said. In addition to hand gestures, Office has also been optimized for stylus input devices, but works equally well with keyboards and mice, he said. The first Office applications getting a Windows 8 revamping in the Metro style are OneNote, which is for taking notes, and Lync, which includes IM/presence, Web meetings, video conferencing and audio communications capabilities. The local version of Office will ship bundled with devices running Windows RT, the Windows 8 version for ARM-based machines, including Microsoft's own Surface tablet. That Office suite will include Word, Excel, PowerPoint and OneNote. This version for Windows RT devices will be called Office Home and Student 2013 RT.
Cloud-Based Office
The cloud-based versions of Office will be licensed on a subscription basis, while the versions that will be installed locally on machines will be sold in the traditional perpetual license model. Asked to clarify the branding of this new wave of Office products, a spokeswoman for Microsoft said via email that "Office 365 is our services brand" that refers to cloud suites that are updated continuously, while "Office suites, such as Office Home and Student 2013, are designated by a year model and are current as of that year model." In a demonstration at the press conference, it became clear that Microsoft has tried to give the Office applications a more modern, clean interface. Microsoft held off on providing full details on all the different Office bundles and prices, but it did disclose details on three cloud models that each will include Word, Excel, PowerPoint, OneNote, Outlook, Publisher and Access. The first version, called Office 365 Home Premium, will be aimed at individual consumers and families and include 20GB of storage in the company's Skydrive cloud storage service, as well as 60 minutes of Skype world minutes per month. The second version, Office 365 Small Business Premium, is, as its name indicates, for small businesses, and includes business-grade email and calendaring and high-definition Web conferencing. This version is "ideal" for businesses with up to 10 employees, and each user can access it on as many as five different PCs or Macs, according to a fact sheet. Finally, Office 365 ProPlus is for enterprises and comes with additional features designed for IT departments and large companies. Specifically, Office 365 Pro Plus also includes Lync and the form-creation application InfoPath, and each subscriber can use it on as many as five different PCs or Macs. The fact sheet also mentions a traditional client-software suite for enterprises called Office Professional Plus 2013, which comes with Word, Excel, PowerPoint, Outlook, OneNote, Access, Publisher and Lync. In the same fact sheet, Microsoft also detailed a fourth edition, called Office 365 Enterprise, which comes with Exchange Online, SharePoint Online and Lync Online. The locally installed Office 2013 suites will be able to tap into the cloud in different ways to interact with online products such as SkyDrive, so that users will be able to save documents on a Microsoft server and access them from different devices.
Office 365 2011 Versus New Office 365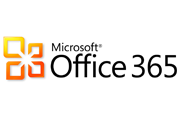 The Microsoft spokeswoman didn't immediately explain how these new Office 365 bundles will fit in with, or possibly replace, the existing Office 365 editions available for the past year.
She also couldn't say with certainty whether Office 2013 and the new versions of Office 365 will have full feature parity across their applications, or whether there will be gaps and tradeoffs in functionality. One thing Microsoft didn't address is the question of whether it plans to release versions of Office for iOS and Android devices, given the popularity in particular of iPads in homes and workplaces. Asked to comment about this, the spokeswoman said that the new version of SharePoint will introduce native mobile applications across different device platforms, including Windows 8, Windows Phone and iOS. "With the new SharePoint mobile apps, we are focused on delivering the capabilities to a broad set of people. We will continue to review all viable platforms based on our customer requirements," she said. Microsoft has a version of OneNote already available for iOS devices. Related to the Apple platform, she also said that when "the new Office" becomes commercially available, the company will deliver an update to Office for Mac 2011. "With this update, Office for Mac licenses can count as part of your Office 365 Home Premium subscription. You will also be able to use SkyDrive and/or Office 365 to save and access all your documents from your Mac," she said. Those interested in giving the new Office suite a test drive can access it at http://www.microsoft.com/office/preview/en.
Juan Carlos Perez covers enterprise communication/collaboration suites, operating systems, browsers and general technology breaking news for The IDG News Service. Follow Juan on Twitter at @JuanCPerezIDG.