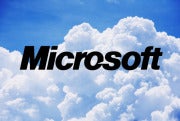 Microsoft's announcement of Office 2013 is another linchpin in the company's effort to assume a leadership role as a cloud-computing services provider.
The new version of Office will be tightly coupled to the company's SkyDrive cloud-storage service. SkyDrive, in turn, is one of the key built-in features of Windows 8.
Microsoft has yet to announce pricing for the new Office. But with Windows 8 Pro upgrades costing just $40 if you upgrade online directly from Microsoft, the software giant has already signaled a willingness to change its upgrade models.
That's the most aggressive pricing yet for the company's flagship operating system, and it could be a harbinger of Microsoft's approach to Office upgrades. One clear message that Microsoft CEO Steve Ballmer delivered at the Office 2013 announcement is the shift from packaged goods to services. Ballmer noted that the new Office was "the first round of Office designed from the get-go as a service."
Although Ballmer repeatedly reassured the audience that Microsoft would continue to sell Office as purely local client software, he also punctuated his keynote at least once with the qualifier "for now."
The Importance of SkyDrive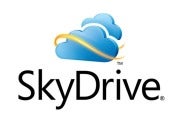 During the Office presentations, SkyDrive received a lot of love from Kirk Koenigsbauer, the Microsoft VP in charge of Office. One of the customer quotes that Ballmer highlighted after the demo focused entirely on SkyDrive, which is Microsoft's answer to Dropbox.
Office 2013 defaults to saving documents on SkyDrive, assuming that you log in with your Microsoft user ID. As with similar cloud-storage services, the first bytes are always free, but as you put more of your data in the cloud, you may find yourself opting to pay for additional storage.
The Holy Grail for a software company is to collect small fees paid on a regular basis, in perpetuity. Keeping that in mind, you might start to understand why a Windows 8 Pro upgrade is so inexpensive: Microsoft is betting that a percentage of those users will upgrade to the paid version of SkyDrive.
In light of that strategy, it would not be surprising if Microsoft's entry price for Office 2013 were to be lower than that of the previous version. As more users store more data in SkyDrive, the conversion rate for paid users will go up. Microsoft clearly envisions a world in which SkyDrive seamlessly connects each user's assorted devices, including tablets, phones, laptops, and desktop PCs. Although Microsoft didn't discuss versions of Office for iOS or Android at the presentation this week, SkyDrive apps are already available.
This approach is not necessarily a bad thing: If product costs are low, consumers tend to be more willing to pay ongoing fees, just as they already do with subsidized phone handsets and their corresponding multiyear contracts. The convenience of cloud storage is undeniable. The open question is, where do third-party services such as Dropbox fit in versus integrated services like SkyDrive or Google Drive?
More Integration
Despite Microsoft's shift to the cloud, what's perhaps even more noteworthy is that the products themselves are better integrated than ever before.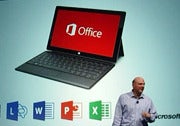 The new Office and Windows 8 are more closely married in look and feel than any previous versions have been. Integration with other Microsoft applications, including Skype and Bing, promises to be tighter as well; everything appears to work elegantly and seamlessly, something that isn't true today.
The company's push toward a seamless experience also includes tablet versions running on ARM-based devices supporting Windows RT. Ballmer mentioned ARM processors so many times during the Office 2013 launch event that you'd be forgiven if you thought there was no version of the suite for x86.
Office will work with the wide range of Microsoft-supported hardware, from phones to tablets to PCs. And the x86 version of Office has adopted many design traits consistent with Windows 8's Metro interface, even though it isn't a pure Metro app.
(The version of Office for ARM systems running Windows RT will be Office Home and Student 2013 RT; that version runs solely in Metro, as Windows RT doesn't support the desktop mode.)
Microsoft gets a significant win by uniting the usage experience across all platforms. Yes, you will see some differences tailored to the various types of devices–phone, tablet, laptop, desktop, or all-in-one PC. But you'll be able to buy Office once, install it on up to five systems, and get essentially the same experience on all of them.
Over time, Microsoft may choose to lower the per-unit costs for its operating systems and applications, but if the company does so, it will be with the expectation that consumers will instead pay ongoing fees for additional cloud services.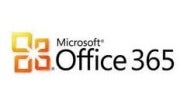 Although the cloud-based Office 365 currently targets business users, I wouldn't be surprised to see Microsoft offer a more consumer-oriented service that users could access from a tablet, a phone, or any other Internet-connected device. To be competitive with Google Docs, Microsoft might offer a free version of the package, or possibly include it with a paid SkyDrive subscription.
Will consumers buy into that trade-off? Will they even have a choice?
Apple is clearly shifting toward cloud services, and Google applications have lived in the cloud from the beginning. Sure, customers can stick with the current versions of Windows and Office for a few years, but if Microsoft pursues this cloud path, eventually consumers will have to switch.