At a Glance
Expert's Rating
Pros
Finds writing mistakes that are easy to overlook
Cons
Bland interface
Expensive
Not intuitive
Our Verdict
Serenity Software's Editor finds grammar and word usage mistakes that your word processor may miss.
As a writer and an editor, I have a love-hate relationship with Serenity Software's Editor (various pricing; ten-day free trial). This copyediting and proofreading application not only identifies common grammatical errors, but also thoroughly analyzes your writing for other weaknesses. I love that it focuses on good, solid writing. I just hate the fact that so many folks–myself included–actually need it.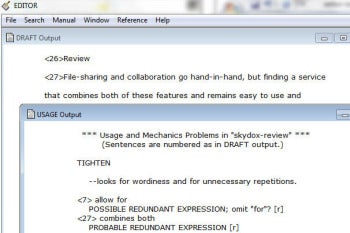 Editor is available in two versions. The $55 Standard version analyzes documents from many word processors (including Microsoft Word), as well as many HTML, RTF, and all plain-text documents, but presents its output in a plain text file. If you're going to use Editor to analyze Microsoft Word documents, I highly suggest springing for the $75 Editor for Word, which includes the same features as the Standard version, but also features a Word add-in that allows you to see Editor's output within Microsoft Word itself.
Serenity Software suggests reading its help documents, which include a short Getting Started doc and a longer one, called "Using Editor Efficiently," before you begin using Editor. And doing so is necessary: The program itself is not entirely intuitive. To begin using either version, you close your document or file, and then open Editor. You then click the "Draft" button from the basic-looking but perfectly serviceable menu, and import your document into Editor. The company recommends doing this every time you use Editor.
Once your file has been imported, you're brought back to Editor's main menu, where you click "Usage." Here, you can decide which of Editor's tools you'd like to use: All, Fix, Spell 1, Spell 2, Tighten, Polish, and Consider. While the tools (called "Dictionaries") run quickly, you do spend a lot of time clicking buttons and viewing various menus; it would be easier to use Editor if these steps were combined in a more user-friendly fashion.
After these tools have run, you're brought back to the main menu again. Now it's time to view the results of Editor's analysis, and this is where the Standard version and Editor for Word part ways. In the Standard version, you're limited to viewing your work in a text document, where all the sentences are numbered, and are presented with a second text document that lists your "errors" according to sentence number. Using the Word add-in, you can view these errors (some of which may be mere suggestions) as pop-ups as you move through the document. The Word add-in provides a much more streamlined, user-friendly approach.
The results that you see are the same in both versions. Editor does not check basic spelling–it suggests you run your word processor's spellchecker before using it–but does check for improper use of words, misused hyphens, improperly used phrases, wordiness, missing or erroneous punctuation, and more. Not all of its suggestions are useful for every style of writing, and the folks at Editor stress that you should not act upon all of its suggestions. Instead, they suggest that you consider the changes that it suggests, and decide for yourself if they will help your writing. To that end, no changes are applied automatically: You must manually make any edits yourself.
I have to admit that I was pleasantly surprised at how well Editor analyzed my writing–once I got over the shock of seeing just how many errors it pointed out. I quickly realized that I could ignore many of its suggestions, and just how easy Editor makes it to identify those that actually do need attention. The program uses language like "grammatical error" to label errors that it definitely identifies, while in other cases it uses terms like "possible poor usage" or "possible redundant expression," to highlight situations where you might want to consider making a change.
Although I wish we lived in a world without a need for Programs like Editor, I have to admit–however grudgingly–that we don't. There are no perfect writers, but we all can get a little bit better with Editor.
Note: The Download button takes you to the vendor's site, where you can download the latest version of the software and find the trial password.
–Liane Cassavoy