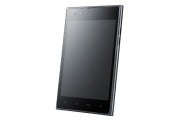 The LG Optimus Vu, a 5-inch tablet/smartphone combo similar to the popular Samsung Galaxy Note, is headed for Verizon's 4G LTE network, and will reportedly ship with Android 4.0 Ice Cream Sandwich.
According to the folks over at Android Police, the phone-tablet, or "phablet" is a "horrendous boxy eyesore" with a 5-inch display. Even when compared to the 4.8-inch Samsung Galaxy S III, the Optimus Vu looks extremely large. In PCWorld's Optimus Vu review, Armando Rodriguez found the poor design makes the tablet-phone uncomfortable to hold and awkward to use. However, Rodriguez admits that the phablet is otherwise impressive in both specs and performance.
The LG Optimus Vu sports a 1.5GHz dual-core Snapdragon S3 processor, 1GB of RAM, and 32GB of built-in storage. The massive screen has a 4:3 aspect ratio, unlike most modern smartphones which feature widescreens. The Optimus Vu's standard aspect ratio may make reading documents and webpages a little easier.
The Optimus Vu's 5-inch screen has a native resolution of 1024 by 768 pixels. The phone also features NFC (near field communication) technology, an 8MP rear-facing camera, and a 1.3MP front-facing camera.
The Optimus Vu is shorter and wider than the Samsung Galaxy Note, which is available on AT&T and, starting today, T-Mobile. The Vu is 5.5 inches long and 3.5 inches wide, while the Note is 5.78 inches by 3.27 inches. The Vu has twice as much storage as does the Note (32GB vs. 16GB). The Note does have a higher-res screen (1280 by 800 pixels vs. 1024 by 768 pixels), and the Note has more pen-centric apps.
Verizon wireless customers yearning for their own phablet shouldn't have to wait much longer, although exact availability date and price is still TBD.
Follow Melanie Pinola (@melaniepinola) and Today@PCWorld on Twitter