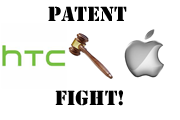 HTC has filed a counterclaim before a court in Florida stating that Apple has infringed on two of its patents, originally assigned to Hewlett-Packard and Electronic Data Systems, a company that HP acquired in 2008.
The Taiwanese phone maker is being sued for patent infringement by Apple in the court along with Motorola Mobility.
HTC claimed in a filing on Tuesday to the U.S. District Court for the Southern District of Florida it has been assigned all rights, title and interest of U.S. Patent No. 7,571,221 (the '221 patent) entitled "Installation of network services in an embedded network server," which was assigned to HP.
It also claims all rights, title, and interest to U.S. Patent No. 7,120,684 (the '684 patent), entitled "Method and system for central management of a computer network," which was assigned to Electronic Data Systems.
HP has a program for license or sale of its more than 4,000 patents.
HTC has claimed that Apple's products and services including but not limited to Apple Remote Desktop, Apple Profile Manager, and/or products and services that use Apple Remote Desktop and Apple Profile Manager infringe on claims of the '684 patent.
Apple also has infringed, according to HTC, one or more claims of the '221 patent in consumer products using the iOS or OS X operating systems, which contain embedded network servers and software and services such as Newsstand. The infringing products include Macs, mobile communications devices such as various versions of the iPhone, and mobile computing devices including versions of the iPad, it said.
Apple could not be immediately reached for comment.
John Ribeiro covers outsourcing and general technology breaking news from India for The IDG News Service. Follow John on Twitter at @Johnribeiro. John's e-mail address is john_ribeiro@idg.com