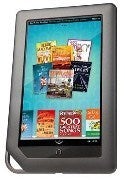 Barnes & Noble hopes to stay alive in the 7-inch tablet wars by throwing in a $50 gift card with the purchase of a 16GB Nook Tablet, at least for a limited time.
The offer runs through July 29, and only applies to the 16GB model, which costs $250, not the 8GB version, which is priced at $200. Customers who buy a Nook Tablet at a Barnes & Noble store will get the gift card immediately, while those who purchase online will receive the card by e-mail "within a few short days of purchase."
The gift card offer comes at a time of increasing competition among 7-inch tablets, with Google's Nexus 7 tablet shipping now. The Nexus 7 starts at $200 for an 8GB model, and includes $25 in Google Play Store credit. It also has better specs than the Nook Tablet and Amazon's Kindle Fire, including a higher display resolution (1280-by-800, compared with 1024-by-600) and a quad-core processor. Thanks to improvements in Android 4.1, the Nexus 7 is also smoother than either of the other two tablets.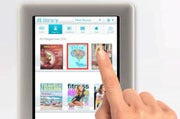 However, both Amazon and Barnes & Noble are rumored to be planning new tablets. According to several reports, Amazon may be prepping multiple Kindle Fire models, including a larger tablet to take on Apple's iPad and a follow-up to last year's 7-inch model.
CNet reported this week that Barnes & Noble is working on a new 7-inch tablet with "revolutionary screen technology," citing an unnamed source. As with the existing Nook Tablet, the new version will reportedly run a highly modified version of Android, CNet's source claimed. Apple is also rumored to be working on a smaller iPad, with a 7.8-inch display.
With all that in mind, Barnes & Noble's gift card offer isn't all that enticing, unless you don't mind buying a soon-to-be outdated product just to save a little money. If you want a 7-inch tablet and aren't interested in the Nexus 7, I'd recommend waiting to see what the fall brings.
Follow Jared on Twitter, Facebook or Google+ for even more tech news and commentary.