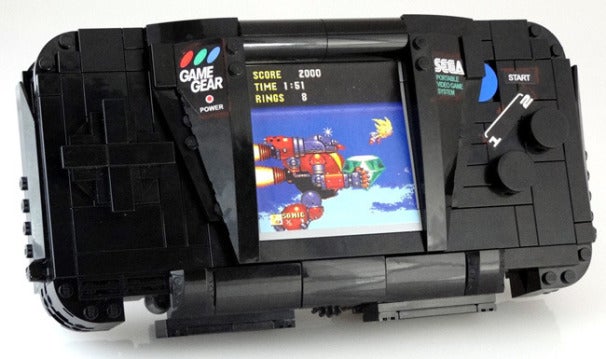 What happens when you combine Transformers, old-school portable gaming consoles, and Lego bricks together? Sheer, unadulterated awesome, of course. Famous across the Internet for his mind-blowing work with Lego, The Baron has done it again with his latest entry. The most recent addition to his growing line of Legoformers, the Segacon Gearhead and his minions SuperSonic and KnucklePunch draw inspiration from Sega's first handheld game console.
Outfitted with a Chaos Emerald-powered shotgun cannon and battery blaster packs, Gearhead is capable of transforming into a Game Gear unit without the removal of vital parts. All you have to do is manipulate his various joints in the right way–just like a real Transformers toy!
But that's not what makes the trio such a treat. The real genius behind this is the fact that you can actually fit SuperSonic and KnucklePunch (they transmogrify into a Sonic the Hedgehog and Sonic Blast game cartridge, respectively) into Gearhead's cartridge slot after you've turned him into a Game Gear.
If you're interested in seeing the Segacons transform into official merchandise, you may want to consider showing some love to Baron von Brunk's previous Legoformer–this one was based off Nintendo's Game Boy–on Cuusoo first. Should that one get produced, Gearhead and his cohorts may well be the next in line.
I hope.
Cassandra Khaw is an entry-level audiophile, a street dancer, a person who writes about video games for a living, and someone who spends too much time on Twitter.
Like this? You might also enjoy…
Get more GeekTech: Twitter – Facebook – RSS | Tip us off