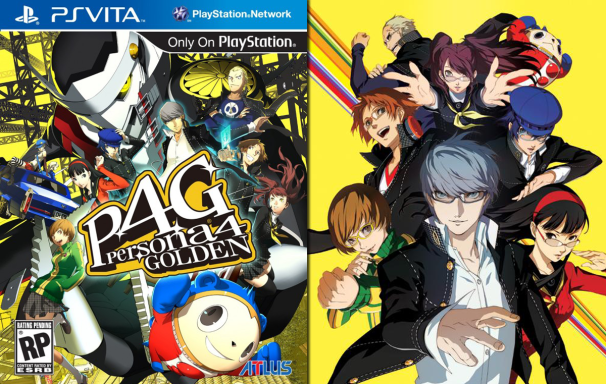 If you've had a PlayStation Vita since day one, you might be at a loss of what to play. I was, but I discovered the wonder of PSP games downloadable through the PlayStation Network and catalogued my findings in a previous article. Since I made this discovery, I've put dozens of hours into Persona 3 Portable. Based on the amount of time that I put into Persona 4 back on the PS2, I might never be heard from again after Persona 4 Golden releases on October 30th.
Should that be the case though, I won't be alone. Persona 4 Golden is already out in Japan and quickly became the first PlayStation Vita game to sell more than 100,000 units in the first week of release and the best-selling Vita title in Japan so far. That's no small feat. It outsold games like Hot Shots Golf 6 (Hot Shots Golf World Invitational in the US), Uncharted: Golden Abyss, and dozens of other titles.
There was some initial public concern that there wouldn't be any new content and that PS4 Golden was simple port when rumors of the portable release began circulating. However, that's the furthest from the truth. There's a new character named Marie, for example, who brings new story events to the Persona 4 storyline; that alone is more fresh content than I would have expected. On top of that, there's new personas, new anime-style cutscenes, more than 1.5 times the voiced dialogue, and a new feature that takes advantage of the Vita's online functionality and allows played to call for help if they find themselves in a bind in a dungeon. While Persona 3 Portable had to remove some sequences, cutscenes, and downgrade the graphics to make everything work on the PSP, Persona 4 Golden has more content and looks better than ever thanks to the PlayStation Vita's power. That's something that I've been longing for; after putting so many hours into Persona 3, it starts to look somewhat clunky on the Vita's screen. That isn't a knock on the game, but it sure will be nice to have something that's made for the screen you're playing it on. This new content has me extremely excited to check out Persona 4 Golden. It doesn't sound like the new character is going to compromise the original storyline at all, taking away the one major concern that I had. Persona 4 is one of the most highly-regarded RPGs of all time and while I doubt they'd do anything to mar that reputation, there's always the possibility the port job could be terrible. However, after playing through Persona 3 Portable and realizing how great the port was (snagging 9 perfect scores on Metacritic), I no longer have any worries; it's all excitement from here on out. Persona 4 Golden is looking to be one of the best upcoming releases for the Vita, and think it might be the definitive way to experience Persona 4.