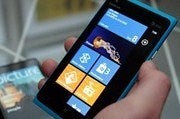 It's going to be a long, dry summer for Microsoft and Nokia, with consumers roundly rejecting Windows Phone 7 and little hope that things will improve until Windows Phone 8 launches this fall. Despite a critically acclaimed OS that is popular with people who actually own a Windows Phone, Microsoft's next-generation smartphone OS just can't catch a break.
Nokia, Microsoft's biggest Windows Phone smartphone partner, announced that it shipped just 4 million Lumia phones worldwide between April and the end of June. Nokia's biggest rejection came in North America, where the company during the recent quarter shipped just 600,000 Windows Phone and Symbian devices.
Compare that to Samsung's upcoming earnings announcement, which is expected to include sales of more than 50 million Android-powered smartphones over the past three months. And Apple's most recent quarterly numbers reported iPhone sales topping 35 million. Even the struggling Research In Motion saw a bigger demand for BlackBerry phones, shipping 7.8 million devices between March and early June.
Windows Phone Gets Smoked
Nokia's struggles in North America are no surprise, given the paltry adoption of Windows Phone in the U.S. A recent report by Nielsen pegged Windows Phone 7's American market share among smartphone users at 1.3 percent. That's less than Windows Mobile, Microsoft's previous mobile OS, which is still holding strong at 3 percent of U.S. smartphone users. Nielsen in May put Windows Phone's market share at 1.7 percent in the U.S., with Windows Mobile making up 4.1 percent of smartphone users. Android is in the lead in the U.S., holding 51 percent of smartphone users, followed by Apple's iOS at 34 percent and Research in Motion's BlackBerry at 9 percent.
Since Windows Phone 7 is essentially a dead end, the mobile platform's popularity is unlikely to improve in the coming months, despite cheaply priced devices like the $50 Lumia 900. This fall, Microsoft will launch Windows Phone 8, a new version of Windows Phone that is incompatible with the current iteration. That means that every current Windows Phone 7 device — including Nokia's flagship Lumia 900 — will not be able to upgrade to the new OS. Instead, Windows Phone 7 users will receive a cosmetic update called Windows Phone 7.8 that will give current devices the same start screen as Windows Phone 8.
Lucky Eight
Microsoft's new version of Windows Phone will offer many new features that could herald more attractive and capable devices to win over users. Windows Phone 8 will support two new screen resolutions (1280-by-768 and 1280-by-720), removable SD card storage, a new digital Wallet hub, and near-field communication. But even with a promising new OS it's not clear that smartphone users will flock to Windows Phone 8.
That must be frustrating for both Microsoft and Nokia since, at least in my opinion, Windows Phone is a very good OS. It's missing a few key apps in the Marketplace such as Dropbox and Instagram, and personally I'd like to see Instapaper and Chess.com. And some of the functionality in Windows Phone is not as well thought out as it should be. The Pictures hub, for example, can automatically upload your camera images to SkyDrive, but Windows Phone doesn't provide an option to upload pictures only when you're connected to Wi-Fi.
Nevertheless, I am seriously considering Windows Phone 8 as my next smartphone, depending on how the app situation shakes out. It's a good, functional mobile platform, but it seems quality is not enough when it comes to taking on the more popular Android and iOS juggernauts.
Connect with Ian Paul (@ianpaul) on Twitter andGoogle+, and with Today@PCWorld on Twitter for the latest tech news and analysis.