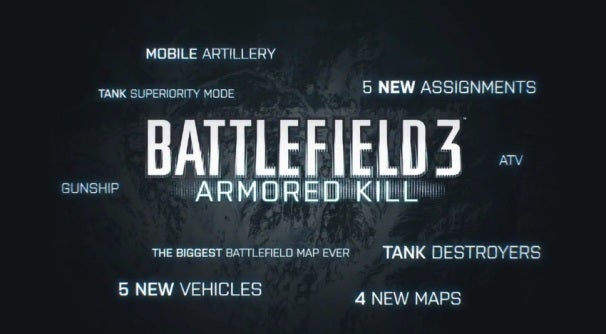 Back when EA announced Battlefield Premium at E3 this year, I wasn't sold. It wasn't that I didn't think it was a good idea, because it is, but the content didn't seem there. They showed Battlefield 3: Close Quarters, which we had already seen back at GDC, and everything else was still classified. It didn't make much sense, and I left less interested than ever. That feeling has stuck with me until this week, when we got our first full look at gameplay of the next Battlefield 3 DLC release Armored Kill. It's pretty clear that Battlefield Premium was a reaction to the wild success of Call of Duty: Elite, but it also shouldn't have taken 8 months after release for EA to show us something new. Sure, they released Back to Karkand, but that pack was available well before Battlefield Premium was even announced. That isn't very persuasive to the dedicated Battlefield fans (the ones Premium is designed for) who had already purchased that DLC pack; in a way, they were punished for being early supporters. Close Quarters is available now and is probably the first justifiable reason to purchase Battlefield Premium. If you're already going to be spending $15 and you enjoy Battlefield 3 so much that you're probably going to purchase the other three DLC packs anyway, it makes sense to drop $50 on Battlefield Premium. But while Close Quarters delivered more Battlefield 3 content, it doesn't really offer any new experiences. It's all tight maps without any vehicles; that isn't what Battlefield is about, and it fails to differentiate the Battlefield 3 multiplayer game from Call of Duty.
If you agree, get hype: EA has just revealed a full gameplay trailer of the most interesting DLC for Battlefield 3 yet, Armored Kill. It's Battlefield 3 in its most pure form: all-out vehicular warfare. When Armored Kill hits in September, players will have access to 20 all-new vehicles and an airborne gunship. This isn't something that could be accomplished on the average Battlefield 3 map either, so Armored Kill comes with a huge new map, the biggest in Battlefield history. Thinking about how large most of the maps are already, I can't picture them getting much bigger, so that teaser has me quite excited. It's hard to know much from the trailer, but this DLC is clearly targeted at hardcore Battlefield 3 fans. The trailer is put together well and gives off a strong vibe of Bad Company 2, which is always a good thing. While exact dates haven't been announced yet, Armored Kill will be available to Battlefield 3 Premium Members two weeks before it is available to the rest of the public in September. That headstart alone might be worth the Battlefield Premium subscription to some players, and I'm extremely excited to get my hands on Armored Kill and rain down bullets from above.
Note: When you purchase something after clicking links in our articles, we may earn a small commission. Read our affiliate link policy for more details.