Microsoft revenue rose slightly but due to several one-time items, it posted a net loss during its fourth fiscal quarter, when the Windows division's sales fell 13 percent.
Revenue in the quarter ended June 30 came in at US$18.06 billion, up 4 percent year-on-year but below the $18.13 billion expected by financial analysts polled by Thomson Financial.
The company posted a net loss of $492 million, or a loss of $0.06 per share, compared with net income of $5.87 billion, or $0.69 earnings per share, in 2011's fourth quarter.
The results were significantly affected by two one-time items the company had previously disclosed: a $540 million revenue deferral related to an upcoming upgrade program for its new Windows 8 OS; and a charge of $6.19 billion for the impairment of goodwill on its online services division.
The goodwill impairment is in recognition that its online services division will not grow as quickly as previously expected, an issue related mostly to the 2007 acquisition of aQuantive for $6.3 billion.
Excluding the impact of those two items, revenue would have been $18.59 billion and earnings per share would have been $0.73.
The consensus from the polled analysts was for $0.62 earnings per share in the fourth quarter.
Mixed Growth
The Windows and Windows Live Division, which includes Windows 7, saw its quarterly revenue drop 13 percent year-on-year, and fall 3 percent in fiscal year 2012 compared with 2011.
The Server & Tools business, which includes products like SQL Server and System Center, posted revenue growth of 13 percent in the quarter and 12 percent in the year.
The Business Division, which includes the Office suite, posted revenue growth of 7 percent in the quarter and the year.
The Entertainment and Devices Division, which includes the Xbox products, increased revenue 20 percent in the quarter and 8 percent in the year, helped primarily by Skype.
For the full fiscal year, Microsoft had revenue of $73.72 billion, up 6 percent over 2011. However, net income fell to $16.97 billion, or $2 per share, from $23.15 billion, or $2.69 per share, last year.
"We started this fiscal year with great momentum and closed with a solid finish. Throughout the year, we delivered top-line growth and remained disciplined on cost management while continuing to execute on our product road map," said CFO Peter Klein during a webcast to discuss the results.
Microsoft benefited in the fourth quarter from strong demand for its business products and services, in particular Windows 7 and Office 2010, as well as for its Server & Tools products.

"Our enterprise products and services remain a top priority for CIOs as they navigate macroeconomic challenges," Klein said.
Revenue for SharePoint, Exchange and Lync all grew in the double digits, with Lync's growth at 45 percent. Revenue for the Dynamics line of business applications rose 7 percent, while Dynamics CRM specifically was up more than 25 percent. There are now 36,000 Dynamics CRM customers and 2.7 million end users. SQL Server revenue grew 20 percent.
Microsoft is also seeing an increase in multiyear sales contracts from its enterprise customers, which led during the quarter to multiyear licensing revenue growth of 14 percent and an unearned revenue balance of $20.1 billion, a record.
Looking Forward
CEO Steve Ballmer pointed out in the statement that Microsoft's business will be driven forward in the coming year as the company delivers the many upgrades it has in the pipeline, including Windows 8 and a new version of Office.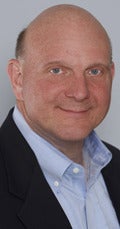 Windows 8, a major revamping of Microsoft's operating system for desktop PCs, laptops and tablets, will ship commercially in late October, while a public beta of the new Office suite was released this week.
Microsoft is also working on a new version of its OS for mobile phones called Windows Phone 8, which will be closely aligned at a technical level with Windows 8. Earlier Microsoft phone platforms have not been as closely aligned with other Windows OSes.
Windows 8 comes with a redesigned user interface called Metro, optimized for tablet devices, and Microsoft recently announced that it will market its own Windows tablet called Surface.
Microsoft is counting on Windows 8 to give the company a stronger footing in the tablet market, which is dominated by Apple with its iPad devices.
With the trend of people bringing their personal smartphones and tablets to work, in particular iPads, Microsoft finds itself in a weak position not only among consumers but also in enterprises.
A similar situation exists in the smartphone market, where the Windows Phone OS has a small participation dwarfed by iPhones and Android devices. Thus, Windows Phone 8 is also a critical release for Microsoft.
Juan Carlos Perez covers enterprise communication/collaboration suites, operating systems, browsers and general technology breaking news for The IDG News Service. Follow Juan on Twitter at @JuanCPerezIDG.