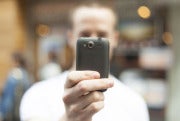 Is your phone filled with a library of orange-hued photos? Do you see a potential vintage effect on everything around you? Do you catch yourself thinking things like "This bubble gum wrapper would look much more interesting with a Lo-Fi effect on it?"
Then repeat after me: "Hi, my name is [insert name here], and I am an over-Instagrammer."
Good job. We all know that the first step to recovery is admitting you have a problem. And now, with the admission out of the way, we can start looking at ways to fix the problem.
Believe it or not, most photo editing requires nothing more complicated than the tools available in even the most basic image-editing programs. But learning which tools to use and when to use them requires a little trial and error.
Give it a shot–and before you know it, you could be pumping out your own, preset-filter-free photos without subjecting your friends to an endless deluge of tired Instagram-style effects.
Step two on the road to recovery: understanding the problem.
Instagramming: It's Not All Bad
The great wilderness photographer Ansel Adams once said "A good photograph is knowing where to stand."
It's good advice. Photography is, after all, just a frozen glimpse of what we see every day. And of course anyone who visits Yosemite National Park (one of Adams's favorite locales) can see Half Dome in all its glory from any number of photo-friendly standpoints.
But Adams is also known for saying "Dodging and burning are steps to take care of mistakes God made in establishing tonal relationships." In addition to being a master of exposure and composition, Adams was one of the great darkroom magicians of the photo-film age.
Just as Adams used the technology available to him to make the most of his images, smart photographers today–both amateur and professional–know that what they do after releasing the shutter is integral to achieving the results they desire. And that's true whether that shutter is on a camera or on a smartphone.
What happens when image-editing technology becomes available to masses of untutored, would-be photographers? We're finding out the painful truth now. The prime offenders are photographers who overuse smartphone apps like Instagram, which applies preset effects to mobile photos.
Though these effects can work very effectively for a precious few images (an old rake standing against a garage might look fantastic with a vintage effect laid on it), an important step to recovering from an indiscriminate addiction to Instagram is to limit your use of these filters.
In fact with so many hazy and grainy images from Instagram jerks flooding our photo feeds, a naturally edited photo–free of preset effects–really stands out.
The Instagram app (available for Android and iOS) does deserve some credit. It's a great way to get people to think photographically about the objects and scenes around them. In a world where anyone can snap a photo at any time, Instagram provides an easy-to-use entry into the world of image manipulation. But once you begin to get serious about taking pictures, you need expand your horizons and move beyond using preset filters.
Editing on the Small Screen
Photo editing on small smartphone screens presents some challenges, but a few apps on the market make the process much easier–and even enjoyable at times.
One great option for natural, preset-free photo editing on the go is the Adobe Photoshop Express app, available for free in Android and iOS versions. This surprisingly powerful app packs many of Photoshop's industry-standard photo-editing features into an easy-to-use touch interface, including adjustments for exposure, saturation, contrast, tint, cropping, and more.
Adobe Photoshop Express also provides shortcuts for sharing your touched-up photos to Facebook, Twitter, and Photoshop.com.
Another option for iOS users is PhotoForge 2. This app will set you back $3, but it supplies the same basic editing tools as Photoshop Express. PhotoForge 2 also provides a number of relatively advanced features such as layers and masking, giving you more freedom to doctor your photos. Like Photoshop Express, PhotoForge 2 has built-in social media support for sharing your photos on Twitter, Facebook, Flickr, and more.
The HDR Camera app for Android devices and the HDR+ Camera app for iOS devices–both made by developer Almalence–offer yet another tool for making your mobile images look great. Each app lets you combine multiple photos into one HDR image, which is great for photos taken outdoors, where numerous differences in lighting may affect a shot.
HDR works by keeping the best details of each image and throwing out the rest, thereby ensuring that you won't lose any details due to over- or underexposure. Both HDR apps also include some basic tools for editing your HDR images, but the apps mentioned earlier in this section offer better editing options.
Move Away From Smartphone Editing; Break Free of Presets
Now that we've covered some smartphone-related remedies for over-Instagramming, let's talk about editing images taken with a nonsmartphone camera.
Though photo-editing presets and filters are less common in nonmobile digital photo editing, professional programs such as Adobe Photoshop and the free image-editing program GIMP offer an vast array of options for tweaking images.
Not everyone can afford the hefty price tag associated with Photoshop, however–or the time required to learn such programs. Luckily, most people would rarely want to use many of the advanced features found in Photoshop and GIMP.
That's why nonprofessionals who do their photo editing with easy-to-use free programs like Windows Live Photo Gallery and Google's Picasa have little reason to feel deprived.
Ultimately you can produce great, natural-looking photos with the basic editing tools found in every program, even the most simple. Here are some of the most important variables to consider when editing images.
Lighting
Why lighting is important: If a photo's lighting is off, you may lose valuable detail in people's facial expressions or in landscape features.
How to manage lighting in your photos: ou control lighting in a photo by adjusting exposure, highlights, and shadows. Adjusting the exposure enables you to simulate how your image would look if it had been taken at different shutter speeds; as the image becomes lighter or darker, you may notice details that were previously hidden. Adjusting exposure isn't foolproof, since you can lose detail as you brighten or darken your image, but it's great for making small improvements when this isn't an issue.
Adjusting highlights and shadows lets you control the light and dark tones in an image independently, to bring out details. Such alterations can make a big difference when one part of an image is much darker or lighter than the rest.
For example, if you've taken a portrait and your subject's face is in the shade, adjusting the highlights and shadows will often reveal hidden details without affecting the rest of the image.
Contrast
Why contrast is important: Adjusting an image's contrast is a great way to make the photo pop, but be careful: Few things look worse than an unnaturally overcontrasted photo.
How to manage contrast in your photos: Your photo editor's contrast tool makes lights lighter and darks darker. The goal is to enliven a photo whose low contrast makes it to look dull and boring, while refraining from imparting so much contrast that the image looks look oversaturated and unnatural. To avoid going too far, it's a good idea to try out different incremental contrast levels, and see which one works best for a particular image.
Temperature
Why temperature is important: A photo's temperature helps determine the image's overall feel or mood. Most digital cameras provide options for controlling white balance; this entails adjusting photos' color temperature to achieve a neutral value for white in different lighting environments.
How to manage temperature in your photos: A white-balance photo-editing tool allows you to change the temperature of your images after the photo is taken. Adjusting your photo to make it cooler combats harsh, orange lighting. Conversely, making an image warmer can help photos taken in environments with prevalent blue or fluorescent light look more natural. As with adjusting contrast, a trial-and-error approach to adjusting an image's temperature makes sense.
And there you have it. The road to recovery may be paved with vintage barns and orange-tinted cats, but with a little work you can kick your Instagram addiction and take your photography to the next level.