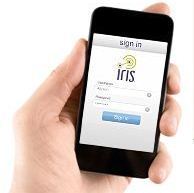 Home automation is usually prohibitively expensive and out of the reach of the average consumer. Lowe's Home Improvement is looking to change that, and is partnering with U.K.-based smart home company AlertMe to offer a basic home automation service called Iris.
For as little as $179, consumers are able to monitor and control their homes via a smart phone, tablet, or Internet connected computer. Lowe's is already selling the Iris kits through its online site, but says Iris it will be available in 500 of its 1745 stores by the end of August.
Initially Lowe's will offer two kits, one called "Safe & Secure" that includes motion and contact sensors to monitor movement in the home; and another called "Comfort & Control" that includes a smart thermostat and plug that can be remotely controlled. The retailer will also offer a bundle of both kits priced at $299.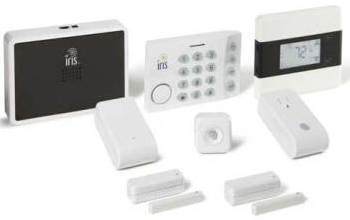 These kits should offer enough to get started, although additional accessories will be available for the system. Schlage, GE Jasco, and First Alert will also offer Iris-compatible devices in the coming months, Lowe's says.
Iris' main attraction, though, is the service, which comes in both a free and premium version (which costs $10 a month). The free version of Iris supports basic control and monitoring, and includes two minutes of live video streaming using a video camera connected to the system.
Iris Premium bumps video streaming time up to ten minutes and can store up to 1GB of video, and adds automatic recording based on sensor-triggered events. Alerts and scheduling are also available, and users can can set up rules for different events, such as when you are home versus being away.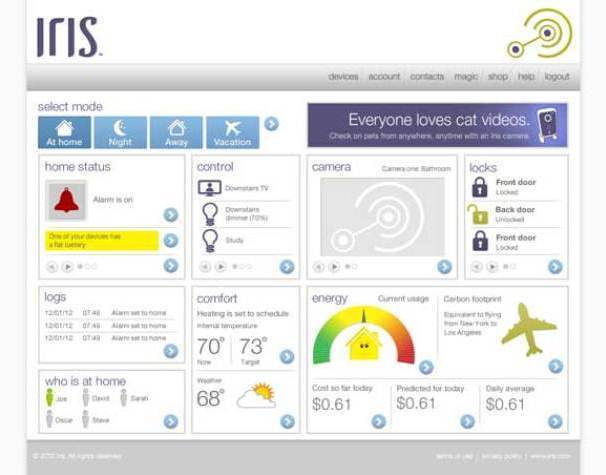 Will Iris be a hit? Given its fairly low entry cost, it just might. One good thing going for Iris is its third-party support, which Lowe's and AlertMe seem committed to already. A home automation system aimed at consumers is only going to fly if it's compatible with brands consumers already buy.
It also doesn't seem to require a professional installation, which is required with many other home automation systems on the market. The low monthly fee for the premium service may also prove an acceptable alternative to much more expensive services such as ADT.
This said, are people looking for home automation yet? Sales of kits such as those provided by cable companies and the telcos aren't impressive, but those options are also much more expensive.
For more tech news and commentary, follow Ed on Twitter at @edoswald, on Facebook or on Google+ as well as Today @ PCWorld.