At a Glance
Expert's Rating
Pros
A gorgeous, different design
Excellent audio
Cons
Battery life is only 5 hrs, 45 min
Screen looks washed out
Our Verdict
The HP Envy 4 is aptly named–this Ultrabook's premium design and subtle pop of color makes it the envy of ultraportables everywhere.
Best Prices Today: Envy Ultrabook 4-1030us
Ultrabooks, for the most part, look the same: skinny, sleek, and an awful lot like Apple's MacBook line. But the HP Envy 4 is different. It appears to be bigger and thicker than other 14-inch Ultrabooks (it's not), but it has a design that's, thankfully, all its own. This attractive ultraportable features a flat, plateau-like brushed aluminum cover and a sexy red undercarriage. Plus, it's a solid performer with excellent speakers.
Our review model, which costs $870 (list; as of 7/24/2012), has a third-generation Intel i5-3317U processor, 4GB of RAM, and two hard drives: a 500GB HDD and a 32GB SSD (the latter is used as a cache for the hard drive to ensure a quick boot-up time and faster application loading). The Envy 4 starts up in 19 seconds, which is pretty quick for the category, though not quite as fast as the Acer Aspire S5 (12.3 seconds) or the Dell XPS 13 (16.9 seconds).
The Envy 4 also features built-in Wi-Fi and Bluetooth 4.0, and runs a 64-bit version of Windows 7 Home Premium. The Envy 4 does not have a discrete graphics card, and relies on Intel's integrated HD graphics chip for its graphics performance.
Performance
In PCWorld's WorldBench 7 benchmark tests, the HP Envy 4 scores 126 out of 100. This means that the Envy 4 is 26 percent faster than our testing model, which has a second-generation Intel i5 processor, 8GB of RAM, and a discrete Nvidia graphics card. A score of 126 is a good one for the Ultrabook category. We've seen other Ultrabooks score higher–the Dell XPS 13 has a score of 136–but most of the Ivy Bridge Ultrabooks we've looked at so far have scored in the range of 95 to 110.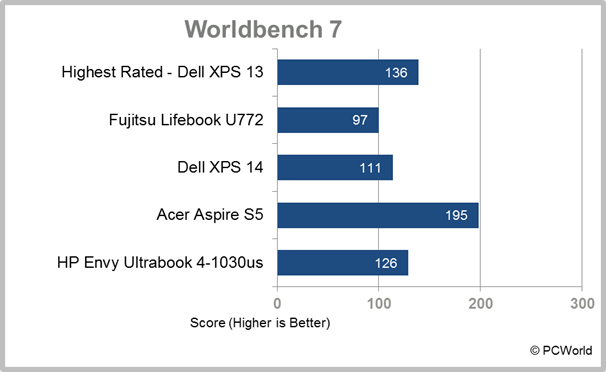 As you might expect, the Envy 4 pretty much falls flat when it comes to graphics performance, since it has no discrete graphics card, and it can handle only so much gaming (in other words, basically none, though you should be able to play basic RPGs if you absolutely must). In our Crysis 2 graphics tests, the Envy 4 barely managed 22.2 frames per second, and that was at the lowest-quality graphics settings with a screen resolution of 800 by 600 pixels. The Envy 4 performed slightly better in our Dirt 3 graphics test, managing a playable 39.5 fps at the same settings and resolution.
Finally, battery life: HP really wants us to be impressed with the Envy 4's battery life, which is "up to 9 hours," the company says. But in our lab tests, we could get only a measly 5 hours, 45 minutes out of the Envy 4. True, we never get the amount of battery life that vendors say we should out of their machines, but a 3.25-hour difference is a pretty big one.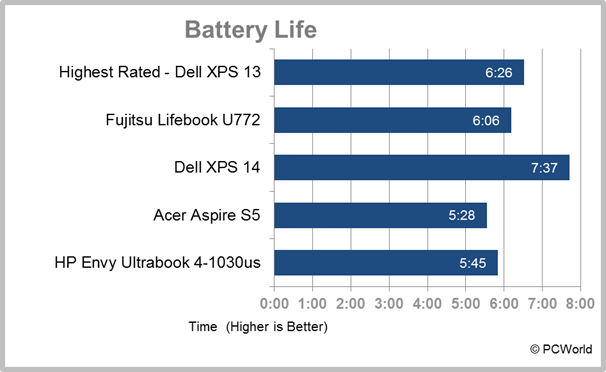 Design: Chassis, Keyboard, Trackpad
As noted at the beginning, the Envy 4's chassis looks thicker and heavier than those of other Ultrabooks we've seen, but it isn't. The Envy 4 is 0.78 inches thick, or 19.8 millimeters. This means it qualifies for Ultrabook status under Intel's somewhat lax guidelines–notebooks with screens of 14 inches (like the Envy 4) or greater must be less than 21 millimeters thick. The Envy 4 weighs a little less than 4 pounds, not including accessories.
Despite being thicker- and heavier-looking than other laptops in the Ultrabook category, the Envy 4's chassis is very attractive. It has a flat, black brushed aluminum cover with rounded edges and a small silver HP logo in the lower left corner. The cover is simple but solid, and the brushed aluminum really makes the laptop look high-quality. The bottom is made of a soft, slightly rubberized material, and is crimson in color. The red is a nice way of incorporating color–it makes the Ultrabook look like a Louboutin shoe: high-end and subtly sexy.
The Envy 4's inside also looks good. Its keyboard deck has the same black, brushed aluminum finish as the cover, and the glossy screen is surrounded by a thin, shiny black plastic bezel. Aside from a power button, keyboard, and trackpad, the keyboard deck is bare. The speakers are located above the keyboard, and sport a small red Beats Audio logo.
The Envy 4 has a full-size, backlit keyboard with island-style keys. Though the keyboard's backlight can be turned off, the F5 key (which toggles the backlight on and off) and the F12 key (which toggles Wi-Fi on and off) remain lit at all times. This can be a little annoying in a dark room, because these lights are rather bright, but I suppose HP thinks that you'll be using the keyboard backlight in a dark room anyway.
The keyboard is attractive to look at, with rounded corner keys (Ctrl, the right arrow button, Delete, and Esc). It's not quite as attractive to type on, however. Key feedback is a little weak, as HP has opted for quiet, soft-touch keys rather than ones with solid feedback. The keys are also a little too flat, smooth, and shallow, all features that make them look good but that make typing accurately a difficult task. Still, the keyboard wasn't awful–it's not what I'd want to type on all the time, but it should be fine for casual to regular use.
The trackpad suffers from the same problem: pretty to look at, but not very comfortable to use. The trackpad is large, located in the center of the keyboard deck below the keyboard, and separated from the deck by an indentation and a silver sliver. It has built-in buttons that tip the whole trackpad when you press them, similar to Apple's glass trackpads on its MacBooks.
The trackpad is physically smooth enough, but the cursor seems to stop short of where you want it to go. In other words, cursor movement isn't smooth or accurate, and you'll find yourself frustrated as you drag your finger over the trackpad to get the cursor where you want it. The built-in mouse buttons are also a little difficult to press–in our review model, the left-click side of the trackpad seemed much stiffer than the right-click side. The pad supports multitouch gestures, which are fairly smooth, and has a small box in the upper left corner that you can double-tap to toggle the trackpad on and off.
The Envy 4's ports average for the Ultrabook category: three USB (two USB 3.0, one USB 2.0), plus HDMI-out, ethernet, an SD card slot, and a Kensington lock slot. The Envy 4 also has separate microphone and headphone jacks, unlike other Ultrabooks, which typically have a combined jack.
Screen and Speakers
The Envy 4 has a 14-inch glossy LED-backlit screen with a native resolution of 1366 by 768 pixels. The screen looks good, but not great. It's very bright, though not quite bright enough for direct sunlight. Colors look a little dull, even washed out at brighter screen settings. HD video is good, with virtually no artifacting in most scenes. Off-axis viewing angles are also good. In fact, when the screen is brighter and the colors are washed out, viewing the screen from a few inches to the side actually makes it look better than looking at it straight on.
Audio on the Envy 4 sounds excellent, considering this is an ultraportable notebook. Laptop speakers generally aren't very good, but the Beats Audio enhancement software that HP includes really improves sound quality. The speakers themselves are very loud for an Ultrabook, though not quite loud enough to fill a medium-sized room full of people.
The Bottom Line
The HP Envy 4 is aptly named. It's a solid machine, with good performance scores, excellent speakers and audio enhancement software, and a mediocre screen, keyboard, and trackpad. The only big drawback is the battery life, which is disappointingly under 6 hours, despite HP's tantalizing promise of 9. Luckily, the power block is small enough to carry with you, though plugging in the laptop might cramp the Envy's style. The Envy 4's premium design and attractive use of color certainly makes it the "envy" of other Ultrabooks.