At a Glance
Expert's Rating
Pros
Easy to use
Journal feels out of place
Attractive interface
Cons
Journal feels out of place
Ad-supported
Our Verdict
If you're struggling to keep tabs on your family's appointments, events, and tasks, this online tool will make it easier than ever to stay organized.
Cozi makes life more comfortable. If your family organizational system is anything like mine, complete with an illegible dry-erase board, a whole lot of magnets, scraps of papers, and plenty of chaos. This free online tool reduces the clutter and makes family organizing a cinch.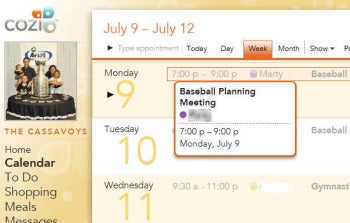 To set up your family's Cozi account, create a login, add family members (and their email addresses and mobile phone numbers, if they have them), and get to work.
The central feature is a shared calendar, which color-codes appointments and events by user. This makes it easy to see who needs to be where and when, with just a quick glance. Even better is the way the calendar lets you create events using natural language. For example, typing "Liane doctor's appointment Friday at noon" in the calendar's text field will create an entry for a Doctor's Appointment on Friday at 12 p.m. and assign it to Liane. It makes it easy for teens and tweens to use, provided you can convince them to log on, of course.
Additional features include to-do lists, which can be joint tasks or assigned to individuals. I especially like how Cozi will send reminders of upcoming events and tasks via text or email; it cuts down on the number of nagging phone calls I need to make. Cozi also includes a meal planner, a shopping list creator, and recipe storage, all of which are useful for busy families.
The one feature that feels slightly out of place is the family journal: it allows you to create a family blog of sorts, where you can post photos or text about your family. And you can share it with friends and other family members, as a newsletter. It's a nice touch if you'd like to keep all of your family-related activities in one place, but I didn't find that I had a lot of use for it.
Cozi's free version is ad-supported, but most of the ads I saw did not interfere with using the service itself. If you can't bear to view ads, you can pay $5 a month for Cozi Gold, which is ad-free, and includes a few additional features, like the ability to share your schedule with people outside your family.
The hardest part about any family organizational system is getting your family to actually use it — and Cozi is no exception.
The email and text message reminders will help, as will the fact that Cozi is accessible from most mobile devices. The company offers dedicated apps for iOS, Android and BlackBerry mobile devices, and other Web-enabled phones and tablets can access a mobile version of the site from their browsers.
If you're struggling to keep tabs on your family's appointments, events, and tasks, check out Cozi. This online tool will make it easier than ever to stay organized.
Note: The Download button on the Product Information page takes you to the vendor's site, where you can use the latest version of this Web-based software.