At a Glance
Expert's Rating
Cons
Adding websites to block is difficult
Rudimentary implementation
Easy to circumvent
Our Verdict
This offering could work well as a system-wide utility that tracks all browsers and is more difficult to circumvent.
Chrome extension Morphine takes Benjamin Franklin's famous line that "time is money" very seriously. With Morphine, developed by 16-year-old Teddy Cross, you redeem blocks of idle browsing time for blocks of productive browsing. Browse work-related websites for 10 minutes, and accrue one minute of goofing-off time. You can tweak the numbers, but the principle stands: Morphine lets you save time–literally.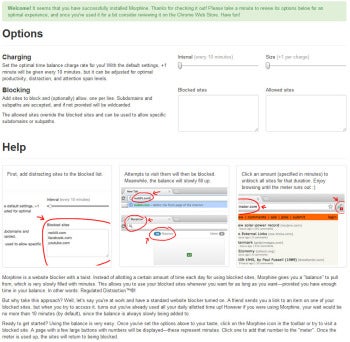 To get started with Morphine, you must feed it with a list of sites to block. Whereas Chrome add-on WasteNoTime lets you do this using the context menu, in Morphine you must manually enter addresses into a text box in the Options screen. I had some trouble getting it to recognize the URLs: I first tried entering them with the http://www prefix, and then with just the www, but Morphine did not recognize the sites when I browsed them. When I finally entered just the part after the www (i.e, google.com/reader/view), it started working. The Options screen does not have a Save or Apply button, which was confusing at first, but my changes were just applied.
I kept the default time settings, so for every 10 minutes of non-blocked browsing, I gained one minute I could spend on blocked websites. Clicking the Morphine toolbar button shows the current balance, and offers several buttons you can click to redeem it (+1 to gain one minute of free time, +3 for three minutes, and so on).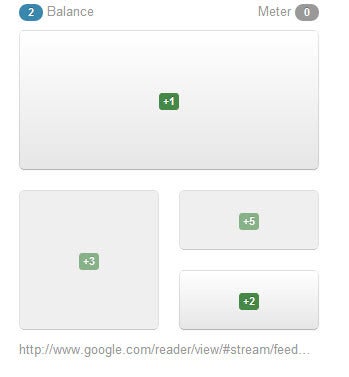 If you go to a blocked website without redeeming some free time first, Morphine simply pops up those same buttons along with your current balance, reminding you to redeem some time. As soon as you do, your browser is unlocked so you can browse anywhere, and the timer starts ticking. The timer keeps running even if you're not browsing a blocked website, so if you redeem five minutes and end up using only two, it's your loss. Of course, the safest thing to do is to redeem a single minute every time, but this can quickly get annoying.
Like WasteNoTime, the biggest problem facing Morphine is how easy it is to circumvent: Just right-click its toolbar button and select Disable. The only thing standing between you and procrastination is willpower.
Morphine can help bolster that willpower, but it can also end up as a distraction. Its concept is solid and interesting, and could work well as a system-wide utility that tracks all browsers and is more difficult to circumvent.
Note: The Download button takes you to the Chrome Web store, where you can install the latest version directly into your Chrome browser.
—Erez Zukerman