In the last year, we've seen scientist try to put photovoltaic materials everywhere–the paint on your walls, in space, and even your coffee table. Now, a team of researchers from the University of California, Los Angeles (UCLA) and the University of California, Santa Barbra (UCSB) has developed transparent solar panels that could be used as power-generating windows for your house.
The new transparent solar panels are a flexible, plastic cell that pulls energy exclusively from the infrared spectrum of the sun's rays. At the same time, the panels allow the visible light to pass though pane that's nearly 70 percent transparent.
Previous attempts at developing transparent solar panels have always resulted in a poor balance between efficient energy production and transparency. These researchers, however, developed a special recipe that's achieved a 4 percent power-conversion efficiency rate while being the most transparent solar panel ever created.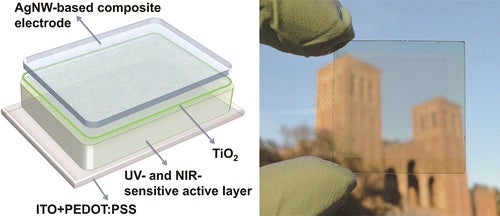 The researchers created the clear solar panel by using a polymer that's sensitive to near-infrared light overlaid with a silver nanowire composite as a transparent electrode. The biggest breakthrough of the research was the creation of a transparent electrode, produced by mixing silver nanowires with titanium dioxide nanoparticles, to replace the opaque metal electrode that was used in the past.
Polymer solar cells are a particular item of great interest because they are lighter, more flexible and potentially cheaper to produce at high volume than traditional solar panels. If the scientists work out a way to mass-produce their clear solar cells, the cells could be integrated into every home, skyscraper, car, and mobile device.
[UCLA and ACS Nano via Extreme Tech]
Like this? You might also enjoy…
Get more GeekTech: Twitter – Facebook – RSS | Tip us off | Follow Kevin Lee